Last year, the Trek Farley 5 2019 received a lot of praise for its affordable price and solid all-around performance. Known as one of the best values out there, the company proved that they could provide one of the best fat bike models on the market without forcing people to break the bank.
For the 2020 version, the company has made a few improvements to make customers excited. Even those who currently own last year's model will consider upgrading thanks to the subtle changes, the slightly different design, the improved performance and more without seeing a price increase.
First Impressions of the Farley 5 2020
Whether a person is looking at the bike online or in a local bike shop, The promo pictures of the Farley 5 are pretty remarkable. Even though the standard color is very basic, there is a premium look to the bike. This is always a nice, subtle feature for a bike that is otherwise affordably priced. Who doesn't want to feel like they have a more expensive bike to their name? With a matted solid charcoal color, it can still look as good as new no matter what is thrown its way.
The tires stand out as truly durable options for people to tackle any type of terrain out there. The standard tires are 27.5" by 4.5" Bontrager Gnarwhal TLR models. They are extremely grippy, and durable according to reviews as well. They set the tone for the rest of the bike, which also has a premium look.
Perhaps the most impressive technology is the Bontrager Haru carbon fork. This is a truly valuable component of this fat bike. Not only are carbon forks virtually essential for any type of fat bike, but this one stands out from others in this price range. It flexes at the right times, while providing excellent stability and support at any temperature.
Even while taking an initial ride or two without any challenging surfaces shows just how great this carbon fork is. It reduces vibration and smoothes out any type of ride.
Other features include a very lightweight Alpha Platinum Aluminum frame, stranglehold dropouts, an internal derailleur & dropper post routing that performs very well, SRAM Level hydraulic disc and a Shimano Deore 1×10 drivetrain.
Each size is slightly different in weight, but it's one of the lightest bikes in this price range right now. The medium size sits at right around 31 pounds, which makes it a lot easier to take on inclines and tough terrain.
How Does the Bike Perform?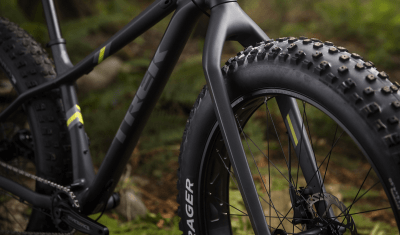 Even at the entry level, a focus should always be on how well a fat bike performs. If the fat bike is unable to live up to expectations, people are going to be frustrated overall. No one wants to spend thousands of dollars on a bike that will eventually collect dust because it can't truly handle so many different rains.
Here's a breakdown of how it performs in different scenarios. Depending on where a person plans on riding, certain setups might be better than others.
Downhill
The Trek Farley 5 is a fairly rigid bike, and the lack of suspension means that it works best on dirt trails and fresh, smooth snow. It makes up for its lack of suspension by having some great tires that can absorb a lot of the shock while riding.
It smoothes out the trail very easily, especially if a person knows how to run their tires at the right pressure. Usually, fat bike riders should be trying to have very low tire pressure (as low as possible depending on the terrain of course) to keep things feeling smooth.
Every rider is going to feel slightly different on the bike, but it is one of the more compact fat bikes in this price range. There is a lack of rolling resistance that makes it very beginner-friendly, and cornering is pretty easy as well.
A problem that nearly every bike in this price range has is the inability to handle the toughest terrains all that well. People will notice that the carbon fork doesn't do too much to those big nuisances, but most people will know that going in. There's also a way to upgrade the carbon fork if it is not living up to expectations.
Overall, downhill performance is above average when compared to its main competitors. Shorter riders will like the compact feel of the frame, but overall, that should give everyone a bit more feeling of control. This comes more in handy going downhill, as control is something a lot of beginners struggle with.
Uphill
The weight of the Farley 5 2020 isn't that big of a deal. It's 31 pounds, which is fairly lightweight for its price range, but still a little heavy overall for fat bikes in general. It's one of those bikes that doesn't feel as heavy as it is, which is a good thing for anyone trying to ride up any type of incline.
Climbing is as efficient as it can be when working with 4.5″ tires. Anyone who is not familiar with that bike riding will quickly understand that it's a challenge with these fat tires, but the traction makes it possible in the first place.
The tires on this bike perform best when used off-road. On pavement, the tires don't do particularly well. If a person is constantly riding his bike only on cement, they might look into other tire options if available.
Frame and Build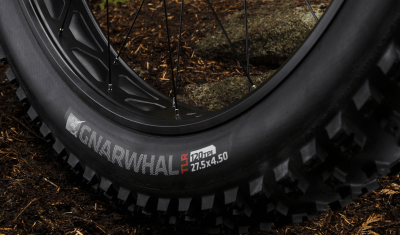 The frame and build of this bike is pretty compact overall. It comes down to personal preference, as some people like that somewhat cramped up feel, while others want to spread out a little more.
The build is what makes this bike one of the best in his class. Trek has built up a strong reputation with their bicycles in general, and their fat bikes are no exception. Their in-house Bontrager options are used all over this bike, and Shimano components fill in the gaps.
The build supports plenty of riders of different sizes, weights and more. It's pretty easy to customize a few things to get a really good feel on the bike overall. Many people are pleased
with how they can adjust so many things to their liking without having to get a professional to do it.
How Durable is the Bike?
The sign of a great fat bike is one that can perform well over and over again without much upkeep. It helps to take care of the bike in some ways, but no one wants to be worrying about it every single time. With just a little bit of basic maintenance, a person can expect to get years out of consistent use, or keep it looking good enough to sell to put money towards an upgraded model.
The components are all built with durability in mind, which is great overall for people who might not know exactly how to properly ride in the beginning. This is certainly a bike a person can learn from and fall with, not fearing any accidents or injuries.
Are There Reasons Not to Buy the Farley 5?
The only people who should stay away from the Trek Farley 5 2020 are those who are looking to upgrade their current set up. Fat bikes have been around for a while now, but there are still a lot of people who have no true set up of their own to ride. Maybe they have tried one once or twice, but it is more than that.
Taking a look at the components used, everything is pretty entry-level. That's to be expected for a bike in this price range, but it might limit some seasoned riders.
If a person is on the fence, try to find a way to try it out in stores one way or another. It might be the best way to gather information and see exactly how it performs compared to others.
Keep in mind that track also offers bikes for experienced riders, and there are components to upgrade if a person wishes. This bike is designed for the less experienced, but it can be altered in a way that makes it perform well.
Final Thoughts
Anyone who is considering getting into riding a fat bike will have a hard time finding something as affordable and durable as this option from Trek. Even casual bike riders will understand just how much value this name brings to the table. This isn't going to be something that has the best of the best parts, but it's a great entry-level option for any type of rider.
The Farley 5 is very easy for beginners, and has enough for those harder rides as well. It's completely usable right away, and some people take the liberty of upgrading certain components as well.
If the Farley 5 isn't enough of a fat bike, it's easy to stay in the Trek family and check out the upgraded models. They get expensive in a hurry, serving the riders who treat this as their main hobby