Now that gravel bikes are readily available from so many different companies, finding the best value takes more time than ever without knowing where to look. Whether it is buying that first gravel bike, or shopping for an upgrade, there is usually a budget that people want to stay under so that they feel like they are not spending too much money on their hobby.
The harsh reality is that finding a brand new gravel bike that is worth investing in does cost money. Some take the sport very seriously and will spend thousands and thousands of dollars on not only the bike, but a slew of accessories, upgrades, and more. For others, they can stay under $1000, or go up to around $2000 and still get some great value.
Most people are going to stay in that $800 to around $2000 range when purchasing a gravel bike, regardless of level. That is why all of these bikes below are perfect for those who want to take their shopping seriously. Cutting right to some great value, there are three bikes in each price point worth jumping to.
Best gravel bikes under $1000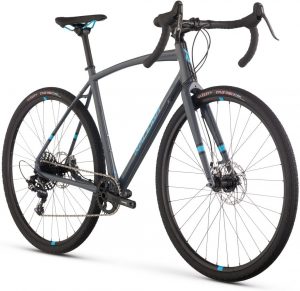 Consider this the starting point for most people shopping for a good gravel bike. Some options are only a few hundred dollars, but most of them are not going to be much better than standard bikes that people must spend money on upgrading down the road.
Spending anywhere from $700-$1000 is reasonable for an entry-level gravel bike that will still show users why so many people love these options.
1. Raleigh Bikes Willard 2
Raleigh is a big company that has been around for a while, and many people have trusted the different models they have released. They were able to get into the gravel bike market a while back, and they have put out some really good options overall. The Willard 2 is an upgrade over the Willard 1, with a slightly tweaked geometry that allows people to buy with confidence.
Versatility is huge in any type of gravel bike, and this one is no different. Whether it is spending all the time on dirt, or paved roads, people can make adjustments on the fly to get the most out of this bike.
It can deal with a lot of different surfaces thanks to tires that are a bit wider than the average gravel bike. Not only that, but the tires that come with the bike are very grippy, yet have a center that can tackle pavement without much rolling resistance.
Some people will look at this as a great starter option for adventures. Others might turn this into a great commuter bike that they can rely on every single day. Either option works, as it is rugged enough to hold up over a long time. There are different pedal options as well for those who want to get the right type of fuel and benefit that way.
Pros
Does well on pretty much any surface
Very solid color choices
Tires are a little wider for more comfort
Cons
Does not reach top-end speeds that others provide
Component upgrades could put this over the price range
2. Diamondback Bicycles Haanjo 2
As the cheapest overall option on this entire list, Diamondback Haanjo 2 gravel bike (Amazon) definitely lives up to expectations overall. Being able to compete at its place tag is certainly impressive, even if the specs do not always look amazing on paper.
It is indeed an aluminum alloy frame with a steel fork, but it is still a very comfortable ride no matter what type of venture a person looks for.
Some type of carbon on a bike is what everyone is looking for to take things to another level. However, the Diamondback option here does a great job of helping riders benefit greatly without having carbon at all. The geometry of the bike certainly helps, and so do the materials used to make the frame and the mount.
Riding and handling different terrains is also a lot easier due to the drivetrain, clean shifting, the very solid Tetra lira mechanical disc brakes, and so much more.
On top of everything else, some might think that it is going to weigh pretty heavy and not exactly move at a fast speed. It only weighs in at 25.3 pounds, which is impressive for a bike with no carbon on it.
It is not going to perform as well as a bike that is twice the price, but most people know that going in. Do not look at any other entry-level bikes before at least considering the Haanjo 2. There is a reason why it has so many good reviews online, and people stick with it longer than they initially think.
Pros
Very affordable
Drivetrain and shifting is very smooth and easy
Lightweight considering the materials
Cons
No carbon
Can't reach "top-end" speed
3. Fuji Jari 2.3
It is pretty easy to find a Fuji bike under $1000, but for those who want the best of the best in this price range, the Jari 2.3 is probably the best overall option.
It is officially labeled as an adventure road bike, which is another way to say that this gravel bike can do just about everything.
Whether it is depending on the geometry to comfortably ride anywhere, or carrying things by utilizing the rack and fender mounts, it is very much like a jeep in bike form.
At first glance, this bike just looks like a more premium option than the cheaper Fuji models under $1000. This is their first real performance bike and makes a great starter option for users as well.
Some of the leading features that allow this to make the list include outstanding disc brakes, handlebars explicitly built for off-road adventures, three different water bottle mounts, and more customization options for people to explore.
Fuji is one of those brands that so many different bike shops are familiar with, so it is pretty easy to get repair if needed as well.
There are some brands out there that might be a struggle to get everything going in the right direction if something does break, but that should not be an issue no matter where a person lives. It is one of the best values in this price range and makes for a comfortable ride without having to sacrifice much of anything.
Pros
Outstanding geometry for different types of riding
Solid disc brakes
Handlebars operate well
Cons
Some components lack durability
Could benefit from more customization options
Best Gravel Bikes Under $1500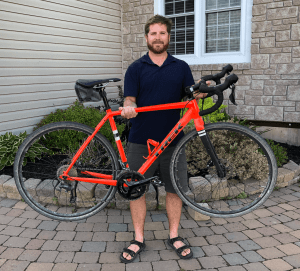 For a few hundred dollars more, people are looking for upgraded features that make the most sense for them to invest in. A carbon fork at the least is usually all but guaranteed of this price range, and so are some other minor upgrades that can shift it to a more performance level option.
Bikes continue to lose weight at higher price tags as well, which might not seem like a huge difference at first, but it does come in handy for those who start to go on longer rides. Especially if you're bikepacking!
1. Diamondback Bicycles Haanjo 3
The Haanjo 2 is rated very well in the price range under $1000, so it makes sense to upgrade to the Haanjo 3 if a person has a bit more money to work with.
It is more than just a name change, as a few more hundred dollars can give a person more speed, more control, a bit more user-friendly geometry, and other small details.
As great as the drivetrain smooths everything out with a Haanjo 2, the Haanjo 3 is even better. The Shimano Sora drivetrain with 46/30T cogs in the front help out significantly.
There is an 11-32T cassette in the rear as well to add to the versatility. Having any opportunity to perform well on so many different surfaces means that a person can stick with the same bike to do just about anything.
A lot of the same colors that a person finds with the Haanjo 2 is also there for the Haanjo 3. Is it worth the extra money for the majority of riders? If the goal is to get a decent amount of riding out of a new bike, this one is certainly more future proof.
Even beginners will start to find that the Haanjo 2 is a little limiting when trying to push the pace or go on longer rides. This is a more performance-based model that has all the right tweaks for people to feel confident.
Pros
Very affordable upgrade to the Haanjo 2
Tackles road surfaces extremely well
Improved geometry
Cons
Built more for the road than off-road
Could have shaved more weight off
2. Trek Checkpoint AL4
The Trek Checkpoint AL4 barely makes this category, as it sits right under $1500. The well-known brand in all types of bike riding has a perfect model for those wanting a starter gravel bike that can also start performing at higher levels with a few upgrades.
Many will make this purchase and stick with it for quite a while, as it can hold up against the expensive models pretty well.
Even in this price range, most people know that they are sacrificing a few things from a component and materials standpoint. Trek tries to close that gap as much as possible, and it all starts with its premium aluminum frame.
They have tweaked the geometry to make sure that it is at maximum strength, and the weight is distributed very well. A lightweight fork and carbon in the legs will smooth out any type of ride as well, which is always welcomed for those who are going just about anywhere.
Trek is one of those brands that is in so many areas around the world, so it is worth trying it out in person before buying any type of gravel bike.
There is usually a bike shop nearby that will carry a bunch of different Trek options, so give us want to test before investing. Most people will fall in love with the geometry and overall feel of the bike, which can make people want to go on longer rides and push the limit even more.
3. Cannondale Topstone Sora
A beautiful looking bike that also performs very well, the Cannondale Topstone Sora is certainly one people have no problem investing in. By opting for a more affordable groupset, the bike comes in at about $1300.
Named for a popular dirt road loop near Cannondale's headquarters, this is built for off-road adventures. The tires are very comfortable and grippy, and they are also designed to go well on paved roads as well.
They decided to tweak the riding position a bit, and most people are happy with the changes. It is a little more comfortable, so those looking to compete might not fall in love with it, but everyone else will feel like it is a welcomed change.
Factor in the carbon fork and other upgrades on the bike, and it is clear that they wanted to have something that is very comfortable overall people can embrace.
Pros
Very good looking bike
Tweaks focus on comfort over everything else
Tires provide great grip
Cons
More expensive groupset puts it over $1500
Might not be suitable for those looking to speed around
Best Gravel Bikes Under $2000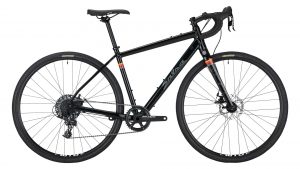 Once a bike starts reaching $2000, it is definitely an investment people are looking to get quite a bit of usage out of. Most people do not start in this range unless they have some type of gravel bike ride and experience in the past.
It is just a huge hassle for people to spend a lot of money on something they might not know that much about, so doing research beforehand is usually the way to go.
A lot of companies are trying to keep some pretty top options in this price range, closing the gap between entry-level and more performance models. There are opportunities to spend much more than $2000, but it will be just enough bike for the vast majority of people.
1. Salsa Journeyman Apex 1
Salsa is a pretty well-known name in the gravel bike community, but this is their first model to make the list in any category. The Journeyman Apex 1 is packed with premium features, and the price tag is pretty easy for most to swallow.
Coming in both the 650B and 700C versions, the standard features include SRAM Apex 1 drivetrain (View, internal cable routing, a carbon fork, outstanding premium tires, and so much more.
They have put a lot of time and effort in getting this model correct so that it becomes one of the best sellers, and this is a close to perfect release at this point.
Color choices have always been a major focus for Salsa, as they know riders want to have their own set of personalities on the course. It might not make that much of a difference to some riders out there, but others are looking for a look that they can fully embrace when they are challenging themselves.
Salsa deserves a spot next to some of the biggest names in bikes out there. Anyone who has not tried them out before will be pleasantly surprised by just how premium this particular version feels at this price point.
Pros
Multiple color choices
Customization options
Very clean look overall
Cons
Could be a little more lightweight
The brand is not as well-known as others
2. Specialized Sequoia Elite
The Sequoia Elite from Specialized just makes the cut, as it comes in at right around $2000. It is not necessarily labeled as a gravel bike, but it is as versatile as they come. With a build that allows for plenty of speed, riders love the versatility on or off-road.
Everyone knows that when it starts getting to the point of $2000, Specialized is going to pack a lot of technology into any type of bike they have.
They have been tweaking it over the last few years to offer a much more comfortable geometry that has the balance of comfort and speed. Everything is very streamlined on the bike, starting with the Specialized Adventure Gear Hover handlebars, all the way to the Shimano 105 groupset.
There are way too many bikes out there that probably need the tires changed as soon as a person makes the purchase. However, included with this purchase is a set of the Specialized Adventure Gear Sawtooth tires.
Not only are they lightweight and performance-based, but they are tubeless-ready. That means a more comfortable ride, a safe ride, and one that is much less likely to have any mishaps.
There is always going to be a little bit of premium on top of any Specialized bike out there, just because the brand is so well-known.
Some people are willing to pay that extra price to have peace of mind investing in a company that has a great track record. Others might look in a different direction. No matter what, do not be afraid to add this to a shortlist for great bike options under $2000.
Pros
Trusted Specialized brand
Outstanding tires
Built for top-end speed
Cons
A little more expensive due to brand name
Storage options are not as optimized as they should be
3. Giant Revolt Advanced 2
This is another bike that comes in right around $2000. The Giant Revolt Advanced 2 is a perfect solution for those who want a premium feel to their gravel bike, without paying a truly premium price.
It has a very lightweight composite frameset with better geometry than any previous version released by the company. This means a more comfortable ride and coupled with a composite fork, one that is as smooth as ever.
Along with the composite fork is the D-fuse seat post, allowing people to stay in the saddle and not worry about any type of vibration. On the road or gravel, there is a definite increase in comfort with this bike that is hard to beat unless a person spends significantly more money.
Like the Specialized option above, the Shimano 105 drivetrain stands out. Anything less than that at a price point like this should be overlooked. There is no reason to settle for a drivetrain that does not live up to expectations at the end of the day.
Giant has plenty of affordable options, but this is one that is worth the extra bit of investment. It is certainly not as high end as the Giant Revolt Advanced 2, but at almost half the price, people are more than happy with what they deliver.
Pros
The composite frameset is lightweight and comfortable
Fork and Seatpost smooth out vibrations
Outstanding drivetrain
Cons
Might be too much bike for some people
Tires could be better for the price
What Gravel Bike Price Offers the Best Value?
Out of all the different price points for a gravel bike, there seems to be a lot of improvement in the under $1000 range. Even a few years ago, $1000 was not going to buy a person much when it comes to overall comfort and rideability. Now, people can get a very comfortable option that performs well and is pretty lightweight overall.
That is not to say that more expensive bikes are not worth it, but entry-level models are so good that people are spending more time with them before graduating to something else.
It seems to be that the middle ground is starting to lose its end. People are jumping from owning a bike in the $1000 range, right to the $2000+ range instead of trying something else.
There is still value in the $1500 range, but do not be surprised to see this trend continue to grow over time. It is great for the consumer, as companies are trying to outdo each other to deliver and staining bikes at a great price point. Gravel biking continues to grow, so they will keep pushing each other and seeing what they can come up with.