For the first time in years, fat bike riders have a new winter boot to turn to from one of the most trusted brands in the industry. Bontrager has officially released the new Old Man Winter Boots, replacing the very popular previous model.
It comes with a high price tag right now, which might cause some people to pause initially (like I did) instead of making an instant purchase (No regrets).
Is it worth the upgrade and price? For many fat bike riders, it is one of the best investments possible.
Bontrager OMW First impressions
Out of the box, the Bontrager Old Man Winter Boots 2020 looks like a massive step in the right direction. They have listened to a lot of feedback from customers throughout the years, working as much as possible into this new version to make a particular boot for fat bike riding.
It was exciting to try these out after so much anticipation. There are times when boots are hype a lot, only to be a disappointment. With all the initial features that grabbed attention, that is certainly not the case.
A Few Of The Stand Out Features Include:
Vibram Rubber Outsole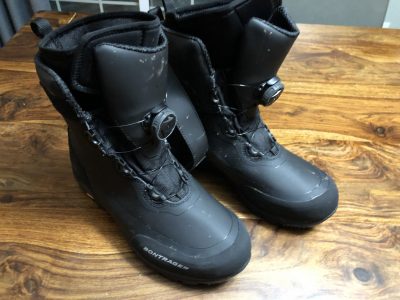 This improved outsole is much improved over the previous model. Part of that is because they are brand new, but the traction works well on any surface.
The soles also seem thicker, which will add to the overall durability once they start to wear down a little.
Felt-Lined Neoprene Inner Booty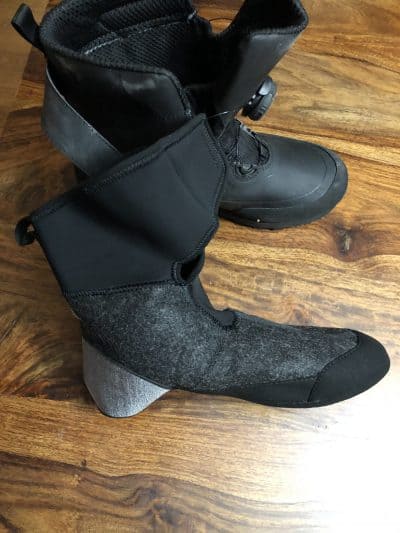 To get fit right, Bontrager needed a booty for people to rely on. Not only does it help with fit, but the felt lining gives additional insulation to keep as much warmth inside as possible.
GnaraGuard Protection
This new and improved version of GnaraGuard keeps the toe and heel protected very well against any type of mishap.
These are the most vulnerable parts of the foot, and while the previous version had this as well, the protection level is taken up a notch in 2020.
BOA Lacing System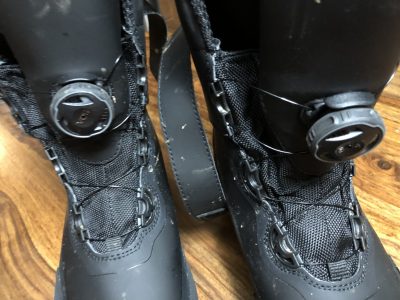 This is one of the best improvements to the shoe in 2020. Lacing and getting the proper fit is so easy now, even with gloves on.
It is possible to make adjustments with just one hand, barely stopping at all to change something up.
Clip-On Cover Option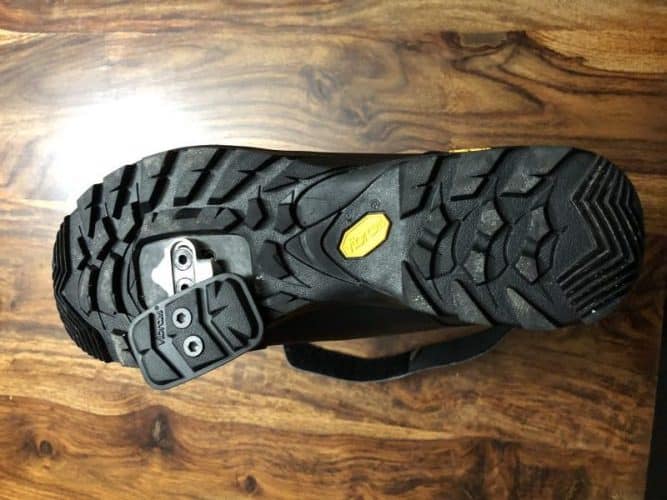 One final cool feature is the ability to use the clip-on boot for more than just fat bike riding. It has the ability to work as a normal winter boot for people who want to get more out of their expensive new boots. The boot comes with clip covers that revert these boots to everyday winter boots.
I'm not sure how much I personally will be doing this, but there will likely be many who take advantage.
Wearing Them On A First Ride
The ultimate test with any boot like this is to of course use them for more than a glorified house slipper. The true test starts with a typical ride outdoors in some pretty cold weather.
When the temperature is below freezing, this is a great first test to see improvements. That is precisely what happened just a few days ago.
The first notable change was the insulated booty working precisely as promised. The felt-lined neoprene is not only comfortable but adds that layer of warmth that is severely needed. It is thin enough that it will not cause too much of an issue during warmer days, but it absolutely comes in handy on cold rides.
The other noticeable upgrade is just how much more waterproof the upper is compared to the previous model. There is nowhere for the water to get in with the upper, whereas it was a little more vulnerable with the previous version. They both promised 100% waterproof, but this model feels like it truly is.
After going on just a few rides now, this winter boot still looks as good as new. It will be interesting to see how much wear and tear is capable of taking as time goes on, but going off the material, it seems like it is built to handle virtually anything.
Is It Worth The Price Tag Compared To The Previous Model?
When people see that the price of the old version of the same shoe is significantly less, it is tough for some to justify spending so much money. How different kind of two models be after all?
Since there was so much time between the two releases, Bontrager has spent a lot of time making significant upgrades.
For starters, there is no single part of the shoe that did not receive some sort of upgrade. When directly comparing the two, a more streamlined design and lighter overall weight are the two most noticeable differences.
The new version of the shoe is much slicker than ever before, with minimal branding and a better lacing system in general.
They were able to cut weight from the shoe thanks in large part to a redesigned upper and liner. The sole is pretty much the same, and the cleat compatibility is SPD 2-bolt.
What changed is the fiber content of the upper and the liner, which makes the shoe feel that much more comfortable and lightweight.
Design is always a matter of taste, but early consensus shows that the new version is much sleeker and modern looking. Not only is the outer much improved, but the lacing system makes the silhouette look very sharp.
There is also the problem of actually finding the old model still in stock since they were purchased so quickly. Unless a person has a very unique shoe size, they are probably not going to find that big of a deal on the old model.
It is always tough to buy any footwear that costs a ton of money, but the good news is the shoes are built to last for years.
There are some people who are making their first upgrade to new shoes since the last model came out. If it is looked at in that way, with the price spread out over years, it is not so costly.
A Word On Sizing Issues
One of the toughest things when purchasing any type of footwear online is figuring out what to do about sizing. With this boot being such a big investment, people want to make sure they get it right.
While every person's foot is different, the common consensus seems to be buying one full size larger than normal. This is not only because of the size of the boot itself but to also allow for thicker socks when riding in cold temperatures. Most people (myself included) will opt for something that is a bit thicker to help control warmth.
If there are any issues with sizing, the company is very eager to get things right. They offer free returns and exchanges so that every single person gets a proper fit.
Just make sure to try them on inside before going out for a ride. As soon as they are used, it becomes much more difficult to return or exchange them.
Final Thoughts
There was a ton of anticipation surrounding the shoes, and they did not disappoint. Not only has Bontrager taken a step in the right direction with technology, but they have modernized the look as well.
Riders who are looking to kick off the new decade with a great pair of winter fat bike boots should look no further.
Out of all the premium models out there, this is the new leader with all the technology packed in.
Bontrager's Old Man Winter (OMW) lineup has a number of products that are specifically geared towards fat bike riding in the cold, and footwear officially stepped up a notch with this release.
Click the link to visit the Trek website to discover more about the New Old Man Winter Boot from bontrager.