When people start to search for a new type of bike, there are definitely plenty of varieties to choose from. Some of the most known brands have been around for decades, and the traditional way of shopping comes down to going to a bike shop and seeing what feels great.
These days, that is not always the way to go about it. Some people like having options, and that means buying directly from traditional big brands, or working only with direct sales brands that are popping up here and there.
What type of impact are direct sales only bike brands making on the industry? Some people love this idea, while others are not quite as happy. At the end of the day, there are more choices than ever before, which should help the consumer. Understanding how to get the most out of different options makes sense.
What is a Direct Sales Only Bike Brand?
To put it simply as possible, direct sales bike brands skip the middleman that is the retailer. Instead, they only sell their bikes directly to consumers, usually shipping them to a person's doorstep so they can be on their way.
Shaking up any industry can be a bit problematic, and there are certainly hurdles to go with this change. At the same time, there are more traditional companies that are borrowing some of the changes along the way as well.
The two different types of companies are learning from each other, and as they adapt, customers are getting better bikes at more affordable prices overall. Never has the value of high end bikes been better from a shopper's perspective.
Pros of Direct To Consumer Only Bike Brands!
Whether it is riding a fat bike, mountain bike, road bike, or any other option out there, there are direct sales bike brands popping up all the time.
Some of the leaders in the industry right now include Canyon, Commencal, YT, and more.
They might not have the brand recognition that other established companies have, but they are pushing the business and making an impact on getting people into different disciplines of riding.
Price
Shopping for a brand new bike is an expensive procedure. No matter what option a person goes with, those who want something that is fairly high end and performance-based will need to spend a decent amount of money.
People are looking to save money however possible, especially if the components are pretty much equal.
In order for everyone to make a profit, companies that produce the bike need to make a certain percentage on each sale.
If it is sold in the store, that store also needs to make money for everything to work. By eliminating the middleman, pricing can go down and be much more enticing for shoppers overall.
Since big companies are starting to feel the squeeze a little bit, they are pricing more competitive than ever.
That means that the profit margins are slimming, and brands want to make sure that they build trust with shoppers as much as possible.
Direct sales companies have a number of ways to keep the price even lower than some might expect.
Being able to ship for free is one option, and even waiving sales tax in certain scenarios is something to consider.
Just make sure that the bike being purchased has similar specifications to the one being compared in stores. Being able to do those final checks might not be a simple when only shopping online.
Added Convenience
Shopping for a bike can be a bit of a process. Most people appreciate this process, and they understand that something they buy might be lasting for years and years.
However, others find it a bit tedious, and having the convenience of buying everything online is certainly enticing.
While a person can also do this from a more traditional bike company, a direct sales company already has a built-in advantage when it comes to enticing people to shop online.
When people realize that most of these companies were built with online convenience in mind, they might have a bit of an advantage.
They also have a lot of questions answered to make sure that people are not left in the dark in any way.
A person wants to make sure that whatever they are spending their money on actually provides the type of help that they are looking for.
There are also people who believe that shopping online is the best way to never feel pressured into something they might not necessarily want.
The same goes for being up-charged in any way. Not all bike sales companies are going to pressure people when shopping, but there have been people leaving shops and wondering why they spent more than they did.
With online shopping, a person can take their time, sit on it, wait days or even weeks to purchase, and so much more. A person is never under any pressure, and they never have to feel that urge to impulse buy.
Finally, online shopping usually offers up some unique payment methods that might not be available in stores.
A person can pay for a bike with a variety of accounts, and they can also go with a payment plan in some instances.
While companies might offer that in person, it is much more convenient to go with a third-party to make payment plans online as well.
As more and more people are conveniently switching to payments like these, it just makes a lot of sense overall to stick with that as an option.
Additional Choices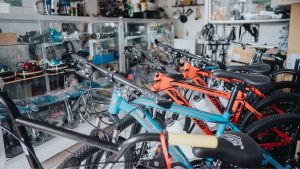 There is no such thing as a lack of space when shopping online. A person can jump from website to website and find any type of bike they could possibly want online.
Direct sales companies open up more opportunities than any local bike shop ever could, and that is enticing for people who are looking for the best deal.
Consumers are now smarter than ever, and they know that comparative shopping can yield a lot of benefits.
No one wants to be the person who is paying too much for a bike that might be found cheaper somewhere else.
Sure, there might be something to be said for leaving a shop with a brand new bike, but waiting an extra few days to get a shipment in is usually worth saving significant money.
Direct sales bike brands exist mainly because there was not enough variety in the bike riding industry.
With so few companies competing, prices start his jump up a little too much. People are realizing that it does not have to be the case.
Personalized Customer Service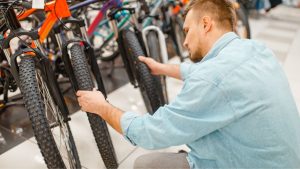 Since most direct sales companies are pretty small, there is something to be said for having that personal experience with a company.
They are going to be a little more careful with customer service in most instances, simply because they want to make sure that they are growing their brand the right way.
They know that one of the best ways is to grow by word-of-mouth, and each customer can potentially help them make more and more sales.
This is not to say that traditional companies that have poor customer service, but it can sometimes get lost in the shuffle when people are asking questions and looking for follow-ups in different areas.
A lot of direct sales companies started up by people who had a huge passion for riding in the first place. There is a bit more of a connection when people are asked.
Cons Against Direct Sales Bike Brands
As great as direct sales bike brands sound on paper, they are not perfect. There are some people who do not really want anything to do with direct sales companies, and that comes down to a variety of reasons.
While some of them might be opinion based more than anything, it certainly shows that there is still a sizable divide between the two.
Seeing a Bike in Person
Ask anyone about being on the fence about switching to a direct sales company, and they are likely going to mention the lack of trying a bike out in a traditional manner.
Yes, there are direct sales companies that now offer people the opportunity to test ride their bikes and return them if they do not want them, but it takes time and potentially money to do that.
Instead, being able to think about test riding a bike and feeling it today is something that people have been relying on for decades.
A new bike needs to feel just right for a person to be motivated to ride as much as they want to. It might seem like a perfect bike online, but it can look totally different once a person gets it.
Being able to see it in person at a store is going to help out in so many ways. Some people just know exactly what they want, as soon as they get a chance to play around with it for just a little.
Sizing and Fit
Much like the bike itself, sizing and fit come down to trying things out in person. Even though there are pretty standard sizes across the board for bikes, they can feel a little bit different in person.
Maybe someone would like to have a slightly bigger ride depending on the layout of the bike, but they will not be able to tell just by looking at things online.
Direct sales companies are doing everything they can to make sure that they have enough information online so that people can make the smartest decisions when shopping.
Unfortunately, that is still a plan with some holes in it. There is an impossible task to make things perfect, no matter how hard big sales companies try.
It is one of the reasons why they will get negative reviews from time to time, as a person will not be satisfied with what they received and how it ultimately fits.
Most people who work in bike shops will be able to assist people in the size and fit of a bike as well.
Having another set of eyes to look at everything before making a final purchase makes a lot of sense. They can tell if the sizing lines up correctly, any adjustments are needed, and more.
Waiting for a Bike to Arrive
Some direct sales companies can take quite a bit of time to ship out a big item like a bike. If it is out of stock for any reason, it could take weeks or even months to get a shipment. That is a lot of wasted time if a person needs a bike and wants to ride as soon as possible.
Theoretically, a person could think about buying a new bike in the morning, and be on the trail in less than an hour.
For those who have shopped that way for years and years, they love having that opportunity and find it very difficult to give it up.
Fixes and Repairs Can be Tricky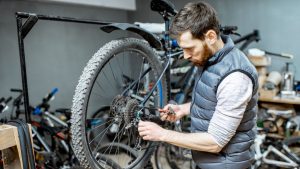 Inevitably, everybody is going to need some fixes and repairs as time goes on. When it comes down to it, a person will need to go to a bike mechanic to get some of the tougher issues fixed completely.
In most cases, bike shops also offer repairs, and that is when people can find the convenience of shopping those trusted bike brands in stores.
Since they work on certain brands throughout the day, fixes are a lot easier and even cheaper. There are some repair shops that might not be comfortable touching a more obscure direct sales brand if they find it to be too complicated.
They might also charge more money if they need to do research and the job is a little tougher.
There is not that much variance with bikes, but it is a little more comforting for some people to have someone work on the bike that knows the brand very well.
Even the top direct sales brands are still nothing compared to the more established companies as far as popularity is concerned.
How many people want their bike worked on by someone with no experience whatsoever?
Picking the Brain of Employees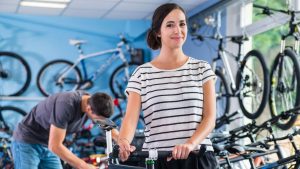 Customer service from direct sales companies might be great, but there is something to be said for talking in person with someone who works at a bike shop as well.
Being able to pick the brains of all the workers is a great way to learn about all the different types of bikes out there.
Most employees at these bike shops know that people are going to take their time when shopping for something so significant.
Since a person might be spending thousands and thousands of dollars, rushing into any situation is a bit problematic.
It could mean trying out many different types of bikes, seeing what is out there, and coming back several times.
Sure, there might be some times where a person needs to navigate through some sales pitches, but most people know that it is worth it, in the end, to get information firsthand.
Trust in the Name
Many bike riders have been counting on the same brands for many years. There is a level of trust that these brands have built with consumers that make them very loyal.
Why switch up to something if the brand has produced time and time again? For a lot of people, they do not want to risk making those changes.
A lot of direct sales companies do not have the type of history that is needed to bring in a ton of people who might be interested in a new type of bike.
It is a bit of a risk for sure, and not one that everyone is willing to make. A lot of people only have a set amount of money that they can
put towards their riding habit, and they do not want to waste it on getting something that might not live up to their standards.
Are Direct Sales Only Bike Brands Worth It?
Ultimately, people need to make their own decisions when it comes to direct sales bike brands. Their more trusted than ever before, but there's a reason why there are very traditional brands out there as well.
Consumers are becoming smarter than ever, and they are directly comparing components to see what might be the best value. Even if some companies have fancy names for components, there's nothing that can't be matched by direct sales company.
Labels definitely play a role in this decision for a lot of people. Is it worth saving a few hundred dollars to go to a direct sales company instead of a known commodity?
Not everyone is willing to do that just yet. But reviews for certain direct sales companies are really starting to take off. It's only a matter of time before the gap's closed a bit and companies are borrowing tactics from each other.