Downhill biking can be extremely exciting, but proper protection is needed to take such risks. There can be some serious crashes if a person is not careful, and no one wants to be in an unpredictable situation in that regard.
The good news is that there are more full face mountain bike helmets on the market than ever before. Most people are investing in them if they are going on a downhill ride, as it can be a little too much for those who are not pushing limits all the time.
Now that technology has improved, downhill bike helmets are no longer quite as bulky and hot as before. It still takes a little bit of getting used to, but these are the best options for people who want to stay safe.
1. 7Protection M1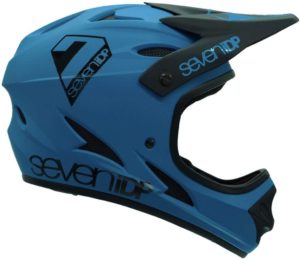 For those who are on a tight budget, but they do not want to sacrifice the ability to invest in a four face downhill bike helmet, 7 protection M1 (Amazon) offers a solution that is right around $100.
It might not be the best of the best, but it does a good job offering excellent protection for people who do not wanna make too many sacrifices.
Those who have never purchased a helmet before are in for a bit of surprise when thy see the prices of all the different models out there.
It can be very overwhelming for people, and some might shy away from some options right away. It does cost money to protect appropriately, but this is one exception to the rule.
The best selling feature is the fact that it is pretty comfortable for the price, and it is going to provide a decent amount of durability as well.
The comfort largely stems from the fact that it is fairly lightweight, but there are also some great padding solutions inside the helmet that make people feel great.
What people are sacrificing with this inexpensive option is subpar ventilation, and a visor that is not as great as it should be.
Some people will not get any benefit whatsoever from the visor, which is frustrating for those who are riding during certain times of the day.
For a starter option that is still under 950 grams, this helmet is worth checking out in the beginning. Many will usually end up upgrading from this option to something else, but it still provides great protection and will keep people as safe as possible on the trails.
Pros
Very affordable.
Lightweight for the price.
Comes in a few different colors.
Cons
Ventilation is not the best.
Visor is lackluster.
2. Leatt DBX 4.0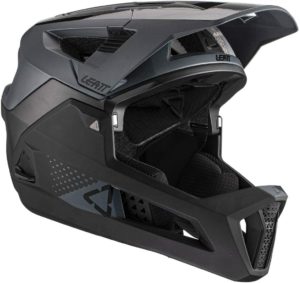 As far as making the jump to a full face option is concerned, heaviness is a big factor that so many people need to consider. The last thing anybody wants is to feel weighed down because they have a huge mountain bike helmet on their head.
The Leatt DBX 4.0 (Amazon) is light, it weighs in at just 850 grams, and the weight distribution is pretty solid as well.
The most important thing is that the safety technology included on the helmet does not take a backseat to any other option out there right now.
Out of the box, people can tell right away that this is a pretty light option overall. It is not the most lightweight helmet for full face protection on the market, but it certainly competes with the best of the best.
There are no options out there that also offer a reverse level of protection, which makes an impact as well.
Once on, it weighs even less than what the 850 grams would suggest. Part of that is due to the amount of ventilation on the helmet in general.
It really is capable of cooling a person off during warm weather conditions, and no one has to worry about sacrificing too much.
A person is going to have to spend a decent amount of money for any full face mountain bike helmet that is high-quality. With all that said, this is actually one of the more affordable options right now.
It makes it a great starting option for those who do not want to get themselves too much, and many will feel satisfied enough to keep with it as long as it is not damaged.
Pros
Excellent turbine tech that helps with added protection.
Ventilation makes the helmet feel very light.
Inexpensive compared to a lot of premium options.
Cons
Weight of 850 grams is a little heavy for the price.
Visor is subpar.
3. Fox Pro Frame MIPS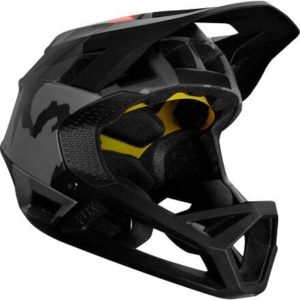 May people have seen Fox mountain bike helmets (Amazon) around for quite a while, and they have focused on providing some of the best quality out there.
With performance in mind, the company has this full face downhill bike helmet that can really outperform most.
It might seem like a pretty simple design, but that happens on purpose. Instead of weighing the helmet down with a lot of features, it provides a good amount of protection while staying incredibly lightweight.
Some people might not be blown away by the technology as they would with other option, but it is very interesting to put on and take off.
The stand out feature is, of course, the MIPS technology. This helps to protect people very well during any downhill rides. As long as a person gets the right fit and tailors it to their head, it should stay on without any problems whatsoever.
Ventilation is outstanding for this helmet, as it comes and with a total of 24 vents. This makes it way even less than some people realize, as it is just 735 grams.
The retail price of the helmet is a little steep at roughly $250, but there are usually a lot of sales available for people to find it at a cheaper rate. Since it comes in a few different colors, a person can settle on one option and go from there as well.
All in all, most people are pretty satisfied with what the Fox Pro Frame MIPS brings to the table. As long as a person can look past a subpar visor and a general lack of splashy features, they should be very happy with their purchase.
Pros
Very lightweight.
Ventilation helps during hot days.
MIPS technology works very well.
Cons
Visor can't be adjusted.
Lacks any flashy features.
4. Troy Lee Designs Stage MIPS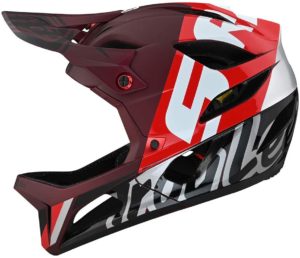 A lightweight helmet matters to a lot of riders for a variety of reasons. Maybe a person simply wants to perform at the highest level, and they do not want their head weighing them down.
Others want to make sure that they do not sweat as much or feel uncomfortable on long rides. Whatever the case is, there is not a lighter full face downhill bike helmet on the market right now that is also so highly regarded.
Troy Lee Designs Stage MIPS (Amazon) does so much right with the weight and ventilation of this helmet that it is one of the top sellers on the market right now.
Like a lot of lightweight options, it might like a few features that people would like to see. Instead, it is a more minimalist type of look, and one that works well for people who are trying to stay safe while on trails.
There are way too many people who are trying to push the limits with, and it can start to weigh a person down if they are not careful.
The exact weight of the helmet is 690 grams, which is pretty unheard of for a bike helmet that provides full face coverage.
Just a few years ago, this would not be a real option, but companies are pushing the limits more and more. Ventilation is excellent, and the safety features are strong as well.
Make sure to take the extra bit of time to adjust the helmet and have it fit just as it should. Using straps to get the proper fit helps to a certain degree. Strategically placed cheap pads also come in handy. Overall, people can feel pretty happy with how things look overall.
If all this sounds great, it does come at a pretty hefty price. The helmet is retailing at around $300 right now, and some people might initially bulk at that type of price.
The good news is that they can justify the price in some ways by providing one of the best overall helmets on the market today.
Pros
Extremely lightweight.
Ventilation is superb.
Sleek design never feels bulky.
Cons
Visor can't be adjusted.
Tough to get a perfect fit at first.
5. Smith Mainline MIPS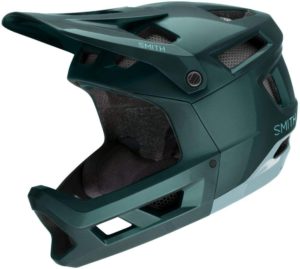 The final full face helmet to make this list is the Smith Mainline MIPS (Amazon) from Smith Optics. It is a very lightweight and comfortable option that works well for downhill and Enduro racers.
People will notice right away that even without too many adjustments, this helmet fits as it should and stays in place during any type of ride.
Compared to other Enduro helmets, it can sometimes be hard to find one that also has a downhill certification that is also trusted.
This is a very robust helmet overall, which will give people the confidence they need to be out on the trails and not taking a huge risk.
It is suggested for downhill riders that those who do not need a heavy duty option should check out something like this. It is very lightweight, and most will find it to be strong overall. Even if it is not entirely designed for that particular use, it is worth checking out.
How to Chose the Best Downhill Mountain Bike Helmet
Not too many local shops carry a wide selection of front facing downhill bike helmets, which can be frustrating for those who like to try things on.
The good news is that companies are being as detailed as possible online, and they are providing people with information so that they can make the right decision.
Fit
The most convenient way to get a great fit is to go to a store and try a front facing helmet on. Companies do a pretty good job of allowing quite a bit of adjustment once it is on, but it is still essential to get a rough size beforehand.
If a home is moving too much around without making any adjustments, it might be a sign that the sizing needs to be changed.
When shopping online, take measurements at home and compare them to the charts that each company provides. Most of the top companies do offer free returns, which comes in handy if the fit just does not work.
They are also very accommodating by including many sizing adjustment options, and even sets of pads that can adjust the size as well.
If a person is capable of swinging it, try to purchase a few helmets and give them a try at home before ultimately deciding.
It is a bit of a hassle to return helmets, and some companies may not even allow it, but it is the best way to understand how something fits truly.
If everything goes well, this helmet is going to last a long time and be responsible for keeping a person safe and healthy. It is worth the extra bit of hassle to go through everything and get the sizing down right.
Ventilation
Downhill riding is very challenging, and people are going to be exerting a lot of energy to really enjoy the ride overall. To have a way to stay cool, The right amount eventually makes a lot of sense.
It also is capable of keeping the helmet very lucky, and people will love the fact that the weight is evenly distributed in a way that makes sense.
Visor
During certain times a day, a visor is necessary to see clearly. Sometimes it helps to block out sun and reflections, while it can also help with handling rain as it falls down.
Most people are going to want to make sure that they get a helmet that has some adjustable features with a visor, but that is not always entirely necessary. People who are having problems seeing might also invest in classes, so the visor becomes less of an issue.
Just make sure that any helmet purchased has a visor that does not break easily. There is nothing worse than spending a lot of money on a new helmet, only to have a visor that is very lackluster.
Added Features
Helmets do not have too many added features, simply because companies do not want to put on added weight. It might make sense to find options that are a bit more simplistic so that it feels comfortable.
If there is a need to add features, it is usually to help with some layer of protection. Riding downhill on a bike is one of the more challenging activities a person can participate in. So much can go wrong, and helmets are trying to protect the customers as much as possible.
Safety Features MIPS
MIPS is a company that started dabbling in putting together a liner that could help provide extra protection for mountain and downhill bike run riders.
With MIPS, riders get more than just protection from impact taken directly. A helmet always tests very well on direct impact, but that does not always happen with real-world crashes.
Instead, a person's helmet during a crash usually hits the ground at a bit of an angle, which can create some level of rotational force. With the helmet facing the rotational force, so does the head, putting a person at a pretty big rest.
It is turned into better and better technology, as now MIPS helps solve this problem on a lot of top downhill bike helmets out there right now.
With MIPS implemented, anti-rotational safety is so much better than before. It is extremely important with full face downhill bike helmets, as the chin guard can cause quite a bit of damage during a crash.
If a person hits the ground at the right angle, the helmet can be grabbed from the chin and cause the helmet and head to rotate awkwardly. Without MIPS, it can really put a person at risk.
Effectiveness
A traditional mountain bike helmet is going to have two layers. On the outside is a polycarbonate layer that is tough and durable, while the inner layer is made of EPS foam.
The foam is designed to be strong as well, but also comfortable enough for people to wear on their head without feeling too exhausted.
The foam also helps in allowing the helmet to skid a bit, which comes in handy if there is a crash. Otherwise, there is a chance that the helmet would catch and whip a person's neck around, which is a definite problem in many scenarios.
EPS foam is going to crash and even break if the impact is hard enough. It is capable of absorbing quite a bit of force, but it is much better to see the foam break instead of the head itself.
These two layers work together to help protect as much as possible, so the head injuries are greatly reduced.
Full Face Downhill Mtn Bike helmet Worth It?
Most people who begin to ride on different trails might not initially feel like they need a helmet that offers that much protection. However, as time goes on, it just makes sense to be as safe as possible.
The last thing a person wants to do is put themselves in a situation where they do a lot of damage to their face. Not only can it be a huge health risk, but it can also make a person self-conscious if they have to deal with scars or other marks on her face from that accident.
If a person is not fully committed to a full face bike helmet, they can look at a convertible helmet that is a bit of a compromise.
People can switch the way that the helmet fits, and they do not have to be as strapped down overall. It might not be the best for any particular type of riding, but it gives people a little more flexibility. They can do a lot of good in full face or half shell mode.