Mountain biking is becoming more and more accessible with every passing year. Many people love investing in a mountain bike because of its versatility, and a person can find a great one for under $500 if they look long enough.
The tricky thing about staying under a specific budget is that there are many subpar options that might leave a person wanting more. It is perhaps the toughest to stay under $500 because there are so many mountain bikes that are hundreds of dollars worth of pretty much junk.
To weed out the different options out there, the list below highlights some of the best mountain bikes under $500 right now. These might be considered entry-level bikes for the most part, but there are still some solid performers that you can get years of use out of.
This is usually not the last bike a mountain biker will purchase, but a way to get into mountain biking and have a little more fun with everything.
Best Mountain Bikes Under $1000  – 2021
1. Trek Marlin 4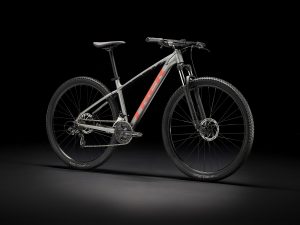 Trek is one of the most trusted brands in mountain bike riding, and Marlin 4 is a great option currently on the market. They have put together a pretty well-rounded option perfect for riders who do not need to have anything too fancy.
The components are dependable for the price, and the geometry of the frame allows people to hop on and ride the way they want to right away.
Versatility with a mountain bike is always beneficial, because most people in this price range will use their bike for a variety of things.
This can make a great commuter option in one regard, but a few tweaks on the set up of the rider can make it for attacking mountains as well.
The tires that come with the bike are versatile to help with different rain as well, never feeling too cumbersome even on the flattest of surfaces.
Everything included in the stock version of the bike is a great option for those who want something dependable but not overwhelming.
The mechanical disc brakes work very well, the front suspension smoothes out the ride, the tires are built to last, and it is offered in a few different colors and sizes for people to have a more customized feel.
Pros
Versatile geometry for any type of riding.
Disc brakes work well in any weather.
Trek provides great durability overall.
Cons
Upgrading the bike is not the easiest.
Takes a while to get a perfect fit.
2. Mongoose Malus fat tire bike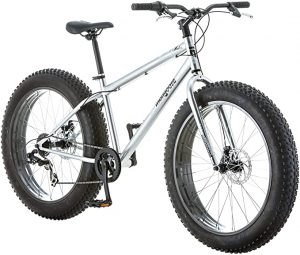 For mountain bike riders who want to have a Fat Tire option to handle a lot of obstacles and challenges, it is worth mentioning the Mongoose Malus.
Sure, it is not truly a mountain bike in the strictest sense these days, but many people use it as such if they feel like a skinnier tire does not get the job done.
Fat bikes have exploded in popularity recently, and they come in a lot of variations so that people get exactly what they want. This bike is from a trusted brand, has the set up for a very comfortable ride, and it is meant to last a long time.
There are some tweaks to get the most out of a mountain bike that has fat bike tires. For starters, lowering the PSI in the tire is going to smooth out the ride as much as possible. The bike tires can get by with a PSI of under 10, which is a little unheard of for traditional mountain bikes.
The drawback with this fat bike option is that it is not going to have a very high speed overall. Most people are not looking to set records when they are on the trails, but it is still worth understanding that there are sacrifices needed to be made in this regard.
Pros
Capable of smoothing out rides and tackling tough terrain.
Different speeds can handle many elevation changes.
Handles very well.
Cons
A little heavy for a fat bike.
Tough to fit on bike racks.
Click For The Best Amazon Price for the Mongoose Malus!
3. GT Aggressor Pro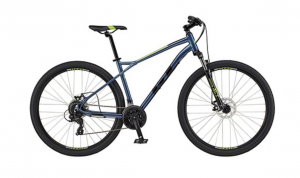 The GT brand has been around for a while, and they always put out some great value options for people who do not want to spend a lot of money on a premium mountain bike option.
The GT Aggressor Pro might be the best overall bang for the buck right now, as it has a lot of premium features that people can enjoy.
The design and geometry of the Aggressor is really what makes this a super comfortable ride for any levels of mountain bikers. It can make the back part of the bike a little stiff, but there is enough flexibility in the front to give people the maneuverability they are looking for.
It all comes down to a very smooth ride that works for any travel. Some people end up only using it on pavement, while others will go off-road and see what they can come across.
The Shimano drivetrain with eight speeds is also one of the best a person will find from a performance perspective. Many companies try to skimp a little bit on some of the components at this price range, but GT has packed a lot into a pretty small package.
All in all, GT is always going to be near the top as far as budget options are concerned. Even when jumping up to the different price ranges, they offer some of the cheapest options in that category.
Some people will end up falling in love with the geometry of the GT Aggressor Pro, and they love the fact that they use it for other situations as well.
Pros
Comfortable geometry.
Shimano drivetrain is one of the best in the class.
Works for all different types of riding.
Cons
The stem is a little long.
Might not be built for extremely tough weather conditions.
4. Giant ATX 3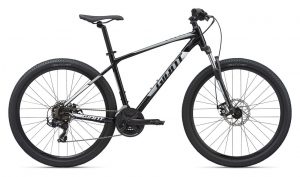 It may not seem like it at first, but the Giant ATX 3 is built for a fair amount of speed. Whether a person is looking for a casual ride on pavement or heading into the woods, they can pick up pace rather quickly thanks to the design.
It is a bit of a hybrid when looking at how things are laid out, so people who love an upright position will enjoy what it brings to the table.
This makes it a perfect option for people who are just starting out riding a mountain bike. While some people might want a more aggressive situation if they are trying to tackle specific trails, this will allow for speed early on.
The components on the bike are also very solid all around. The frame is made of a very durable and lightweight aluminum. The drive train, brakes, and suspension fork are all high-quality as well.
The way it comes, it might not be the best for single track riding, but everything else is great for people who want to have some flexibility on where they are riding his bike.
It is another trusted brand out there that offers a premium option at a pretty low cost, and that is perfect for people trying to stay on budget.
Pros
Outstanding breaks in all weather conditions.
Lightweight, durable frame.
Allows for easy speed earlier.
Cons
5. Specialized Rockhopper

There are quite a few people who consider the Specialized Rockhopper to be the best of the best for mountain bikes. They come in many different variations, but they all live up to a standard as one of the best in that price range.
The first true classic mountain bike is still a strong option for people who are learning but want to have some upgrades on the ride.
It is a pretty lightweight option for the price while offering classic durability and strength so that a person never feels awkward taking it anywhere.
Over the years, Specialized has fine-tuned the Rockhopper to give people exactly what they are looking for in this price range.
When you become more comfortable riding, you'll begin to discover other bike features that make it worth every penny.
Most people hold onto their Rockhopper a lot longer than other entry-level bikes, and it is even strong enough to go through the rigors of intermediate riders.
One reason why it is so user-friendly is that it has the geometry for all types of rides. It allows people to sit pretty comfortably, yet attentive enough to attack the different obstacles in a person's way.
If a person ever feels like they are truly uncomfortable on the bike, they are less likely to really get into mountain bike riding and enjoy themselves as much as possible. It becomes a frustrating experience more than anything.
Priced right around $500, it is one of the best options out there right now. The only downfall is that the fork is not precisely the best, and some people will spend the extra money over the original $500 to upgrade the fork.
Those who can afford it should go ahead and get a carbon fiber fork to see and feel a difference.
Pros
Geometry fits all types of riders.
Disc brakes are very strong and consistent.
High-level components for the price.
Cons
Becomes too expensive for the price range after upgrading the fork.
People can't use tubeless tires.
6. Schwinn Taff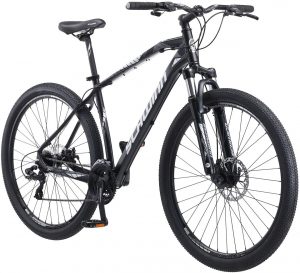 It is a little challenging for people to find a quality Schwinn mountain bike these days. Ever since they started appearing in big box department stores, there are some options out there that are not exactly worth investing in.
However, the Taff is certainly the cream of the crop in this price range. It is well below $500, almost half of that in fact, and it might just be the best value overall for people who are on an extremely tight budget.
For such a low price, people do need to keep a few things in mind. It is not going to be the highest performing bike by any means, but they do get a lot right that makes us feel like a bike capable of being twice the price.
The frame is very lightweight aluminum, and the entire bike itself feels lighter than many expect. They also make sure that it is a pretty flexible set up overall, giving people a front suspension fork to keep things stable as well.
The mechanical disc brakes are solid, but not exactly perfect for extremely challenging weather conditions. If a person feels like they will constantly ride in adverse weather, they might want to upgrade the brakes a bit.
It does a decent job handling different elevations, as the Pro Rush mountain bike drivetrain goes very well with the stock version of the wheels.
If a person wants to invest a little bit of money while still staying under $500 to improve the overall field bike, that is always an option.
Pros
Very expensive.
A stiff and responsive ride for many types of riders.
Versatile fit.
Cons
A little heavy.
Becomes more expensive when upgrading a few components.
Click Here for the Best Price for the Schwinn Taff from Amazon.
7. Roadmaster Granite Peak Mountain bike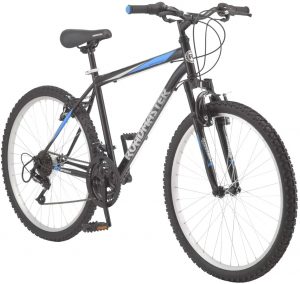 This is another inexpensive option that passes the test as a great beginner mountain bike. Not many people will stick with this particular option for a long time, but they will still get more than enough use out of it before they graduate to something else.
It comes with a steel mountain frame and front suspension that works very well to smooth out the ride. With 18 speeds and very easy shifting, people will always feel comfortable no matter where they go.
When directly compared to more premium options, it is not going to stand out. However, this is a bike that will last for a long time and comes in handy for those who are pretty infrequent with riders overall.
As an example, this bike can easily be stored in a garage and used when needed. Just make sure to make some tweaks to it and keep up with standard maintenance along the way.
There is a limit on the number of upgrades a person might be able to do to this bike, so it is best to just leave it as is and upgrade entirely if it does not seem like enough bike later on. It is one of the best out there right now for a very inexpensive price, and even if it is not flashy, it gets the job done.
Pros
Works very well as a casual bike.
Surprisingly strong.
The steel frame is very durable.
Cons
A bit heavy.
Hard to upgrade.
Click To See How Cheap The Roadmaster Granite Peak from Amazon!
Expectations For A Budget Mountain Bike Under $500
Most people are pretty well aware that $500 is not going to buy a top-of-the-line mountain bike. To get the best of the best, a person needs to invest a few thousand dollars at the minimum.
That is not to say that there are some great options in this price range, but a person should have certain expectations.
Frame
There will not be any full carbon fiber frames out there in this price range. For the most part, companies use aluminum to still get it, pretty lightweight, without being that expensive.
Aluminum is just fine for most, as beginners will need all the benefits that carbon provides in the first place. There are still some very smooth rides by using this type of frame.
As with anything, there are stronger parts of the bike, depending on the type of aluminum a company uses. It also matters quite a bit with the quality of the fork. This will determine just how smooth the ride is, and if it seems like a higher-priced bike in general.
Tires
It might be frustrating to get average tires with a bike under $500, but it is also one of the easiest to upgrade if a person wants to extend the life of their mountain bike. A person can decide to upgrade just the rubber part of the wheel, or the entire wheel to get a more performance type of ride.
A lot of what a person decides to invest in with their tires comes down to where they plan on riding. They are always going to be some people who are using a mountain bike set up for commuting.
In that regard, going with a thinner tire that does not have as deep of traction might be the best way to go. For a true mountain bike experience, having tires that can dig a little deeper and handle some tough terrain is probably the best way to go.
Suspension
There are very few bikes with a full suspension set up and also somewhat lightweight while falling in this price range. People generally have to make some type of sacrifice, which means going with something that does not offer that suspension level.
A person will need to either spend more money to get up to an option worth investing in, or look in the used market.
There are many benefits of having full suspension with a mountain bike, and some people feel like they are best off going with something they can find. Just keep in mind that it will increase the price, or the bike will be extremely heavy.
Picking out the perfect budget mountain bike option
There are a few qualities to look out for in this price range to get the best price possible. Some people will stress particular qualities more than others, and it comes down to making the right decisions and trust in the process.
Frame
Most people are not going to find any carbon frames in his price range, so it comes down to aluminum and steel. Steel is usually the cheapest option out of three, but it is pretty heavy and not exactly the easiest to maneuver.
A lot of manufacturing companies have stayed away from steel in recent years, gravitating towards aluminum for all the positives.
Not all aluminum is created equally, which is why it is important to look at the type of aluminum that goes into the bike.
The reason why people love aluminum is that it is still pretty light, and it does not show rust much at all. It is not quite at the level of carbon fiber, but it does a great job at a fraction of the price.
Wheels
Mountain bike wheels are pretty standard these days and that they come in three sizes. The 26-inch option is mostly geared towards younger riders, or those who are just starting now.
It offers a good amount of control, but people are not going to keep up with better riders once they get to a certain point.
Once a person jumps up to 27.5 inches, they get the best of both worlds. They can accelerate quickly, taking corners as aggressively as possible and having a nice view all in all.
It is a good option for beginners who might have some riding experience in the past, and they do not want to drop down to the 26-inch option.
At 29 inches, people are going with the bigger tires to get outstanding traction and efficiency. They may be a little heavier in some regards, but people love the fact that they can take them just about anywhere and really have a fast, efficient ride.
Brakes
People notice that they can now get a quality mountain bike for under $500 with disc brakes. The question is if a person goes with hydraulic or mechanical brakes in this category.
Hydraulic options are usually a little too expensive for this price range, but there are some bikes that pop up from time to time that have this option.
It has a little bit better than mechanical disc brakes in the eyes of many, providing high end stopping power riders can trust. They operate by using fluid to slow things down.
Mechanical disk brakes are fine as well, as they use cables that run to the tires. They are not as fancy or efficient as hydraulic brakes, but they do come at a much cheaper price.
Drivetrain
There are a few different types of chainring setups with mountain bikes, and it really comes down to what type of riding a person is comfortable with.
Those trying to go as fast as possible will want to go with larger rings and fewer teeth. Those who might be going through some challenging sections off-road will want smaller rings to have more efficient pedaling and climbing.
If the goal is to have quite a bit of climbing capability, look for bikes that specifically talk about the importance of a quality drivetrain.
Cheap Way To Get A Quality Mountain Bike
At the price range of $500 or less, a person is not going to be able to build anything better for themselves. Most of the people who take on building their own bike will put premium products into the build to make something truly unique.
If a person were to build a bike piece by piece on their own, they will realize that it gets a bit out of hand in a hurry.
Bikes in this price range are meant to last a set amount of time, and really be upgraded eventually if people fall in love with the sport.
There are ways for a person to build their own bike as inexpensive as possible if they want to, but it will not be cheap enough to waste the time and energy.
Worth Buying A Mtn Bike under $500?
There are a few people who fit into the $500 or less category perfectly. The first are those interested in riding bikes from time to time but do not feel the need to get anything too high-level.
If the plan is only to ride around the neighborhood every once in a while and maybe go off-road a few times a year, something under $500 is going to be sufficient enough.
Just make sure to do regular maintenance and check the tires before heading out, and everything should be good.
This is also perfect for those people who are very passionate about getting into mountain bike riding, but have no prior experience.
Instead of going with a very expensive option right away, it is better to start low and build up. Not only can the more expensive bikes be a little hard to handle, but no one wants to have a bike worth thousands and thousands of dollars just collecting dust.
Is a Fat Bike A Slight Variation Of A Mountain Bike?
There are a lot of similarities when looking at mountain bikes in fat bikes. More and more people are starting out as riders and spending time on trails, and they love the fact that it is a much more comfortable ride overall. They do not feel like they are having to feel every single bump along the way, and they can really settle into what works out best for them.
The drawback to a fat bike is that it does not really do that great on pavement. Many people love mountain bikes that can do a little bit of everything, so a fat bike might not be the best option overall.
Why a cheap mountain bike under $500 Is Worth It!
Not everyone needs the best of the best out there when they are investing in a mountain bike. The best thing to do is to shop around and see what fits specific needs.
For many people, they do not have to spend any more than $500 to get something that they can enjoy once in a while.
As technology gets better and better, and more manufacturers are competing with each other, mountain bikes are only going to get better in this price range.
Many are shocked by just how great the components are on bikes in this price range compared to 10 years ago. The time is now to jump in on some inexpensive options.