Shopping for a reasonably cheap downhill mountain bike can be pretty challenging. Although there are plenty of options out there that fall in this price range, finding good ones that are actually worth the price is another thing altogether.
No one should expect a top-of-the-line model when looking under $2000, but that does not mean that there can't be a quality option that will allow people to take on this growing discipline.
Looking for the best of the best in 2021? These are all available for much cheaper than anyone could expect.
Marin 21 Rift Zone 2
Anyone needing a full suspension mountain bike that will handle downhill rides can look at the Marin 21 Rift Zone 2.
The geometry helps people ride the most challenging terrains out there, which is great news for those who are wanting to do more downhill riding than ever before.
This is not to say that this can't also be a great option for cycling on the trails. It just excels downhill because of the solid rear shocks that smooth out the entire ride.
There are other great components on the bike as well, including the Shimano SLX SGS 12 Speed drivetrain.
Disc brakes are solid on the bike, which means that riders do not have to feel like they are ever out of control when they are going downhill.
It can allow for some pretty easy speed if a person wants it, but riders can dictate everything when they are in the saddle.
There are no terrible features that frustrate shoppers, which is one reason why this gets higher ranks. No one has to settle by any means, and there is not a nagging issue with this bike whatsoever.
Some might want a bike that is a bit more specifically designed for downhill biking, but it this is still a perfect option many have counted on.
Marin Rift Zone 27.5 1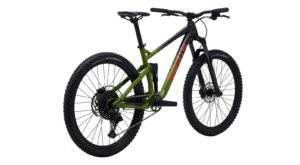 Another Marin bike for downhill riders to consider is the Marin Rift Zone 27.5 1. It feels very much like a bike that is much more expensive, and when looking at the components, it certainly seems like it would not fit in this price range.
They use the multi-track suspension platform, allowing a very smooth ride that still feels extremely natural. It is easy to jump with, land jumps, and smooth out rides while just on the ground in general.
A quality drivetrain will give any rider range to do much more than just ride downhill with this bike. The hydraulic disc brakes are pretty standard for a bike that is under $2000. And it provides very solid mountain biking for those who do not necessarily have the money to buy a ton of different bikes.
All in all, this is just a fun bike to try out some downhill riding with. There are a lot of reasons why people are gravitating towards downhill biking, but the only way it really works is if a person shows up with the right bike. This one does the trick.
Pros
Great suspension.
Perfect for jumping.
Quality drivetrain.
Cons
A small learning curve.
Hydraulic disc brakes are slightly average.
Specialized Rockhopper Expert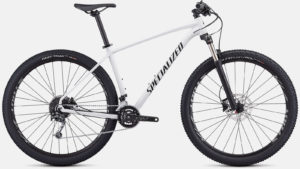 A very dependable option from Specialized that has been counted on for quite a while is the Rockhopper Expert. It is known by many to be the best inexpensive mountain bike on the market, and those looking for a downhill option will not be disappointed.
They have made some updates to the geometry of the bike, and the drivetrain received some upgrades as well. Built as a hardtail option, it will do enough with downhill rides that people will feel extremely comfortable.
Most shoppers are going to fall in love with the Rockhopper Expert for three reasons. The first is that they have some of the best tires for a stock option in this price range.
They are tubeless-ready, extremely grippy, and built for all types of mountain bike riding. Downhill bikers will not have to make any changes with the tires whatsoever to get the ride they want.
Next up is the drivetrain, which makes this bike perform so much better than a lot of competitors. Even though a drivetrain is not as important for a downhill bike or for other types of disciplines, it is still something that will be a huge selling point.
Finally, the spring fork is perfect to help smooth out the ride as much as possible. Downhill riding can get pretty bumpy, but combining this fork with the tubeless tires make this definitely a huge option to look out for.
Specialized is one of the most trusted companies in biking right now, and so many people have fallen in love with the Rockhopper Expert over the years.
Instead of making sacrifices and going with an option that is way overpriced, Specialized knows that many downhill bikers will be just fine with this.
Pros
Upgraded geometry.
Tubeless-ready tires.
Fork helps smooth out the right.
Cons
Not specifically built for downhill riding.
Shifting could be a little bit better.
Trek Fuel EX 5
There are so many people who have fallen in love with the Fuel EX 5 full suspension mountain bike. Whether it is for traditional riding, or downhill only riding for those on a budget, it is definitely one that should make the shortlist for any shoppers out there.
No, this bike is not perfect by any means, but it is very affordable and easy to upgrade if a person wants to. It is well under $2000, and that is great news for people who might not know just how much they will have the opportunity to go downhill biking.
Shifting is one thing that really stands out for this model overall. It is very comfortable going downhill, and people can keep very stable the entire time they are riding as well.
It smooths out the ride very well with a full suspension option, and downhill riders will never feel like they are completely out of control.
Sizing is a bit of a problem for people who are just starting out, as they might not know which one to get. When in doubt, try to go for the bigger size, as those are usually going to be a little bit better with downhill riding overall.
They tend to run a little small, so having a more substantial bike is certainly going to be a great way to go.
With tires that are very solid out of the box and plenty of other surprising components, downhill riders will definitely want to check this one out as an option for a very exciting investment.
It might be labeled as an entry-level option, but people will stick with this downhill bike for quite a while.
Pros
Extremely affordable for what you get!
Outstanding tires for the price.
Excellent shifting for the cost of the bike!
Cons
Some components start to wear out fast.
Sizing is a little tricky.
Nukeproof Reactor Full Suspension 275 Pro Alloy Bike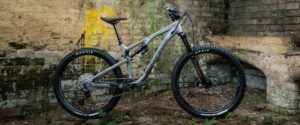 Nukeproof has a lot of affordable options that people can turn to for all types of mountain bike riding. This full-suspension option is a lightweight aluminum and carbon frame that has outstanding suspension and great components for the price overall.
Riders will feel like they can handle just about any bump on a downhill ride, and that way it is moving things out makes it one of the most comfortable rides in this section.
Mountain bike riders in this price range usually try to find something that is versatile enough to be used for different disciplines.
This is without question a mountain bike that can be used for options other than downhill riding, but it is heavy enough that it will still perform well.
The tires on this bike are outstanding overall, as they provide excellent grip without needing upgrades at all. There is also the option to go tubeless if a person wishes to, which will help to smooth out the right even more.
Coupled with full suspension, riders never feel like they are on a super bumpy ride that is nearly impossible to handle.
Nukeproof is definitely something that should be on the shortlist for any shopper out there looking for a mountain bike.
They have turned into one of the most trusted companies in the industry, and this one is definitely one worth checking out. It is amazing how they are able to get it down to this entry-level type of price without making too many sacrifices.
Pros
Carbon and aluminum frame is lightweight for all types of mountain bike riding.
Tires provide extra grip.
Very durable.
Cons
Some would like even more weight for downhill only riding.
Geometry might not be the absolute best for downhill rides.
Marin Rift Zone 29 1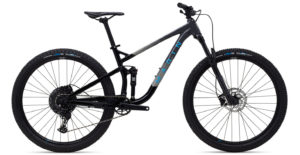 The Marin Rift Zone 29 1 deserves its own mention, as it is another quality downhill bike with bigger tires. It is viewed by many as a trail bike first and foremost, but it does an outstanding job going downhill as well.
It is an entry-level model from the company, but it gets a lot of things right with everything based around an aluminum frame.
The modern geometry of the bike definitely makes it perfect for downhill biking. The slack is there to make downhill riding better as well, but do not overlook this as a bike that can't perform under normal circumstances as well.
From a technical standpoint, riders always feel like they are in control with the Rift Zone. They put 29 inch tires on this bike, and they come in at 2.3 inches in width.
That should be sufficient for the vast majority of downhill riders, but some might switch out the current tires for something a little thicker.
For slightly over the price of $2000, there is also the opportunity to go to the zone 27.5 or 29 2. However, the differences are fairly minimal, so some just go with the cheapest option and do not look back.
Pros
Very good components for the price.
Works for trail riding as well as downhill bike riding.
Plenty of customizable options.
Cons
Lacks a dropper post.
Tires are slightly skinny for some.
Cannondale Trail SE 3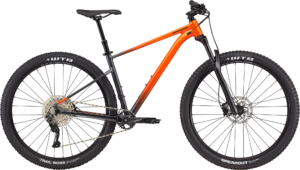 Another trail option with plenty of ability to handle downhill riding, the Cannondale Trail SE 3 is perfect for those wanting to turn into a confident rider overall.
It is a bit of a secret that this bike is outstanding from a downhill perspective, but as time goes on, more and more people figure it out.
The newest SE definitely has improved the downhill performance overall. Riders get something that is a bit more modern and speedy, and some geometry changes have improved the bike before as well.
Riders will have to understand that they are making some sacrifices with a cheaper option overall. For example, while the hydraulic brakes are pretty nice, they do not have as much pinpoint control as some of the others that are a little more expensive.
There is also the fact that the tires are more of a fast option rather than superior grip. Some people who are riding downhill want grip over everything else, but that is only going to be attainable if someone decides to upgrade.
The good news is that since it is so much lower than the $2000, a person can do some of the upgrades themselves and still fit under budget.
It is still an upgrade over some of the other cheaper options for mountain bikes that excel downhill, and it is nothing to laugh at with the high-quality aluminum frame, as well as the lifetime warranty that comes with it.
Cannondale knows that there are a lot of people wanting to give downhill riding a try for the first time in their life, and this is the way to do it.
Pros
Lifetime warranty.
Easy to upgrade.
Improved downhill performance.
Cons
Hydraulic brakes could be better.
Speed focused instead of stability.
Trek Stache 5
Technically, the Trek Stache designed for all types of mountain bike riding, this is definitely one that downhill riders can really gravitate towards.
Not only does it have a very comfortable hardtail build, but riders also get some of the best and most grippy tires for a standard option in this price range.
Riders will get the opportunity to be very in control of their maneuverability at all times. This is great news for people who might feel like others have let them down, as everything is set up for downhill success.
The tires are not only strong and grippy, but they are tubeless-ready. Riders will be able to float with not only the tires, but the standing fork that comes with the bike as well. Even on rough terrain, riders do not feel like they are overwhelmed.
Brakes are solid, but some feel like the Shimano MT 200 could be just slightly better. It is more or less about adjusting to the set up of the brakes and going from there.
Coupled with the Deore drivetrain, this is still an above-average option any way a person shakes it.
Pros
Outstanding traction.
Very smooth ride thanks to the above-average fork.
Flexible geometry.
Cons
Some do not like the larger tires.
Brakes take a little bit of time to get used to.
What Makes a Bike Good For Downhill Riding?
Downhill bikes are built specifically to help with descending. They tend to be a little bit heavier, and the priority is having excellent traction and control at all times. Pedaling efficiency also matters to a certain degree, but gravity helps with that as well.
The tires for a downhill bike are always going to be a little heavier and grippier than other types of mountain bikes out there. They are pretty challenging to ride in normal conditions, but they do an amazing job in going downhill.
Some riders will ride their downhill bike on flat or uphill land, but most others will rely on lifts to get to the top and then go down.
Can Different Mountain Bikes be Used for Downhill Biking?
There are some companies that do not advertise their bikes simply as downhill options. That is because for a lot of people in this price range, they want something that is versatile enough to work well in any type of setting.
Trail and cross country mountain bikes are the most popular options, and both require needing some downhill capabilities in order to really shine.
They might be a little lighter than a traditional downhill bike, but some of them that really focus on traction, and control will be perfectly fine to use.
Another option people can go with is going with a traditional mountain bike, and making some slight changes.
For example, swapping out stock tires with something that is a bit heavier and grip here can be a great way to be more comfortable on a downhill ride.
A little more slack to work with also increases the ability of a downhill bike, although that is a little harder to upgrade after the fact.
What Does the Future of Downhill Biking Look Like?
Downhill biking is a part of mountain biking that is only starting to grow more and more the last few years. People are getting more access to the specific type of riding, and they understand that a slightly different bike will be the best performer.
One of the reasons why bikes for downhill biking are so expensive comes down to the lack of competition. Once more and more companies are willing to pour in resources, prices could start to go down a little bit.
That is great news for the access to the sport because there are so many people who would really enjoy it overall.
It really only makes sense for people to invest in a downhill bike if they have an opportunity to ride consistently. Since it is usually a little bit too heavy for other types of disciplines, they are very much a niche product at this point.
Those who really enjoy downhill biking are hoping to see it grow and grow, and it has done exactly that over the last few years. If companies keep up with the momentum, the sky is the limit.
A Final Look at Staying Under $2000 For Downhill Bikes
Staying under $2000 for a downhill mountain bike can definitely be a bit of a challenge, but it is doable while making a few sacrifices.
It is generally recommended for people who are just starting out and want to see what all is out there. Those who have some experience will likely want to spend a little bit more money on a bike that performs well.
Remember that if a bike sounds too good to be true and is well under budget, it most likely is a rip off of some sort. There are a lot of companies out there trying to scam people with what they offer.
Companies really focused on downhill biking will advertise that they can do exactly that, and the top brands are also pretty well-known at this point.
Either they have years of reputation as a company that offers several different disciplines, or they are a direct sales newer company with everything on the line as far as the reputation is concerned.