Something right around $3000 for a downhill bike is a pretty good price for those who have shopped around. While it may seem high for some, it is important to remember that downhill bikes are a little more expensive than the average option.
They come with a lot of bonus features that make the cost go up, and the lack of competition keeps prices high as well.
Are there any that standouts in this price range that are worthy of consideration? Several different bikes are making this discipline that much more enjoyable overall.
Out of the countless options out there, these are a few standouts that even seasoned riders will see a benefit from riding.
1. Vitus Dominer
Vitus bikes are always great solutions for those staying on a budget. The Vitus Dominer is very much connected to the Sommet platform, which is great news for those who enjoy that bike.
It is a bit more downhill specific, and the move to an easy-to-set-up is very beneficial for all types of riding.
Known for being cheap and affordable as a direct sales company, there are plenty of fun customization options for people to utilize. Since it is a little under $3000, people can make some upgrades and still stay under budget.
The components might not be the best, but Vitus appears to be very focused on offering strength and reliability with the setup more than anything. This can be very important for those who are starting out, as no one wants to be in a spill of any kind.
The best way to describe the suspension overall for the bike is to say that it is enough, but not overkill. People want to feel a little bit that goes with the ride, smoothing things out to the point that it never feels like it is too crazy.
As far as limitations are concerned, the only real downfall is that sizing can be a little hard to get right without being able to try it out first.
Since ordering online is the only way to obtain the bike, people need to figure out a way to get everything squared away beforehand. It is a bit of a minor inconvenience, but considering the savings, most are going to be just fine with it.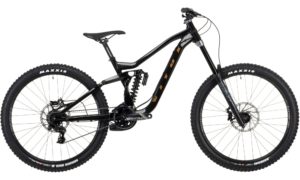 Pros
Very affordable.
Reliable enough under any circumstances.
Quality geometry.
Cons
Sizing is a bit tough.
A direct sales company is not for everyone.
2. GT Fury Elite
The GT Fury Elite very quickly turned into one of the top picks for a downhill mountain bike on the market. There is outstanding suspension on the front and back, which sets the tone for the ride overall.
People who want a very smoothed out solution without having to break the bank will love what type of value it brings to the table. Even though it might not have the best components, it certainly feels like it does when people ride around.
Riders do not have to use this option as a way to really race, but there are plenty who do this just the same. It certainly has the type of geometry that racers enjoy, even if it is a little heavier than some would like.
Those who are just starting out might find it to be worthy of a practice option to really get a better feel overall.
Pros
Very affordable.
Stays with the same geometry for a while.
Controlled speed.
Cons
The suspension still might leave things a little rougher overall.
A little heavy.
3. Nukeproof Pulse Comp
There is always that little bit of fun that goes along with customizing a downhill bike, or any type of bike for that matter.
People like to tinker around with what they have, seeing what they can do to make improvements, and really started to take off as a rider.
However, that is not for everyone, and the Nukeproof Pulse Comp can provide something that is tailor-made for those who just want to go ahead and get to riding downhill.
Right out of the box, all it takes is a little bit of adjustment to get a feel for the bike that is just right. Riders are looking for something that is pretty stable and provides a good amount of confidence for riders overall.
This is designed with beginners in mind, but those who want to push the pace, even more, will benefit from the included components.
It can really take on unpredictable terrain, and riders will have a chance to carve up any downhill trail that they desire.
Even though it excels downhill, it still will produce on flat land as well. People can really start to accelerate even on turns, which is great for those who want to have the best overall ride possible.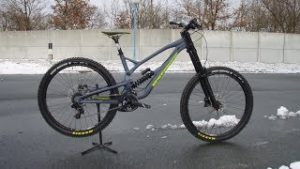 Those with aspirations to race on a consistent basis will love having that added level of confidence.
There will be some people who wish that the rear suspension was a little bit better, but that is about the only real complaint that sticks out for those who are giving it a try.
It is a bike that provides excellent traction overall, and there will be some feedback on the terrain so that a person does not feel like they are just aimlessly riding around.
Most people do not want to have that feeling that they can't connect with the trail they are on.
Nukeproof has plenty of options at different price ranges, and they are turning into a real dependable company as far as downhill biking is concerned.
They seem to really enjoy this discipline, and they are continuing to innovate to provide quality options for shoppers.
Pros
Very stable ride.
Good on a downhill and flat terrain.
Durable.
Cons
The suspension could be a little bit better.
Maneuverability is average.
4. Cube AMS 100 C:68
Anyone shopping for a low-profile downhill bike to utilize on the trails should look at this option from Cube. It looks like a modern type of bike that is lightweight and easy to ride, and it holds up well when putting it to the test.
There is a full carbon frame that is usually only reserved for the most expensive bikes out there, but those shopping in this price range can still get access to a bike that is pretty lightweight, durable, and extremely strong.
Components on the Cube AMS 100 C:68 are great, starting with the Shimano XT 12-speed drivetrain. Riders will have the ability to change gears without any issues whatsoever, which is always a huge positive.
Most downhill bikers really pay very close attention to the shocks and how a bike absorbs impact. The RockShox fork is one of the best in this class, and the rear shock is surprisingly good for the price.
Most people feel like their components are very tough to beat overall, and as long as they get the right fit, they should be very happy.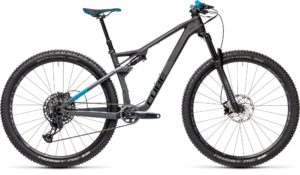 Is this the best of the best in this price range? It is not a bike for everyone, but those who are more advanced will certainly like the feel.
It is not as beginner-friendly as some would like, but learning on a more advanced bike is not always a negative. It is recommended to try the bike out if it is at all possible, although that is not always an option that people can actually utilize.
Pros
Outstanding components overall.
Above-average shocks.
Carbon frame cuts down on weight.
Cons
Not as beginner-friendly as others.
The grip could be improved.
5. Norco Fluid FS 2
At first glance, the Norco Fluid FS 2 might be a little simple, but the further a person investigates this option, the better off it gets.
This is a mountain bike that will perform very well with downhill riding, as it is durable and strong with some great shock protection.
The RockShox rear shock is definitely perfect for down the riders who also want to have a versatile bike that will work another situation as well.
The 6000 series aluminum frame is pretty lightweight, which allows for a quick takeoff when the time is right.
Hydraulic disc brakes ensure the people will not have to worry about stopping too much at all. They work very well and help to keep a rider feeling like they are always in control.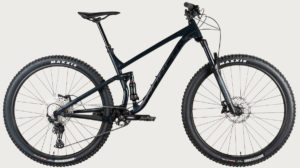 There are a lot of people who can start to feel like they are out of control and going downhill, and that is never something that anyone wants to experience.
One challenge riders find is that they can't seem to get a comfortable saddle. While downhill bike riders are not in the saddle as much as some of the other riders out there, this is a very ergonomic feel.
Downhill bikers are not going to feel like they are really fatigued after a ride by any means. It is set up for a very comfortable ride that makes it easy for those who only go on occasion.
Pros
Rear shocks are very dependable.
Hydraulic disc brakes offer speedy solutions.
The aluminum frame is lighter than some realize.
Cons
Handlebars are a bit subpar./
Could benefit from shock protection in the front.
6. Ribble HT 725
A lot of people look at the Ribble HT 725 as a full suspension option that is built for many different types of riding. A person should have no issue using it as a trail bike for those who need it, but it is still strong enough to handle downhill riding as well.
The best part is, as one of the lightest options in this price range, it will help with the performance overall.
There are certainly quite a few features on this bike that make it seem much more expensive than the actual sticker price. Shifting is very smooth and easy, which is great for those who are frustrated with lesser options not being able to come through.
The Guide-R hydraulic brakes also are above average in this category, which will keep people safe and ready to handle anything that is thrown their way.
Perhaps the biggest selling feature with this bike over others is the quality of wheels that are provided as part of the stock set up.
The Bombproof Level 35 wheels are very strong and durable, and they are ready for tubeless riding right away.
Since a lot of downhill riders like to go with tubeless tires, they can really benefit from the added grip, comfort, and rolling resistance overall.
Yes, if a person wants to spend a little bit more money, they can customize a lot of different features, so they get the perfect set up for them.
It is a little bit of a hassle after the fact, but it is a bike that people are willing to invest in if they feel like it is for the best.
Pros
Hydraulic disc brakes work very well.
Works for downhill or trail riding.
Bombproof Level 35 wheels are some of the best in this price range.
Cons
Not always readily available in stock.
The fork could be a little more comfortable.
What  Sacrifices Will People Make When Shopping For a $3000 Downhill Capable Bike?
Perhaps the most notable sacrifice that people will realize with a downhill bike in this price range comes down to weight.
While there will be some good technology that reduces the weight to some degree, it is not going to be as amazing as a top-end model.
That is usually fine for the majority since this is all about riding downhill. It would be different if a person had to struggle to go uphill a lot, but that is not the case.
Components might not be the best of the best, but most of them are going to be just fine. If a person feels like they can upgrade one or two components on their own, they can do that as time goes on.
This works in extending the life of a bike and allows people to feel more comfortable.
Finally, durability might take just a little bit of a hit. Downhill bikes are pretty robust since they need to withstand downhill riding and sometimes adverse weather conditions, so it is not like these are going to fall apart anytime soon.
Most come with a warranty, which helps ease the mind of users as well.
Who Should Be Shopping In This Price Range For Downhill Bikes?
Since downhill mountain bikes are generally a bit more expensive than average mountain bikes, this is still considered a range for those who are beginners or intermediate riders.
It is definitely going to provide an upgrade over an actual entry-level model, and those who are advanced might be left wanting a little bit more.
With that said, plenty of people who only occasionally ride on downhill trails will opt for a bike like this instead of spending a lot of money on something that will collect dust most of the year.
There is only so much money people want to actually spend on a secondary bike.
Keep in mind that even if the bike starts out as under $3000, it can easily go above that with a few upgrades. Plenty of people invest in a solid base in this price range, only to tinker with the set up later on.
What Is The Future Of Downhill Biking In This Price Range?
As of now, these are the best of the best in this price range. As technology gets better and there is more competition, prices will likely come down.
There might be some slightly better options in a few years, but downhill biking will always be a little more expensive because of what it brings to the table.