A high-quality mountain bike doesn't always have to be the most expensive option at the local bike shop. In fact, there are some high-end solutions that many opt for and are extremely pleased with that are much more affordable than anyone could imagine.
What are the best mountain bikes for women in 2022? No matter what type of budget you are working with, there is an option out there that can definitely provide quite a bit of help in getting just the right fit.
Once a woman finds the perfect bike for them, they can begin to enjoy riding that much more.
With new releases out and ready to go for consumers all around the globe, these are the best mountain bikes as far as value is concerned for women in 2022.
Most of these brands will be pretty well-known to anyone who follows the bike industry, but there are a few surprises out there that deliver as well.
1. Juliana Maverick C S
At first, this women's mountain bike might be a bit of a shock to anyone when they see it comes in at just under $6000. However, there are even more expensive options from this brand, as well as others who are looking to really invest in the sport and get the best of the best.
We just believe that this is the best value one can find as far as a high-quality option is concerned. In reality, a person is not forced on having to spend as much as some of the other companies charge.
The Maverick is meant for the trail, and the carbon-framed bike is extremely comfortable for all different types of riders.
They have stuck with the women's specific geometry, which a lot of riders like, and with full suspension, it's about as comfortable as one can ask for.
It really is hard to describe comfort right out of the box, but let's just say it is very much worth the investment by itself.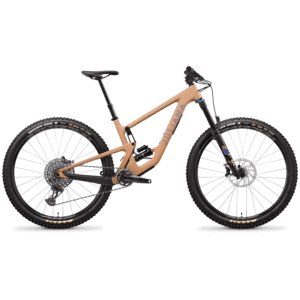 By default, the Maverick comes with 29-inch wheels that do a great job of tackling any obstacles thrown a rider's way. It also picks up speed pretty quickly, and the suspension system used by the bike makes it as easy as possible to pick speed up.
Adaptability is a huge part of this bike and the reason why it can fit so many different riders at once. There is a flip switch on the bike to not only change the head tube but drop the bottom bracket height if a woman wants to.
It's meant for those who are racing, but people who just want to push the pace can benefit from the bike as well. Yes, it's an investment, but with all the components, it's a bit of a steal at this price point.
Those starting out probably do not want to invest in a bike this expensive from the very beginning. It is better to ease into riding with something a bit more economical. Once a person does this bike, they expect to get a good amount of use out of it.
Pros
All carbon frame.
Very solid suspension system.
Adaptable geometry.
Cons
Expensive for many going for their first high-end mountain bike.
No option to go with 27.5-inch wheels from the company.
2. Cannondale Habit 5
The Habit line from Cannondale has been around for a while, and they've always been known for being extremely dependable at an excellent price point.
There's no doubt this is a pretty high-end bike for those really wanting to upgrade what they currently have, but at under $2500, it's very inexpensive.
Cannondale understands that there are still some women riders who really like that geometry that caters to a certain type of body size.
This feels like a women-specific mountain bike from top to bottom, which is perfect for those who just can't seem to find a comfortable fit with other setups.
Not only is the geometry on point, but there is an excellent suspension that helps, depending on the weight of a rider. No matter who is on the bike at the time, there is a way to optimize performance and get extreme responsiveness from everything.
Stability is an excellent selling point for any bike, but this might be the best of the best. Anyone who wants a trusted company putting out a trusted women's mountain bike will find this to be a high-quality option.
Keep in mind that this bike sells for hundreds of dollars less than most of the other companies selling a similar setup. Cannondale has always been a respected name that offers a good amount of discounts.
Pros
Very long geometry.
The frame is lightweight despite being aluminum.
The suspension works very well.
Cons
Rear shock could be a little bit better.
Limited color choices.
3. Trek Marlin 6
Trek usually finds a way to make just about any list out there for different types of bike riders. That's no different with their women-specific mountain bikes known as the Marlin 6.
It is a cross-country hardtail that works very well for different types of riders, and it comes in at a pretty affordable price point.
For well under $1000, a woman can get any type of setup they need for a high-quality ride on the trails or just as a bit of a commuter.
The company produces many different types of women's bikes, but this is probably the best value currently. Riders aren't going to get the best of the best as far as components are concerned at this price point.
No one should ever think that way in the first place when spending so little. Some people use this for bike packing, while others can use it as a commuter. The versatility of the bike makes it such a great seller for people who just want a well-rounded option.
Everything from the frame to the fork is above average for a bike at this price point. The alpha silver aluminum is strong, yet lightweight.
The fork does a great job of keeping the ride fairly smooth so that there are no uncomfortable situations that occur. It is hard for anyone to go wrong with a Trek, so put this on a shortlist.
Pros
Trusted brand.
Priced affordably given the component.
Perfect for bike packing.
Cons
Many believe they have to make almost instant upgrades.
The frame is a bit stiff.
4. Trek X-Caliber 7
For a step up from Marlin, the X-Caliber 7 is a really good value as well. Riders won't feel like they are settling in any way, and it's going to last a little bit longer before you need to upgrade as well.
Many of the components receive some pretty good upgrades, and that helps to justify the jump in price.
Everything from the fork to the frame is upgraded with the X-Caliber 7. They use a RockShox 30 silver suspension fork with 100 mm travel, along with a very lightweight aluminum frame. The internal cable setup also ensures that it has a very clean look to it overall.
This is the last bike the Trek offers before it goes up to a carbon fiber frame. Some people feel like they need to make that purchase to get all the added benefits, but this frame is not exactly heavy. In fact, you might end up being underwhelmed by the carbon fiber frame when paying that extra amount.
Sure, there is a chance to go into much more expensive territory with Trek, but why not try the Marlin or X-Caliber first? Both are great and usable in many situations, so saving a ton of money first might be the best way to go.
Pros
High-value bike for a low cost.
Built to last a while.
Easy to adjust sizing.
Cons
Components get pricey to upgrade.
Some might be better off with the cheaper Marlin.
5. X-Treme TC-36 Women Step Through Mountain Electric Bike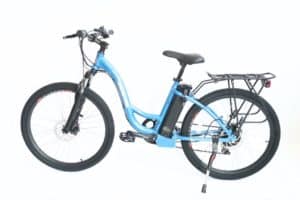 The X-Treme TC-36 has a little bit of everything for mountain bike riders who want their own unique setup. For starters, it is an electric bike that assists people who need it.
Some riders don't want to do everything themselves, and it's a way to get exactly the type of help a person is hoping for.
You also might want to look at this bike for reasons like stepping through easily instead of always worrying about how that will go.
Some riders have a more difficult time stepping over the bar than others, and this is very easy to get on and off.
As far as drawbacks are concerned, this mountain bike is not for somebody who wants to go on aggressive trail riding. You'll be better off getting something that doesn't have the electric addition to it or the step-through design.
There's some added weight to the setup, and it's not going to be a very pleasant experience carrying that around without reason. This is more of a cruiser than everything, and it even comes with a way to pack some bags on the back for longer trips.
Getting all this for a price that is under $1000 is pretty surprising to a lot of people. The integrated motor alone is definitely a positive, especially when it can get up to 20 mph.
People can use it as a way to get assistance on tough inclines or to just ride along and do the steering. It's really up to each individual how they want to approach riding with this type of setup.
Pros
Inexpensive motorized option.
Step-through design is easy to use.
Ability to do about everything.
Cons
Too heavy for some.
Not built to handle extremely tough terrain.
6. Roadmaster Granite Peak
Not everyone has a ton of money to spend on a brand new mountain bike to ride around. Maybe the goal is to have something that can be counted on once in a while in order to stay in shape and get a little bit of exercise here and there.
If that's the case, an option like this one from Roadmaster (Amazon) might be the way to go. First, it's important to understand that there are some sacrifices that go with this bike. For starters, it is only a 26-inch option.
Some people are not going to be happy with the smaller size, but it still will be able to function pretty well. It's also not going to have the opportunity to withstand huge hills and fast declines. It's built for beginners, so don't try to take it out there with a ton of experience.
The steel frame with a suspension fork is actually much smoother than some people might think. It has 18 speeds to handle any type of incline as well, which is nice for people who might be struggling a bit to get exactly what they need out of cheaper bikes out there.
For those who are on a tight budget and just want to have something that's pretty reliable, this is one that takes the cake. It's worth checking out in a few different colors, and it doesn't take long at all to have it set up and ready to go.
Pros
Inexpensive.
Smoother ride than some might think.
Perfect for commuters.
Cons
Not capable of handling super tough terrain.
Might not last as long.
Shopping For The Perfect Womans Mountain Bike
Before diving into all of the recommended mountain bikes for women, it is important to know some of the techniques used to shop for the best of the best.
It can seem like a very tough situation for people to be in if they are searching for a new bike exclusively online. Not only are there a ton of choices, but not even getting a chance to test ride them is frustrating. That is why combing through reviews is the main key to getting the best setup.
Whether you are shopping online or just heading to the local bike shop, these are some tips on how to shop for the perfect mountain bike.
It's going to help reduce the number of bikes under consideration significantly. When that number is reduced, it becomes more realistic to actually make a pick in the end.
Difference Between a Men's and Women's Mountain Bike?
The main difference between a men's and a women's mountain bike comes down to geometry. Women tend to have a shorter torso and longer legs compared to male riders, and that means the sizing is a little bit different.
What happened earlier is that a lot of manufacturers would start to build bikes that were a little bit shorter with the reach, but a taller front end.
What that leaves for the rider is a slightly more upright riding position that helps certain women feel more comfortable on a mountain bike.
It also allows them to be a bit more technical and pick up speed on the trails. Women who are really focused on going as fast as possible and actually racing might not be completely happy with the geometry, but the vast majority of women are going to find this to be beneficial.
For a more modern take on the women's mountain bike, the wheelbases are lengthened, and the head tubes have a bit more slack in them for stability.
Of course, every woman is going to be slightly different in what works for them as far as geometry is concerned, which is why there are several ways to make some tweaks here and there.
How Should a Woman Pick Out a Bike Wheel Size?
The side of the wheel mostly comes down to where a woman plans on riding. The most common setup these days is either a 27.5-inch wheel or 29-inch wheel.
The smaller wheel is more for agile riding since the maneuverability is a little bit better. On the other side, 29 inches is the most common type of mountain bike wheel size, but it's more common with men's bikes.
For women, they are going to benefit from a fast-rolling speed if maneuverability is not as much of a premium.
There is such a setup as a mullet bike, which usually goes with a smaller wheel up front, followed by the larger wheel in the rear. Another uncommon option is to drop down to 26-inch wheel size, as some people like that added bit of agility.
Do not think that there is a right and a wrong size. Ultimately, whoever is buying a bike to use should be testing them out and seeing what feels the most comfortable. No one likes being told exactly what type of bike works for them.
What Are The Keys to a Quality Mountain Bike for Women?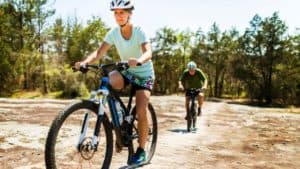 Every single person has a part of the bike that they care about more than others, but this is a general recommendation on what to look for.
A quality frame is always going to be one of the first things shoppers should consider, as it's going to be impossible to upgrade later on. Components can be interchanged here and there if needed, but the frame of the bike is pretty much set in stone.
Adaptability also matters with any mountain bike, as riders will want to get the perfect size for them so that they feel comfortable.
There's nothing worse than trying to go on a long bike ride and struggle with feeling like the bike ever fits. It might take a little bit longer at times to get the perfect fit, but an adult-sized bike will be able to do that.
Some of the smaller details might include color, included bonus features, and more. Mountain bikes are pretty straightforward these days, which allows for customization the way a rider might want it. There are colors available with women's bikes that might not sell as well with men's bikes.
The Final Say on Women's Mountain Bikes
Mountain biking is as popular as ever, and no one should ever be without one that they can explore with. There are so many different options, and starting with something inexpensive and flexible enough will be the best bet.
As time goes on, people will have a better understanding as far as what type of writing they want to do and enjoy.
All in all, it's important to remember that not all women need to ride a mountain bike designed for women. There are plenty who jump on a men's mountain bike and never look back.
This is just another option that could fit the size of an individual. Ultimately, everyone wants to have a bike that fits them perfectly, and with women-specific sizes, that can be a reality for those who have struggled with men's bikes.