With so many people enjoying riding gravel bikes, it is no surprise that there are plenty of options made specifically for women. While there are plenty of women who have no problem purchasing a bike that is technically for men, there are some who can just never find the right fit.
All these options below are made for women, which means it is generally a bit more comfortable for those who have stereotypical measurements. Things like shorter torso, narrow shoulders, long legs, and small hands might not seem like a huge difference, but those who try a bike that fits perfectly for the first time can understand.
1. Canyon Grail WMN AL 6.0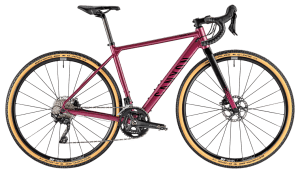 This 20-pound gravel bike is a quality option that looks sharp on the trail when someone spots it. Designed specifically for women, the geometry is about as perfect as one can find, which does seem to make a big difference for a lot of people.
This bike always rates as one of the best gravel options out there for comfort and overall adjustment options, so give it a try if others have not worked in the past.
Performance is very high-level, as every rider gets the opportunity to use Shimano components throughout. One of the standup features is the GRX400 gravel group set, which helps out in very hilly areas. For those who are looking to tackle a lot of hills, this might help make a final decision.
The final selling point for many is that the bike actually comes in some colors that are a little more colorful than others. Having the ability to be a little more creative with the look of the bike is something that many have been asking for from other companies over the years.
Pros
A lightweight option for multiple uses.
Built specifically for women, with excellent geometry.
Uses new Shimano GRX gravel groupset.
Cons
Tough for taller women to fit properly.
Some colors sell out quickly.
2. Salsa Vaya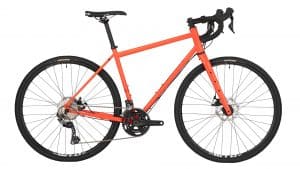 Not everyone is a huge fan of steel, but Salsa does a very good job with this build overall. It is very sturdy and capable of holding up against just about any challenge, but it rides easy and allows for some good challenges if a person uses it correctly.
One of the advantages of any type of high-quality steel frame is that it makes for smooth riding on different surfaces. This option from Salsa also has a very stable set up overall, which comes in handy for those who do not handle bumps too well.
With the waxwing carbon fork, many people are even more impressed with just how smooth things can get even on a bit of uneven terrain. They can sometimes feel like a person is riding on smooth pavement instead of loose gravel.
Tubeless-ready and perfect as it is, there are still opportunities for people to upgrade this bike if they want to. All in all, it is a pretty affordable gravel bike option given the components, and it makes for a perfect all-around option as something to start with.
Pros
Steel frame is very sturdy and comfortable
Affordable given the components
Great overall geometry
Cons
Different colors are different prices
Sizing adjustments are not the easiest
3. Surly Straggler 650b
A lot of people already know about Surly and their fat bikes, but they were also very early to the gravel bike game as well. The Straggler is a really good option for those who want to stay under budget, but also want a bike that performs as well as any out there.
This affordable option has a steel frame, which proves to be a pretty smooth and solid option overall. To make it even better, some of the components help smooth out the ride even more. It helps that the bike has outstanding tires right away, opting for the 650 B option instead of 700 C.
The brakes work very well, the entire drivetrain holds up under a lot of pressure, and it is a company bike shops know a lot about. If something does go wrong, there is always the assurance that someone will be able to complete a pretty easy fix.
There are a few different sizes for those who are on one extreme or the other. That is not always the case when shopping for women bikes, so it is nice to find a comfortable fit inside of anyone having to stretch out or feel too cramped.
Pros
650 B option provides the perfect set up.
Mechanical disc brakes are outstanding.
Many different sizes.
Cons
Does not have components that blow people away.
Hard to upgrade some parts.
4. Trek Checkpoint SL 6
The Trek Checkpoint SL 6 is the one bike on the list that technically qualifies as a bike for men and women. Its overall flexibility is one of its major selling points, so that is why it is included on the list. Not only does Trek sells it in so many different sizes, but other adjustments can be made for a very customized to fit.
No matter what type of surface a person prefers, this bike works very well. A lot of people opt for riding on gravel and can handle that surface with relative ease. It only weighs about 20 pounds, which is pretty lightweight for people looking to push themselves with new speed records.
This bike is a little more expensive than the majority of bikes on here, but someone will find it perfectly fine to spend that extra money if it is worth it in the end. Being able to see why a bike costs more money than some people want to spend ultimately justifies the price, allowing people to feel pretty confident overall.
One good thing about making a more expensive purchase right away is that there is really no need to make upgrades on this bike. It already comes with Bontrager paradigm comp disc wheels, 12 mm through axles, Bontrager GR1 team issue gravel tires, and so much more. The 2 x 11 speed Shimano Ultegra groupset is top of the line, and the same goes for the crank and cassette.
Trek is one of the most popular brands out there, so if there is any need for service, it is pretty easy to find someone who is very comfortable working on them. It is always a bonus to have people around who can make repairs if necessary. As long as the bike is well taken care of, it will not be necessary to get many repairs in the first place.
Pros
Premium option that is ready to go right away.
Outstanding tubeless-ready tires specifically for gravel riding.
Plenty of customization options for a perfect fit.
Cons
Expensive.
A little fragile for a bike that costs so much.
5. Cannondale Topstone AL 105 women's bike
Whether it is exploring off the pavement or simply wanting an option that is more of a commuter, Cannondale has one of the best options for women out there.
It is a fairly affordable option, and the components make it well worth the investment for many. On top of everything else, it is one of the most modern, elegant looking gravel bags out there right now.
The reason why so many people use this as a commuter bike as much as a gravel bike is that it is very lightweight, easy to maneuver, upright enough so that it feels comfortable, and dependable. The alloy frame and full carbon fork play off each other a lot to make this a smooth ride that most people will instantly fall in love with.
It might not perform at the highest level for those wanting maximum speed, but there are some quality component options on this bike that surprise people. There are different setups as far as positioning is concerned, so people can get low enough and forward enough to have efficiency when picking up speed.
Finally, it is very easy to upgrade this bike, as Cannondale is pretty popular to find just about anywhere. Depending on what a woman actually uses to buy for, they might decide to go in one direction or another to do the upgrade.
Pros
Very modern, elegant looking bike.
Works well as a commuter or racing bike.
Alloy frame and full carbon fork make for a very smooth ride.
Cons
Some color show dirt and grime rather easily.
Geometry does not allow for some to get low enough for their liking.
6. Pinnacle Arkose D3 2020 Gravel Bike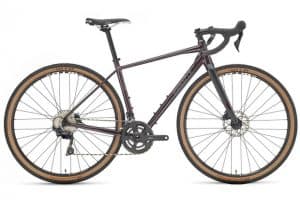 The availability for the pinnacle Arkose D3 2020 is not the best, but those who have access to it should put it on the shortlist. It is a brand new design compared to the last few years.
Most people are very excited about what it can bring to the table for the gravel bike community. It is an affordable option with premium parts, and having the flexibility of using any type of wheel size gives people options.
One of the selling features indeed is that a person can go with a 650B x 52c or a 700c x 45mm if they want. This all comes down to personal preference, and ultimately where a person decides to ride as well.
Another huge feature that separates it from some of the competition is excellent handling. When riders are on many different surfaces, they can feel like they are on complete control at all times. This should never be overlooked, as it can put a person in a very vulnerable situation if they are not in control.
All the rest of the components are pretty standard for a bike in this price range. Since Pinnacle bikes are not as popular as some of the other options out there, it might be a little tricky to find someone to do any repairs. Other than that, it is definitely a bike that a lot of women can hop on and see the difference right away.
Pros
Excellent handling.
Compatible for multiple wheel sizes.
New redesign is well received.
Cons
Availability is limited in some parts of the world.
No component future stand out too much from the crowd.
7. Juliana Quincy CC Rival 2021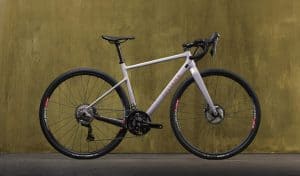 A simple, elegant design is built for just about any challenge possible as soon as someone hops on the Juliana Quincy CC Rival gravel bike. This particular model has everything a person could hope to make it a serious contender for the best overall gravel bike.
The SRAM rival drivetrain gives people multiple speeds to quickly switch in between for any type of elevation. With no shortage of gears, it opens up more opportunities for those who want to see just about anything out there.
Other solid components include the very sharp disc brakes, an excellent wheelset, a carbon fork that smooths out everything, and 100% internal cable routing. Not only does that routing help with overall protection, but it makes the bike look that much cleaner.
Since his bike is designed specifically for women, most will find it very easy to get the right fit. There is the general sizing and some small tweaks, but it shows that they put a lot of extra detail into this as a company focused on providing quality value.
It is definitely a reliable option and one that any woman can start using right away. This company really shows why they are one of the more trusted smaller names in women biking.
Pros
Simple, elegant design.
Internal cabling gives it a clean look.
Excellent components.
Cons
Tough to find at times.
Limit in color choices.
Is It Worth Buying a Women's Specific Gravel Bike?
It is pretty easy to see that there are a lot of companies that produce gravel bikes specifically made for women. While it sounds nice in theory, some people wonder if it is actually worth going in this direction in the end.
A few years ago, the answer might have been no. That is because, for any type of specialization, companies were charging a little extra for what ultimately was the same components. A person could find a gravel bike that had the same components, but more mass-produced for men, and it would be cheaper.
Since gravel bike riding is now a little more popular, that is no longer the case. Women can find exactly what they need at an affordable price, so make sure to take measurements to make the final decision.
If a rider has fairly stereotypical measurements for a woman of their height, getting a bike with this geometry makes sense. If bikes made for men do not normally pose much of a problem, there are plenty of gravel bike options out there to try in that category as well. Ultimately, it comes down to comfort and having