The only way a person is going to survive a winter bike ride is to bring a few essentials along with them. The winter months definitely make things a little more challenging, but those who really like to go out there and make the most of an opportunity will find ways to still have success.
What are the gear options and essentials out there for winter riding? From head to toe, there are plenty of accessories worth investing in to get ready for a ride in a variety of ways.
Having that extra protection will make all the difference in the world when it comes to staying healthy and getting the most out of a ride in less-than-ideal weather.
Click For Best Protective Gear For Summer Riding!
Lights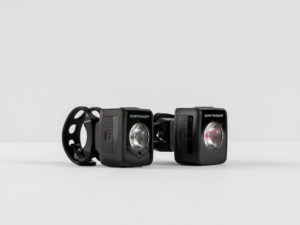 A light set for winter riding makes a big difference in overall safety. All riders should have a light set ready, but the winter months need them especially.
Not only are the days shorter, but there is a chance of inclement weather seemingly out of nowhere. When that happens, the visibility of others is greatly reduced, and it can increase the chances of a horrible mishap.
Best Option: Bontrager ion 200 flare lights at
For some small lights that will pack a lot of punch, cyclists can turn to a well-known name in the industry in Bontrager.
The visibility of these lights is great, and riders never have to fear the chance of not being seen. They are strong enough that they can be seen from over a mile away, which is great news for those who are riding in particularly dark places.
Whether a person has them in steady or flash mode, they are very easy to mount and will last a very long time. They are charged with a USB cord, so people do not have to worry about constantly making battery replacements either.
On top of everything else, they can withstand the elements, so once they are installed, there is no reason to take them off.
Cheaper Light Recommendation From Amazon!
Balaclava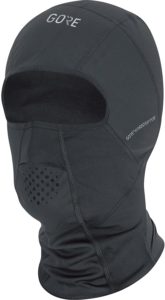 A Balaclava can make a big difference for cyclists who insist on going out in the cold. By wearing one of these, everything can be protected so that there is no chance of a person going through significant pain.
It stops the wind from causing issues, and it keeps the entire head as warm as possible.
Despite all the protection, the fabric is usually pretty thin and breathable for riders. That is important, as no one wants to feel like they are closed in when they are going on long rides.
It is able to hold up against any type of weather that hits, so that is great news for people who may find themselves stuck in the middle of a storm.
Best option: Gore Windstopper Balaclava (Amazon)
Gore is another very trusted name in the industry that puts out a number of highly respected accessories. Although it is not the most expensive option by any means, this balaclava gets everything right from the very beginning.
It is not only very easy to put on, but it can make a person feel very comfortable when they are riding any distance.
One of the biggest challenges when purchasing a balaclava is getting the right fit from the very beginning. There is nothing worse than trying to force something on, only to feel like it is cutting off circulation, or flopping around.
Gore does a great job with sizing, and they are not afraid to add other ways to get a customized fit as well.
That is probably the reason why people are paying a little bit more money, as the high-quality material should last a long time even if a rider goes out every single day.
Click for the – 6 Best Winter Balaclava For Cyclist!
Beanie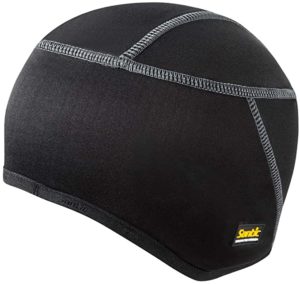 Not wanting to wear a full balaclava? A beanie for cycling might be the best way for riders to stay as warm as possible.
They are going to provide plenty of protection at the top of the head, but the face itself still be a bit exposed.
Beanies are something that usually does not get in the way at all for riders out there. They are thin enough that they can go under helmets as well, so nothing is compromised in the end.
A lot of heat can be absorbed from the top of the head, so that is why it is so important to have warmth in this particular area.
Beanies are worn for any other activities, and there is no reason not to be able to use this for riding as well.
There are some thinner options that are on the market from top companies. But at the end of the day, a little bit of weight is not going to throw riders off too much.
Best option: Santik cycling skull cap helmet liner (Amazon)
This can be worn as a beanie, or as something that goes under a helmet for a cyclist. It is very thin and lightweight, despite offering some of the best thermal attributes one can ask for.
Coming in a few different colors, this is definitely an option that should be on everyone's shortlist. It has a very comfortable inner fleece material that will keep him warm, and the outer material is very resilient against all types of weather.
The one thing to worry about is finding a beanie that is thin enough that it will go under a helmet without any issues.
This is definitely one of the thinner options on the market, which makes it only easier for cyclists to get in this habit during the winter months.
Base Layer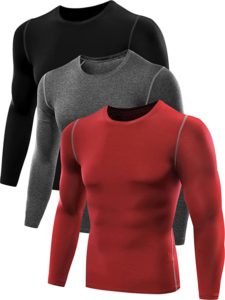 Base layers in the winter are a great way to stay warm in the very beginning of a ride and keep that body heat in as much as possible.
As one might expect, base layer clothing ( goes right up against the skin. There will be other layers added depending on the temperature, but it is
meant to be comfortable, lightweight, and capable of staying as dry as possible. The last thing anyone wants to have happened is their base layer gets a little too wet to handle.
Base layers can come with no sleeves, short sleeves, or even long sleeves. They are usually made of the softest type of material possible, as no one wants to have that bad feeling against their skin for a long ride.
They can still get sweaty underneath a lot of clothing in the winter, so wicking away sweat matters as well.
Best option: Neleus athletic compression under base layer
These shirts can be worn for many different types of sports, but they are perfect for cyclists because they are so lightweight. It forms very well for a person's body, and there are plenty of colors to choose from as well.
Made of a combination of polyester and spandex, a lot of people like how this feels and lies smoothly against the skin.
It is a very lightweight feel overall, so expect to wear a few other layers depending on the weather. While some may only need one layer in the summer, that is not something that will work during the winter.
5 Best Winter Baselayers on the Market Today!
Gloves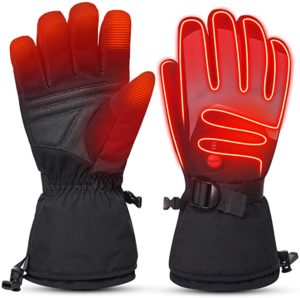 One of the first things that every cyclist grabs when the weather goes a little colder than they would like are a pair of winter gloves to keep warm (Top 6 ).
The hands are one part of the body that seem to get colder faster than anything else, and it can be very frustrating to try to navigate a bike when that is happening.
Gloves come in all shapes and sizes, and depending on how cold it is, people might offer something that is more heavy duty than others.
People still want to be able to move around their bike and feel like they have control, but they also do not want everything to freeze off.
Most like to opt for gloves that have all the fingers separated. However, there are lobster gloves, as well as mittens if a person wants to go that route as well.
It will provide a little bit more warmth, but might not be the best for those who are wanting to control everything as much as possible.
Best option: Showers pass crosspoint knit waterproof gloves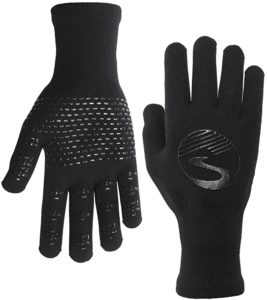 Do some simple searching online, and there are countless gloves that could work for cycling. However, these are great all around options that provide warmth, do not add too much weight, insulate very well, and so much more.
They come in a variety of colors, and they even have an enhanced grip so that there is no slipping at all.
Staying waterproof is also very important in staying warm during the winter months. These gloves do a very good job of sealing off the hands so that they never have a chance of being compromised by water seeping through.
That is the last thing anyone wants in the middle of a ride, as it will be very hard to ever get warm again.
Socks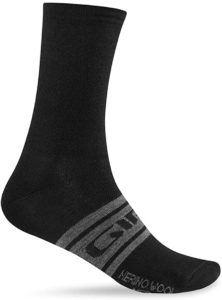 Too many people overlook the importance of a good pair of winter socks when trying to stay very warm on a ride. Just like a lot of layers that go up against the skin, the socks are a place for water and wind to get through if they are not properly protected.
The good news is that there are waterproof options out there, and ones that provide a great seal to keep the feet and lower legs warm.
Unlike the summer, most will opt for as long of socks as possible. This will keep not only the feet warm, but the calf as well. Since most people are going to be wearing longer pants as well, it is just another layer that will add protection.
Socks still need to provide a good amount of grip as well when people are riding around. Most people do not need anything too fancy, but it helps to invest in something that will last more than a few washes as well.
Best option: Giro Merino wool cycling socks
Giro has a lot of great accessories for cyclists, and the socks are among the best in this category. They will cost a little bit more than the average pair of socks that a person buys, but they are on par with other athletic options out there.
Not only are they very durable and provide the right amount of cushioning for cyclists, but they are built specifically for the winter.
Made of merino wool, there are a handful of colors for shoppers to take a look at. It has a very warm feel as soon as they are slipped on, and they do an excellent job of repelling any water that tries to cause issues.
It is one of the best ways to protect the feet and have as long of a ride as possible.
Footwear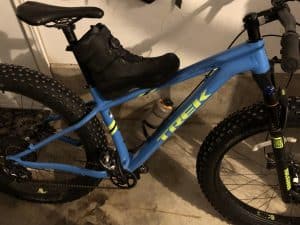 Cycling shoes can get pretty expensive, but most will opt for something a little warmer during the winter months. That is where cycling boots can come in handy, but buying the right pair can really dictate how a ride goes.
Like so many other accessories on this list, it is important to pick out boots that do a great job of keeping water from ever entering and potentially get onto the skin.
A proper seal is necessary not only near the ankle, but all around the foot to get the most out of cycling boots.
Whatever option a rider buys, there is no reason why they can't use these boots to walk around in the snow as well. They are usually going to be pretty rugged, and can withstand some walking around without feeling like they are completely out of place.
Best option: Bontrager Old Man Winter (Full Owners Review!!)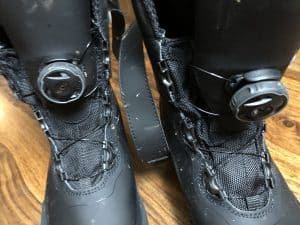 These boots are a little bit on the higher side, but serious riders in the winter are going to make sure that they have something that offers the best protection possible.
It is not exactly a low-profile option, for the most part, these will offer support and a good seal. Around the rest of the foot, there is a waterproof membrane that will make sure that it is nearly impossible for any water to get through at all.
There are rubber spikes added to the outsole that will help with the overall grip for riders who are trying to stay as safe as possible on the trails.
It is a performance shoe first and foremost, but something that is simplistic enough for the every day rider to just have some fun with them as well.
How are they as far as work is concerned? Not only does the sealed off process help tremendously, but there is a layer of insulation inside that keeps every part of the foot as warm as possible.
Overshoes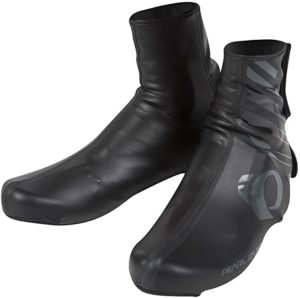 For people who are really particular about staying as warm as possible, opting for overshoes can be a way to add another layer to the foot area.
Another option is for those who do not have winter cycling boots, but want to add something a little more affordable with overshoes.
These are pretty simple options that slip onto the foot with the shoes already on, and they will offer a good amount of grip so that they are not a hindrance to performance in any way.
Think of these as pretty much a jacket for the feet. They might look a little weird at first, but they can serve a pretty big purpose when trying to cycle every single day in the cold weather.
Even professional riders will use these on occasion if they need that extra layer.
Best option: Pearl Izumi pro barrier
The shoe covers are windproof and waterproof so that riders can go just about anywhere. Coming in a very solid black color that will stay looking sharp for quite a while, everything inside stays as warm and dry as possible.
They are very easy to take on and off, as there is just a hook and loop closure to get going. They are also pretty easy to store when they are not in use, which is always a plus for people who do not want to be bogged down by too much going on.
Tights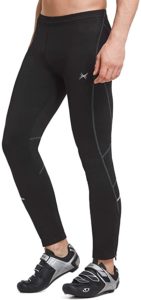 A good pair of tights will be perfect for those who are going on a long ride and need all the protection they need and the lower half of their body. There are regular tights, as well as bib tights that can offer more full body coverage.
Riders should be looking for tights that are pretty low profile so that they are not slowed down.
Some people will wear tights only, while others will wear another layer over the top to keep them extremely warm. It really all comes down to what a person is looking for the most out of their attire.
Best option: Baleaf thermal tights
Created in both men and women sizes, Baleaf is one of the most trusted companies when it comes to keeping everyone as warm as possible without feeling weighed down.
These can be used for all types of athletics, but they work particularly well for cyclists by themselves, or as a base layer.
The reason why these are so great is that they are affordably priced, they fit very snug to the body, and there are leg zippers that make it very easy to take on and off.
On top of everything else, it is extremely efficient at keeping riders as warm as possible so that they do not slow down at all. They have a few different colors to choose from, and a wide range of sizes so that everyone gets the perfect fit.
Jacket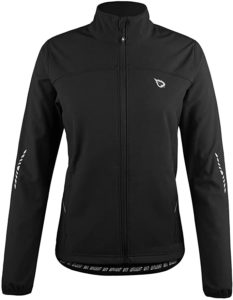 The final accessory, other than basic cycling clothes, of course, is a jacket for the winter. The heaviness of the jacket will largely depend on the time of year and where a person lives.
But most cyclists are looking for something that is still pretty lightweight when staying warm.
In order to achieve that, a jacket has to be made of the right material. There are some pretty affordable options out there, but jackets can also get very expensive.
Some people will wear a jacket that can also be used for many other different occasions, while others will go for a cycling-specific choice.
Best option: Baleaf thermal soft shell Cycling Jacket
Baleaf makes quite a few different jackets, but their thermal soft-shell is the best for the winter.
Many people are surprised by just how thin of a profile they are able to get this jacket down to, and that is great news for people who do not want to have their ride compromised much at all.
Made of some very dense, yet breathable fabric, there are a lot of bonuses all around. The outer layer repels water very quickly, which is always great for those who find themselves riding in the cold weather a lot.
There are a total of three layers so that any type of liquid is not seeping through.
Taking off and on is very easy, which can also help with ventilation as well. There are hand pockets for keeping the hands extra warm during downtime, and even some reflective options on the jacket that help with visibility. They really have it all covered.
Every single rider needs some type of jacket for the colder months, and this is one of the best for any type of occasion. Do not be afraid to wear these jackets outside of cycling as well.