Having a dependable downhill bike is undoubtedly something that all riders find essential. However, a pair of shoes might not be the first thing people shop for when they are looking to step their game up with accessories.
The fact of the matter is, a good pair of shoes is going to add an extra bit of durability and control when a person is flying down the trail.
No matter if a person wants to go with a flat option or clipless, there are some great downhill bike shoes available from top manufacturers.
Some of them can get a little expensive, but before spending a lot of money on a pair, do some comparison shopping to figure things out.
Best Downhill Flat Pedal Shoes
Some people really enjoy using flat downhill bike shoes instead of having a clipless option. There are some advantages, as it is much easier to get on and off without and not have to switch out the bike to ride it.
Some people like to move their feet around when they are riding, and it does not necessarily mean that a person sacrifices a ton of grip.
All of the options in this category are great for people who take downhill riding seriously. They might not be quite as efficient, but it is a preference for some.
1. Five Ten Freerider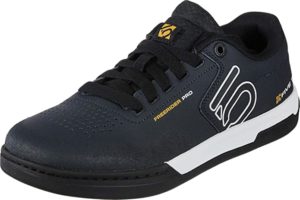 If the ride is pretty rough overall, most people will opt for a clipped shoe. However, Five Ten Freeriders (Amazon) is an excellent option for those who want to have a flat shoe. They use Stealth S1 rubber that is very sticky and durable, and the sole of the shoe overall is pretty stiff.
Most people are going to want a stiff sole so that they can have a shoe that is good for riding or having a hike on occasion. In some scenarios, people need to jump off their bike, and it is worth it to invest in a shoe that can handle the train as well.
The design of the shoe is pretty basic, but they do come in a decent amount of colors. Some people are very much aware of this specific look, as it is one of the more popular brands in the industry right now. They can almost pass off as a casual shoe for those who want to slip them on for a quick move.
They are not a ton of negatives for the Five Ten Freerider, other than the fact that it is a platform shoe. There is a mesh section on the upper that can sometimes tear if a person is rough on shoes overall, but they should still last a pretty long time.
Both the Freeride and a Freeride Prol are great all-around options, with a Freeride Pro being about $50 more.
Pros
Classic design.
Very sticky rubber.
Works on and off the bike.
Cons
Mesh can sometimes tear.
A person loses pedaling efficiency like any flat option.
2. Ride Concepts Livewire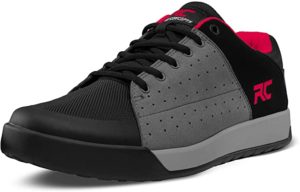 It is a little shocking to see just how quickly Ride Concepts has grown as a company. They are still very new to the scene, but they have put out some practical shoe choices that are affordable and get the job done.
As far as flat versions are concerned, the Ride Concepts Livewire (Amazon) might be one of the most intriguing options that are brand new right now.
Starting at just $100, there are a few varieties for people to check out. Having a flat option that provides people with a very grippy rubber outsole, has a classic look, and fits comfortably right away is certainly a huge positive.
Another bonus to the Livewire option is that there is strategic impact protection in the right areas. As a person rides around and tries them out, they will notice that there is protection in the heel and the ball the foot.
Some people really love this feature that is a little hidden, and it might be something that other companies implement in the future.
Since they are so new, it is tough to gauge their overall durability. Most of the shoes so far have held up well, but they do not use as premium of options for materials as some of the other companies.
Maybe a person will not get quite as much use out of the shoes overall, but it is worth it if a person is trying to give another brand a try.
Pros
Very affordable.
Impact protection works.
Solid rubber outsole.
Cons
Durability is still a question mark.
Not that easy to find.
3. Giro Jacket II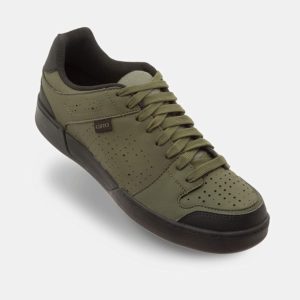 People might think of downhill bike shoes as something that is designed only for those who take the sport very seriously. The fact of the matter is, anyone can benefit from these types of shoes, and an excellent casual option is the Giro Jacket II (Amazon).
People who want to have a shoe that they can wear around and not look like someone who just got off a bike can use these just fine.
There is not a ton to the shoe as far as design is concerned. It is a very simple, minimalist option that people love as far as comfort is concerned.
Once the shoe is on, they will notice that there is a fair amount of padding in the right areas, and strong flexibility under the foot.
They can keep prices down because the materials used for the shoe are not quite the same as some of the more expensive options.
It does not matter as much, as casual riders will not be wearing these every single day. The grip is also a little less effective, but nothing that the majority of riders will notice too much.
For something very affordable, it is a nice way to upgrade the ride without having to spend a ton of money. Most people who have never given shoes for bike riding a try will definitely notice that these are going to make a difference.
Pros
Geared towards casual riders.
Very affordable.
Can be worn for hiking or casual use.
Cons
Grip could be a little better.
Materials are not all that durable.
4. Shimano SH-GR7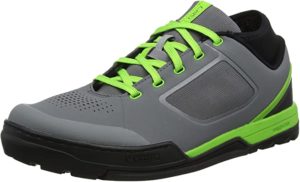 Most people who end up opting for a flat downhill bike shoe have comfort in mind. Shimano understands this perfectly, and they have made the SH-GR7 (Amazon) that is comfortable for even the longest ride out there.
If a person plans on spending hours out on the trails, it might be worth investing in something that feels good the entire time.
From the very first time a person slips the shoes on, they will notice a difference. Shoes for any type of bike riding can sometimes feel very stiff at first, but these are comfortable with a good amount of protection from the very beginning.
Shimano certainly puts out more than a few great options in the clipless category, but this is definitely want to watch in the flat category. It is a great hiking shoe when a person has to walk, and it is built to last.
The only minor negative is that the grip could probably use a bit more stickiness to it. It is not terrible, but people can find some flat options that work a little better.
Not only does it struggle a little with the stickiness of the grip, but it does not last in its best shape for as long.
Shimano is certainly a trusted brand in the industry, and people can't go wrong with something they offer. They can get a little expensive and even hard to find in certain colors online at times, but they are certainly amongst the best in flat options.
Pros
Comfortable from the very beginning.
Excellent protection.
Made by a trusted brand in the bike industry.
Cons
Grip could be a little stickier.
Sometimes becomes a little hard to keep clean.
Best Downhill Clipless Shoes
Clipless shoe options are considered to be the more premium solution for those who are looking to really get locked in. Not only does it secure the foot better than ever, but people have a more efficient pedal every single time.
Not only is a person getting a chance to pick up speed by pressing down, but the leg pulling up helps as well.
The thing that keeps people away from clipless for so long is that it can be pretty intimidating. There is a bit of a learning curve as far as figuring out how these shoes work in just the right way.
Some people will have a hard time slipping out of the clip when they need to, and that could cause some awkward falls. Nonetheless, these are the best of the best from a clip of perspective.
5. Five Ten Hellcat Pro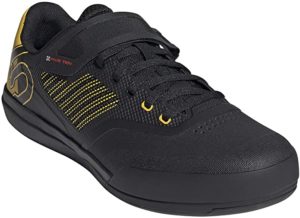 A strong clipless option for many people to consider out there right now is the Five Ten Hellcat Pro (Amazon). It is a very rugged and strong clipless option overall, and that does come at a bit of a price as far as weight is concerned.
However, people overlook the way since there are so many other positives to having a shoe as part of the riding routine.
Technology is the name of the game for Five Ten, as they have been able to put in some great upgrades in the shoe. The middle is a little stiffer, and it comes with a TPU shank that fits in perfectly.
To give a person as much protection as possible, there is a good amount of armor all around the shoe and cushioning so that a person does not feel like they are jamming their toes. Even if a person ends up crashing, it is beneficial to have shoes like this on.
Does everyone need a pair of tanks to wear on their feet to get the ultimate amount of protection? If a person is not riding for speed and thrill, these shoes might not be the best of the best.
Not only are they a little expensive, but the heaviness of the shoe might be overkill since not everyone will be going as fast as possible.
They end up being a little uncomfortable and wear a person down. If it seems necessary, they are worth upgrading to, but not everyone will need this type of coverage to still feel safe.
Pros
Very strong and durable.
Comes in a variety of colors.
Provides outstanding protection.
Cons
Can take a while to break in.
Too heavy for some who only ride casually.
6. Giro Chamber II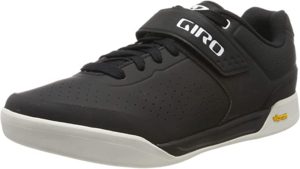 The Giro Chamber II (Amazon) is a little bit heavy, but otherwise one of the best options for downhill mountain bike riders. It can pull off the look of a flat, casual shoe, but it is clipping in with ease that a lot of people like.
Once clipped in, a person will feel very much secure when they are going on even the toughest trails overall.
The build and design of the Giro Chamber II is meant for overall durability. The upper is very sturdy, and there is still enough flexibility in the shoe to never feel too stiff.
It is designed for performance above all else, and the strap across the top of the shoe can give a person even more of a locked in feel.
It would be nice if the Chamber II were a little lighter, but most people get used to the heaviness of the shoe overall.
As long as the person is not going on super long rides and trying to get as late as possible, the shoe will not really make that much of a difference because of the weight. There are too many other positives with a shoe to make people run away from what it has to offer.
Pros
Has the look of a flat pedal shoe.
Strap across the top for a secure fit.
Cleats gives a person a unique position.
Cons
Still a little too heavy.
Has a hard time allowing the feet to breathe.
7. Shimano MW7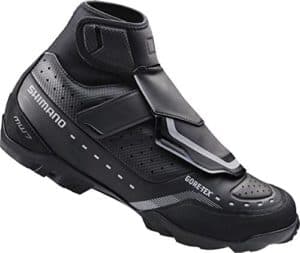 This final option might not be the best for everyone, but those looking for something when they are riding in bad weather and on tough terrain might really gravitate towards them.
The Shimano MW7 (Amazon) shoes are very bulky, but they have a clipless design that can withstand just about any weather possible. They keep a person pretty warm and completely waterproof, and there is a good amount of protection as well if a person crashes.
There is nothing worse than having a very cold foot while riding. It can be very tough for people to handle, especially if they want to do downhill riding in adverse weather conditions. These shoes eliminate that, and feel comfortable during any type of riding from beginning to end.
It is a little tough to have to invest in a pair of shoes for the warmer months, but those who take the sport seriously might end up being very satisfied with what these can do. One they are correctly fitted, they provide some excellent comfort and protection.
Pros
Built for cold, bad weather.
Great protection.
Many ways to adjust the sizing.
Cons
Tough to wear during warmer weather.
Heavy.
8. Specialized 2FO clip 2.0

Most people are aware of just what Specialized brings to the table with every single product they produce. Known as one of the most reputable companies in the bike industry, these downhill biking shoes are definitely worth it to check out.
This clipless model might be the best that they offer for the price right now, and is worth checking out if it seems like a person is having a hard time finding something that works.
The long cleat slots allow for a bit more adjustability that a lot of people love. These shoes are also durable for any type of riding in any type of setting, which is great for those who do not want to worry too much about babying their shoes.
As long as a person spends a little bit of time to make sure that they can adjust their shoes the way they want them to fit, they should last for a very long time.
Pros
Outstanding protection.
Long cleats allow for great adjustability.
Premium company to trust.
Cons
Lace closure is not the best.
Rather bland design.
How to Choose the Right Downhill Mountain Biking Shoes
Whether a person ends up going with flat or clipless options, there are three things to keep in mind when shopping. It might not seem like that big of a deal overall. But the more people think about it, the more important these three factors are to make sure that a person has a very satisfying experience.
Fit
As is the case with any type of shoe out there, fit matters to anyone. When the shoes are too tight, it is going to be a very uncomfortable experience throughout the entire ride.
If they are too loose, it is not going to give the same type of feel that a person might want.
If there is any way possible, try on shoes before ultimately sticking with a pair. This can most easily be done in stores, but a lot of online companies now offer this as well.
Those who are shopping can end up buying what they think might work, and then trying it out at another time. It is a little drawn out and the refund might take a while, but it is a way to get around it.
Remember that shoes can be tightened up a bit, but it will be very hard to loosen them up as time goes on. The shoes might stretch just barely, but usually not enough to a person's liking if they are already tight.
Retention System
Fit matters, but the retention system is going to keep a foot locked in as well. Whether a person ends up going with downhill shoes that are laced up or provide other alternatives, getting the right closure matters.
A big trend in recent years has been people going with Boa systems. This is when there is a dial on the side of the shoe, and it controls a wire that is going through the entire shoe.
This can get the right type of closure that a person wants without having to make any stops to use both hands. To tie shoes traditionally, a person can never do it quickly while riding.
Some shoes also offer options such as Velcro, buckles, and other alternatives to get that extra secure fit. When going downhill on a bike, it is crucial to have this feeling so that it does not feel like there is any type of slippage whatsoever.
Sole
On a flat downhill bike shoe, a sole obviously makes a pretty big difference. Nobody wants to be slipping around because they do not have a grip, and they also do not want to have an extremely stiff sole overall.
Brands have improved their sole a lot over the years, and now it works a lot better for flat and clipless options.
The most expensive options out there actually have carbon soles for clipless shoes, as it provides the ultimate in performance wear. It does come at a price, but most people are willing to invest if they know it is going to work for them.
Why is downhill biking so demanding?
Shoes are important for any type of bike riding, but downhill riding can be extremely demanding. There is a very tough terrain for people to handle on most trails, and just going down and having to deal with gravity can be intimidating as well.
A good pair of downhill shoes will have extra layers of protection in the most important areas, as a person should be trying to protect their feet as much as possible.
Another thing to look for with downhill shoes is a way to keep dry and as comfortable as possible. If a person is constantly riding in cold weather, they might need to have a little bit more insulation.
The problem with downhill shoes is that it can be a little tough to find something that is really lightweight. That is because there is so much protection that is needed with these shoes, and adding protection usually means adding weight.
Good news is that gravity is going to help people still stay pretty fast, and most people are going for super speeds every single time.
Why all levels of riders should consider downhill bike shoes
Any shoe will do to a certain degree when riding a bike, but people wanting to maximize their ability should eventually make a bigger investment.
Not everyone is going to find a great pair of shoes at the very beginning, but the ones above are all great starting points.
The majority of people will try out a flat option first, but then they will go clipless if they get into riding more and more. It does come at a higher price, but it is worth the upgrade for those who do not want to feel like they are left behind.