With a new decade upon us, fat bike riding is more popular than ever before. More people will ride a fat bike this decade for the first time, and seasoned veterans are also looking for upgrades that they might benefit from when shopping for a new ride.
The increase in popularity has also provided more options for customers to choose from in regards to brands. In fact, with so many manufacturers in the mix, it is becoming overwhelmingly difficult for some to figure out what might possibly be the best option.
That is why we have put together a list of the best fat bikes in 2020. Some of them will be on the more expensive side, while there are plenty of inexpensive options as well. For most people, it is about finding the right fit in their price range to have a lot of fun riding around.
Rocky Mountain Blizzard 20 2020
Many people consider this to be the best value on the market right now for fat bikes. It is still going to cost a decent amount of money, but not as much as many competitors that have the same type of specs. This is a premium bike for an affordable price. It shows just how much of an evolution there has been in the fat bike community.
This is a rigid bike that is very comfortable for people who are getting into fat bike riding for the first time. About the only negative is the fact that it weighs a little heavier than some others in the price range. They make up for it with quality parts everywhere else.
Weighing over 35 pounds is troublesome for people who might have a hard time starting up when riding, so do keep that in mind. The good news is that the geometry of the bike makes it easy to hop on and off if people want to do so. It handles winter weather and summer riding equally well, which is always great for versatile options.
Overall, it is hard to find many faults with the Rocky Mountain Blizzard. There is a reason why it is one of the most popular fat bikes on the market today.
Pros:
Affordably priced based on specs
Solid comfort for a rigid fat bike
Handles many different types of weather conditions
Cons:
Weighs over 35 pounds
Does not work well as a competition fat bike
Trek Farley 5 2019
Click Here for our full review for the Trek Farly 5 2020!
This option might have 2019 in the name, but it is very much a top option for 2020. It is affordable for something that is manufactured so well, and perfect for any type of experience. Trek is one of the most trusted names in the fat bike world, and each Farley release seems to be better than the last.
For better or worse, the Trek Farley 5 is solid at just about everything. Although it does not stand out as the best for a particular type of riding, many people like it for an all-around option to use 12 months out of the year. It is reasonably entry-level, but with some upgrades, things can become really solid for different types of riders.
It is at its best as an uphill performer for fat bike riders. It is fairly lightweight for a bike in its price range, and for a rigid model, it goes pretty well up inclines. The bike not only seems to perform well, but the default tires that come with the bike also do a great job of not meeting much rolling resistance.
Comfort is something Trek has always put at the forefront with fat bikes that they produce. Part of the reasoning that they want to make sure that riding is very welcoming for different skill levels. Nothing turns off a bike rider more than getting on something that they do not think they can handle consistently.
The geometry of the bike makes it very easy for people to use for long periods of time, and it is lightweight enough that it moves fairly easy for beginners.
Pros:
Very comfort
Excellent uphill performance
Trusted Farley line of fat bikes
Cons:
Uncomfortable Saddle
Does not stand out with one defining feature
Giant Yukon 1
There is a lot of debate between fat bike riders on the definitive answer for the most versatile ride, but the Giant Yukon 1 gets mentioned quite a bit. For a little over $2000, people can get a fat bike that has virtually no weaknesses whatsoever.
The company has tackled a lot of different types of bikes in the past, and they seem to really have a grasp on the fat bike industry at this point.
The first thing people notice when they are riding the Yukon 1 is the overall comfort of the fatbike. This is a bike with just outstanding geometry, and it is comfortable in and out of the saddle.
No matter what type of surface a person is riding on, it should not be a challenging ride. This makes it great for beginners who do not want to feel overwhelmed, but also seasoned riders who maybe want a somewhat quicker ride in general.
Bikes in this price range usually require at least a few upgrades before seasons riders feel comfortable using it. This is one of the fastest ways to make an affordable bike option expensive in the end.
Without any upgrades whatsoever, the Giant Yukon 1 is fully capable of performing at a high-level. No one should ever feel like they need to instantly go out and make changes for one reason or another.
Finally, people should understand that there is a Yukon Two available for those who want a slightly cheaper option, while sacrificing just a little.
For a savings of about $500, a person can invest in a Yukon 2 that has a rigid seat post, Shimano Deore drivetrain, and Shimano MT 200 brakes. This option is not for everyone, but it is an alternative for those who are fine with that type of set up.
Pros:
All-around versatility
Very comfortable
Trusted brand name
Cons:
Gets pricey if upgrades are needed
A little heavy
Salsa Beargrease Carbon Deore 2019
Getting a full carbon frame at an affordable price is usually easier said than done. There are a ton of advantages to using a carbon frame, but it usually does not appear on most entry-level lists.
The Salsa Beargrease Carbon Deore 2019 might not be the cheapest option out there, but it is very inexpensive for something with those specifications. Customers have really started to count on just how great this bike feels on any type of terrain out there.
Weight is something most people are going to notice right away as a huge benefit to an all-carbon frame. It feels light before even jumping on the bike, and it still performs well in adverse conditions. The responsiveness of the frame is very good, and people never feel like they are going through a lot of shocks and bumps when riding.
To get the most out of this bike and all it provides, riding on snow or dirt is the best way. It is a very speedy option for people who want to do more competitive rides with friends, or even competitions.
Pros:
Full carbon for an affordable price
Very lightweight
Lively and responsive
Cons:
Specs are average other than frame material
Not that beginner-friendly
Kona WOZO 2019
As the most expensive fat bike on this list, it might be a little bit too much for people just starting now. However, it is worth it for people who are looking for a way to upgrade the current ride, as it offers everything a person could ask for.
In fact, there are fat bikes on the market today that are over $1000 more expensive than this one, and they do not perform better or offer the same type of specifications.
Fat bikes are turning more and more into very versatile machines people can use throughout the year. There used to be a time where  they had a very specific use, and they did not make a lot of sense in other scenarios. Nowadays, people want a ride that does well on snowy surfaces, and dirt as well.
For downhill performance, it is hard to find anything better on the market right now that is in this price range. The Kona WOZO does an outstanding job on all surfaces handling going downhill at various speeds.
Not only do people feel like they have outstanding control, but the comfort level is there with Francis pension. It might be a bit unfair to compare front suspension fat bikes to rigid models, but people who do not want anything too hard will enjoy the world though.
The bike also smooth out a lot of things when riding on flat terrain as well. Fat bike riders who do not want to feel a lot of feedback from bumpy surfaces can really understand the difference between this option, and one with a cheaper setup.
Modern geometry on the bike is also a very good move for those looking for great comfort. Even though this is capable of competing at high speeds, there is still something to be said for having comfort while riding in tough scenarios.
If a person insists on getting something pretty similar to the Wozo, but a little cheaper, they have the WO and the WOO models. The WO is the cheapest option, priced around $1600. The specs are a little bit lower in quality, and the fat bike geometry is a little more conservative for casual writing.
The Woz is a lot closer to the Wozo, but it does have a rigid carbon fork, a lower quality drivetrain and tires that are a step below the model talked about here.
Framed Minnesota 1.2 Fat Bike
Framed is a great company to look at for people who want a wide range of fat bike options. They have some very affordable options, and they also compete with top-line models as well.
Perhaps their best value overall at this point is their Minnesota 1.2 fat bike. Many people believe it is the best fat bike out there under $1000, which makes it perfect for those who are shopping on a budget.
The first thing a person thinks about when they are shopping for any big purchase is the price. Fat bikes are fairly expensive in general, as a lot goes into making them high-quality. There is still a lot of love with the Minnesota Framed 1.2, but it will not have the same level of specs as some of the others out there.
What are the main selling points of this bike? For starters, it has a 10 speed SRAM rear cassette, an aluminum alloy frame that is very sturdy, yet forgiving, and customizable options to get the bike to fit just the right way.
Whether it be installing a new fork or making a few small upgrades, a person does not have to only use one type of riding positions.
Some might initially be turned off by an aluminum alloy frame, but it is much lighter than most steel frames in this category. It is not going to be the same as fat bike options there are two or three times more in price, but there has to be a way to keep the cost down a little.
Once a person gets into the framed fat bike ecosystem, they may decide to upgrade at a later time with something else that is related. Keep that in mind and make sound decisions overall. Most people are delighted with what the company brings to the table, so there is no reason to really look elsewhere if the value is there.
Click Here for the current price of the Framed Minnesota 1.2 from Amazon.
What should people be looking for with all of the best fat bike options?
The best of the best usually tend to have a few selling features that make them stand out from other companies. To really get the most out of fabric research, make sure to investigate any of these factors that are of particular importance.
Frame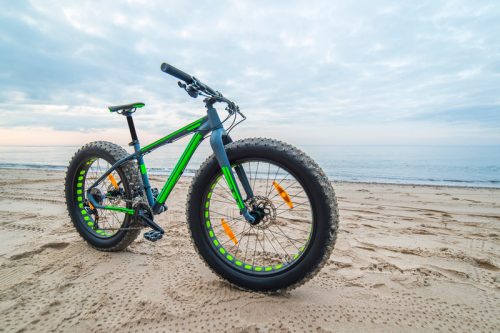 The more carbon on the frame a person can get, usually the better it performs at a high-level. It does come at a cost, but there are ways to get around spending too much.
Some people want a full carbon fat bike for keeping things lightweight. Others might go for some strategic carbon in the seat or the fork in the front. As soon as any type of carbon is added to the bike, it is generally going to be over $1000.
Tire size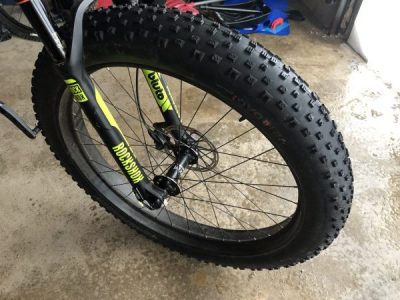 Most of the options above allow for people to customize the size of their tires if they really want to. It might not entirely make that much sense for some, but others are willing to invest to get slightly bigger or smaller tires at some point. There is also the option of getting tires that are built specifically for snow, depending on where a person lives.
It is generally considered a great thing if a person does not have to upgrade the tires on the bike. All the tires above are solid all-around options for riders to not have to feel like they must upgrade.
Components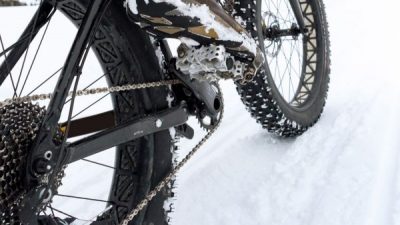 The final major selling point is what type of components are on the bike as it is. A lot of people like upgrading their bike occasionally, but not in the very beginning. It is usually not worth the hassle of making adjustment after adjustment once a new bike is purchased. Instead, getting something ready to go right away is the better option.
Do not be afraid to ask for some suggestions here and there on what upgrades might be necessary for specific riding. Usually, local bike shops can provide some level of assistance based on where a person is located, and what they consider doing with the bike. Different riders will need to stress different things.
A final look at the fat bikes in 2020
Since there are always new releases from different companies in the fat bike world, this list can change over time. It is important to stay up with the latest news on what fat bikes are being released to stay as accurate as possible.
The good news is that all these options will eventually drop in price as new ones release. This makes the list a very budget-friendly option later on.
It is going to be an exciting year in fat bikes, as companies are trying to stay ahead of each other and take over as a dominant force in the market. There are a few solid companies that stand out from the rest, and if they can distance themselves from a competition, they will gladly capitalize if possible.