The qualities of gravel and sand share a lot of the same characteristics. In fact, some would say that sand is just a different form of gravel, meaning that the same type of tires should be able to work on either surface.
With a focus on deep sand as well as the sand that is firmly packed, what gravel bike tires make the most sense? The five below are a great starting point for anyone looking to upgrade their current gravel bike tyres.
Click here for the best gravel bike tires for Road and Gravel! 
1. Panaracer GravelKing SK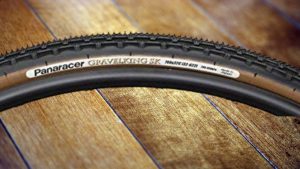 Known as one of the best tires to ride in the winter, the Panaracer GravelKing SK is a pretty nice option that works on sandy trails and beaches just about anywhere. Whether a person is riding on the coast or located on some random trail with sand, this is a great all-purpose tire that specializes on this type of uneven terrain.
This is one of the more aggressive tread patterns for Panaracer, which can help significantly with trying to get through the sand. They have many different widths and size options overall for people to choose from to get that perfect fit as well.
The reason why this gets heavily recommended is that it is affordable, can perform well on numerous surfaces, and handle sand better than most.
It might not be built specifically for that surface, but multiple our going to be blown away with what it can provide for those who need something that works.
Pros
Affordable tire from a trusted brand.
Handles any different type of terrain.
Aggressive tread pattern helps tackle sand.
Cons
Not that much different than others from the company on other surfaces.
Hard to build up top-end speed.
Click for the current price for the GravelKing SK from Amazon.
2. Specialized Pathfinder Pro Tubeless Ready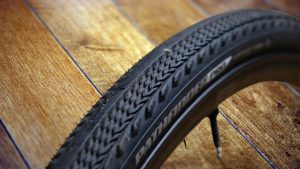 Speed is always a huge selling point with most of the gravel bike tires from Specialized. This one is no different, as it is able to handle all the tough roads while also doing very well on the sand. It has a smooth center section that might seem like it would struggle in the sand, but the diamond-shaped blocks on the side cut through sand pretty well.
To bring it all together, the shorter blocks on the tire are definitely something that brings a lot of value to the table. By having those blocks on the shorter, people can cut through sand pretty easily, and turn corners without feeling like they are losing grip. It struggles a little with moisture, but sand is perfectly fine.
Of course, one of the biggest advantages to buying any of these tires from Specialized is that they are perfect for riding on a bunch of surfaces without having to switch things up. It might not be the best of the best on the road or even gravel, but having versatility counts for something.
It also helps to have one of the most trusted brands in the bicycling industry backing every tire up with their warranty.
Pros
Very stable tire.
Handles different types of sand easily.
Builds up speed very well.
Cons
Struggles with any slick sand.
Does not differentiate itself too much from some of the cheaper options.
3. Rene Herse Steilacoom TC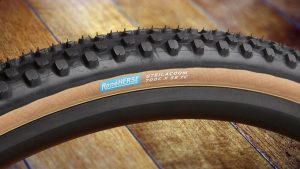 As soon as a person looks at the very knobbly tread on this bike, they can tell that it does an excellent job off-road. They tackle sand pretty well so that people have a grip no matter what is thrown their way. On top of all that, it still handles flat surfaces very well, which is something that most people can get behind without question.
From the company that is formally known as Compass, it has a lot of similarities to a mountain bike tire out there that can handle different surfaces very well. It is a little thinner and more aerodynamic, which allows for gravel bike riders to really see the difference that something like this can make.
Why can it cut through sand and perform well? Take a look at how much rubber ends up making contact with the surface underneath. It makes for a very grippy tire that a lot of people can benefit from. It is the reason why it is not the fastest on flat surfaces, but it can help out a lot when trying to ride off-road.
Give this option to try as a premium tire that holds up well and performs at a pretty high level overall. Most people are going to be satisfied with this option from top to bottom.
Pros
Rides well on any type of surface.
Handles sand well with strategically placed knobs.
Lightweight enough to build up speed on different surfaces.
Cons
A little expensive.
Limited a bit on flatter surfaces.
4. Schwalbe G-One Bite MicroSkin TL-Easy
There are a few solid options from Schwalbe, but for sand, the G-One Bite MicroSkin TL-Easy is probably one of their best. It is an off-road-oriented tire in general, and the big knobs and sturdy shoulders help out on those challenging surfaces out there. It is very smooth on riding different surfaces very easily, but more and more people are turning towards this option for sand.
People need stability on sand, and that is why they love the tread pattern before even trying it out. It is a little more pronounced than some of the others out there, but it does an excellent job on different thicknesses as far as saying is concerned. This might be a little bit better on hard-packed sand trails, but navigating soft sand is also a lot easier with something like this.
It might not seem like a tire that could build up speed, but it can do that very well also. No matter what type of ride a person is ultimately going for, they should be able to get exactly what they need with this tire on the sand. Not having to worry about proper positioning and just going out and riding with confidence in sand is something so many people can get behind in the end.
Pros
Big knobs can handle any type of sand.
Shoulders work well for stabilization.
Speed is easy to build up.
Cons
Not the best on roads.
Climbing is sometimes challenging.
5. Challenge Gravel Grinder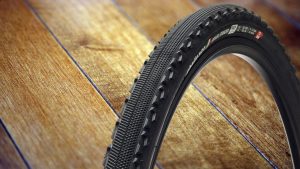 The final gravel bike tire to make this list might not be for that soft sand that some people can sink into, but for those who are riding on something a bit more hard-packed, this is an excellent option.
They offer a tube and tubeless model, which is something that not a lot of companies are doing these days. Most people love that they can make a decision one way or the other, but this set up is a bit different.
What people say before they even ride on the tire for the first time is that it is built much like a mountain bike tire. It can handle dry conditions, as well as some moisture without struggling at all. No matter what type of surface it is on, it has a pretty low rolling resistance that allows people to build up speed in a hurry.
The reason why it does so well on sand comes down to the tread pattern. It is not going to sink deep into the surface like some tires, which means it is is going to provide enough traction overall so people feel very comfortable.
Different width options also help people get the right fit for them if they are riding on sand a lot. A thicker version of the tire will spread things out a bit more, and it might make for a more comfortable ride as well. A skinnier tire will help with speed, but it depends on what type of sand a person is riding on.
It is not the most well-known brand out there, but they do have some loyal followers who have been using them for quite a while. The Challenge Gravel Grinder is a great overall option that leans slightly towards sand, so give it a try and see what happens.
Pros
Handles sand like a mountain bike tire.
Dimpled center section provides low rolling resistance.
Side knobs help with cornering.
Cons
Only works extremely well in tightly packed sand.
Hard to pick between tube and tubeless.
Click for the current price for the Challenge Gravel Grinder from Amazon!
Qualities For a Good Gravel Bike Tire In The Sand?
In order for people to tackle the sand and feel like they are confident at all times, there are a few qualities that make sense. Some people can start to determine what tire might do well just by looking at the tread and not having to go off of the reviews.
Aggressive Tread
Every single option that works well on sand is likely going to have a pretty aggressive tread. That means knobs that are a little taller, wider, and more pronounced in general. It will allow people to cut through the sand pretty easily and grip as much as possible.
This is less of an issue for those who are trying to stick to more firmly packed sand, but it still comes in handy to have that extra bit of grip.
Tubeless-Ready
Not everyone is going to jump to a tubeless tire automatically, but having that option available comes in handy when riding on the sand. It is usually the better choice, since it allows for lower overall tire pressure.
The lower tire pressure is not only more comfortable, but it leads to fewer flats. There is also less of a chance of tires un-seeding and re-seeding, which causes them to lose air quickly.
Just make sure to look out for any obstacles that might be hidden under the sand, but gravel bike tires can usually glide over just about anything.
Easy Maneuverability
Riding in the sand can provide some pretty tough challenges, and it is always recommended to shift down and not fight directly with the sand in order to change direction. With that said, having a good amount of maneuverability makes a big difference.
Do not go with a tire that does not offer quick changes when needed. They can end up causing the bike not to have the opportunity to change direction when it is needed most.