Downhill bikes are a pretty expensive investment for any type of rider. Once a shopper enters the $4000 range, there are definitely some high-quality models that can help a person get their riding to another level.
These bikes are not going to be the best of the best, but they will still grab a lot of attention out on the trails.
The good thing is that most of these are built so well that they will last years and years. Even when it comes time to upgrade, people can sell the current one for a good amount of money.
All of the downhill bikes listed below fall in the price range of approximately $3000-$4000. Those who have a strict budget should definitely look into all these further and see what fits them the best.
Remember that there are more expensive models and cheaper models of many Downhill Bikes, so only these specific ones work in the price range.
Canyon Sender 6
When the Canyon Sender 6 was first released, there were a lot of people excited about what it could possibly bring to the table. As a downhill bike model that is priced pretty affordable considering all the specs.
It is definitely one that should be on the shortlist for people in this price range. It provides high-performance riding for those who are looking to take their downhill option to another level.
And there are ways to customize this bike to get an even better performance out of it.
One of the first things that stand out is that this bike is very easy to steer. Canyon did a great job with the design, as there are some downhill bike stock options that will feel cumbersome right out of the box.
The brakes also work very well, and that allows people to sit comfortably back in the saddle instead of feeling like they need to be on the edge of their seat.
Shock absorption is pretty good all around, as the fork works better than expected. Not only that, but once a person messes around with the tires, they are going to get a very nice and easy-flowing feel to it overall.
Jumping is also one of the highlight features of this downhill bike. It does not take much of a learning curve at all to see that the bike will respond well to how the body moves around.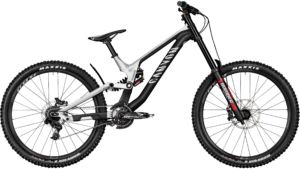 There are some bikes where the learning curve can seem like a detriment, but it is easy to start planning confidently after just a few tries.
A lightweight and dependable option that seems to be one that could last a very long time, there is a reason why this leads the list.
It is a very agile bike on several different types of terrains, and it seems like one that has been upgraded in the right way.
There are a lot of companies that only do minimal upgrades from year to year, but Canyon really put in the time and effort to make this stand out.
Pros
Very lightweight.
Easy to maneuver.
Jumps well.
Cons
The saddle is a little too rigid.
Might need better petals.
Direct Sale Bike Company – Pros & Cons
Specialized Demo Expert
Specialized has poured in a lot of effort to make the Demo Expert one of the best downhill mountain bikes in this price range.
Although it can sometimes creep up a little more expensive than $4000, there are options out there that fit in this price range. That is great news for those looking around, as it is one of the most robust options on the market right now.
Control is a huge selling point for the Demo Expert. Even those who are not really pros at maneuvering a downhill bike by any means will instantly notice that their control increases just by using this bike instead of something else.
Specialized has made it a very stable option that allows people to build confidence every single time they go on a ride.
Part of that control comes down to the superior deluxe select coil shock that is used for rebound adjustments. There is also the RockShox Boxxer Select 29 fork that is extremely hard to beat in this price range.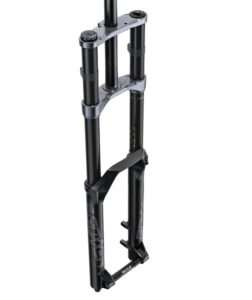 It might be the best component on this bike in general, as no one feels like they are overwhelmed in the slightest with the way the bike feels.
Braking only adds to a rider's confidence even more, as they use four-piston brakes in the front and the rear to give people instant power to slow down when they need to.
They are one of the most responsive brakes on the market, and it is something that Specialized uses in other downhill bikes as well.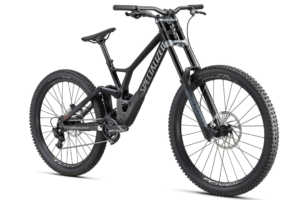 As far as jumps are concerned, they do an above-average job, but some people might feel like there is just something missing.
Maybe it has to do with the weight feeling a little heavier, or it could also come down to the default tires not having that same type of bounce.
Whatever the case is, most people can play around with the setup and find something that works for them. There are a lot of people who have purchased a Demo Expert already and made some adjustments with some minor upgrades to really make it a stand-out option.
The one thing that is always dependable from Specialized is that a shopper is going to get top-notch help every single time.
They are one of the best when it comes to customer service, and that should never be overlooked when shopping for bikes.
As more and more people are exclusively shopping online, it only makes sense that quality customer service makes even more of a big deal. Without it, there is a chance that a person makes an investment of $7000 and is not happy at all.
Pros
Very control-oriented.
Outstanding fork for the price.
Option to switch from 27.5 inches to 29-inch wheels.
Cons
A bit on the heavy side.
Jumps do not seem to pop as they should.
YT Jeffsy Core 2
The YT Jeffsy Core 2 model is the baseline option for one of the best all around mountain bikes on the market right now.
A lot of people are gravitating towards using this for downhill rides and going full speed with the wheels. Whether a person opts for 27.5-inch wheel size or a 29-inch wheel size, there is plenty to love about how it performs.
YT has always been very user-friendly, and this one is no different. In fact, even if a person has never taken downhill bike riding seriously, they can step their game up quite a bit.
This is a very high-end aluminum frame, and it feels extremely lightweight for the price. It is a very sturdy bike that will last under just about any conditions, which is perfect for those who are ready to go out there and see what they can get into.
Coming from YT industries brand that has now been around for close to 15 years, they are a direct sales company that always strives to keep their prices down.
That is good news for people who want the most bang for the buck, because this is definitely a bike that has a lot of valuable components in it for the price.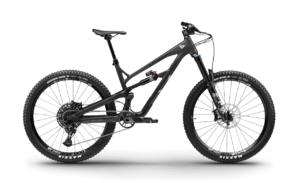 The company also makes sure that there are plenty of opportunities for people to customize their bike in the way they see fit.
There are some people who want to have a design that really gravitates towards the type of riding they are doing.
Others want to drop weight a little bit, or add a bit more stability. The customization options are endless with YT, which is always a huge positive.
Those wanting to make a purchase and use it right out of the box, this bike performs well as is. There are no upgrades needed, as every component is at least slightly above average or better.
It is very hard to find a bike in this price range that does not require at least one potential upgrade to really make it pop.
The only real complaint is that since it is a relatively small company that only works with direct sales, it is sometimes hard to find the right bike in stock.
They are constantly having issues in keeping inventory, and part of that can also be blamed on the pandemic. There is no doubt that they are popular since they always seem to be running out, but it is a little bit frustrating for people who are waiting to get what they want.
Pros
Very affordable priced.
Plenty of customizable options.
Above average components everywhere.
Cons
Sometimes hard to find in stock.
Customer service has taken a hit in the last year.
Nukeproof Dissent 290 Comp
The final bike to make this list is a very dependable option from Nukeproof. The company has been putting out downhill bikes since 2010, and they continue to innovate as one of the leaders in this niche industry.
Known as one of the top performing options for the last several years, the latest version of Nukeproof Dissent 290 Comp is definitely one that people should check out.
With 29-inch wheels to work with, this is a bike that picks up speed very quickly on just about any decline. That is great for people who are looking to really move fast when they are downhill biking, as people can really start to settle in and show the type of conference they have on trails.
For something to move so fast, it also needs to be able to stop relatively quickly. Fortunately, these brakes are excellent, and Nukeproof seems to really focus on making sure that they give riders the confidence they need to start whenever they need to. In this price range, these might be the best overall brakes.
Another thing that really seems to stand out is that Nukeproof has nailed the geometry. The entire bike is set up to give people a modern position on the bike so that they can get to where they need to be and make adjustments pretty quickly.
No, it is not going to be perfect out-of-the-box for anyone, but it is built to be a very strong option with minimal adjustments needed.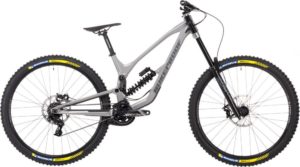 The tires that come with the bike are about the best anyone could ask for as stock options. Yes, there will always be people who want to upgrade whatever bike they purchase with brand new tires they enjoy, but make sure to give these a try.
They do a great job of providing outstanding grip, and turning is pretty easy as well. About the only complaint is that they do not come tubeless, but a person can of course convert them to tubeless options if they really want to.
Anyone really looking to get their speed levels up will find this to be one of the best options in this price range. It is a downhill bike that people can learn to grow with, which is always nice for individuals.
Take care of this bike, as it has a chance to last a very long time, as it has a pretty durable build to handle all types of terrain.
Pros
Outstanding braking.
Durable build.
Great stock tires.
Cons
Back tire will sometimes pop up on jumps.
Might be too fast for beginners.
What Makes a Downhill Mountain Bike Special?
Downhill biking is a specific type of activity that focuses on attacking hills on a decline. Riders are going down a very steep and technical terrain, and there are many twists and turns along the way.
It is thought of to be a pretty challenging type of riding, but one that can be exhilarating and truly one of a kind.
While a typical mountain bike might work to some extent, downhill bikes are more specifically geared towards this type of riding in general.
Downhill bikes have a lot more stability, which can allow the rider to go fast over rough terrain without feeling a ton of vibration. Without that level of comfort, everything would be extremely shaky and unpleasant when riding around.
They are also a heavier option that might not particularly perform as well as a general mountain bike. Since the sector is still relatively new, downhill bikes tend to be a bit of a premium as far as bikes are concerned.
Finding a good downhill bike in this price range might be considered a starting point for some. It really comes down to a person's individual financials. In the next few years, prices might drop some, but it really depends on how much competition emerges.
Is a More Expensive Downhill Bike Worth It for Safety?
Anytime a person is flying down a steep decline on a bike, there is no doubt that some level of danger is involved. Cycling of any kind comes with some level of risk, but this might be one of the riskiest of them all.
Investing in a more expensive bike is definitely going to help not only make the ride more enjoyable, but keep people safer overall.
The more expensive the bike, the more riders will notice the increase in stability. Premium parts also are much less likely to break down, which helps individuals feel like they are in control a lot more.
What Type of Accessories Are Worn For Downhill Biking?
The cost of a downhill bike is just part of the investment a person makes when they get into the sport. Since it is a pretty intense ride, most riders are going to opt for more than just a typical helmet thrown on when mountain biking.
Full coverage helmets are almost always used by professional downhill bikers. They also will wear knee pads, elbow pads, shoulder pads, and heavily protective gloves. This is all done to help with the impact of the crash if it happens.
There is no telling what a person might fall into when they are landing after a crash, so being protected in all the vulnerable areas makes sense.
This is more than a matter of staying safe because a person is worried. In fact, a lot of downhill parks will do safety equipment checks before they even allow people to go on a ride. While some might look at this as a bit tedious, it is all for the best to keep people safe as possible.
It is very important to remember to stay within a certain skill level when starting out. Too many people try to tackle a huge trail when they are beginning with downhill biking.
It is one of the most frustrating experiences a person can face if they are going downhill and they feel like they are completely out of control.
Fortunately, these bikes are designed to help people navigate that as much as possible, but it can still sometimes become a pretty big issue.
Is A Downhill Bike At This Price Worth It?
People outside of the downhill biking world probably think the average person is crazy spending close to $4000 on a brand new bike. Most do not realize just how expensive the sport is in general, and how expensive downhill bikes are compared to others.
All four bikes highlighted are very much worth the price. These are all mid-tier options as far as quality is concerned as well. For more expensive options, people might end up spending very close to $10,000 when it is all said and done.