For mountain bike riders who love the rush of going on descents, downhill biking might be the perfect niche option for them. It seems like more and more people are investing in a bike that helps riders get to a certain level of command when going down at fast speeds.
When each new beginner starts, they need to shop for a downhill bike that fits all their needs. Not only does it need to be explicitly built for downhill biking, but it usually fits in a tight budget.
Tips to finding a good beginner downhill bike? By knowing a little bit about what is out there, buyers can begin their journey the right way.
What is a Downhill Bike?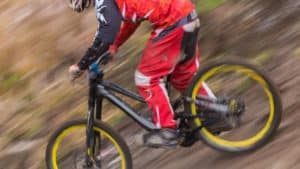 A downhill bike is a specific form of mountain bike built for descending. Riders who enjoy the twist and turns of going downhill and attacking everything thrown their way will love having a bike built specifically to handle those challenges.
A typical mountain bike can do an adequate job, but downhill bike options are just a little bit better overall.
Outstanding suspension, superb brakes, and a durable build should all be pretty obvious to shoppers. After all, a rider should always feel like they are completely safe at all times when they are on a downhill bike.
Anything not built for all the momentum a rider can pick up when going downhill will end up being a bit of a waste.
Best Downhill Bike Brands?
A lot of companies that have taken off in this industry have at least one or two beginner downhill bike options that can fit the needs of a new rider.
Direct sales companies are going to be a little bit easier to work with, as they will run a little cheaper overall. The downfall is that instead of being able to try it out in a local store, a person needs to make the purchase online.
Giant, GT, Santa Cruz, Specialized, and YT Tues are all great at offering solutions that can be affordable for beginners. They are generally easy to contact and get feedback to shop around as well.
Key Factors to Purchasing a Great Downhill Mountain Bike?
When an interested shopper finally decides that they are going to buy a downhill bike, there are several different things to consider.
It is important to be smart about every decision since even entry-level options are still fairly expensive. There is no such thing as a super-budget downhill bike, so researching properly is crucial.
Frame
The quality of a downhill bike frame is going to dictate how the entire bike works. Speed is always a major factor when downhill biking, but getting the fastest option out there does cost money.
Most entry-level solutions will be made of aluminum, as it is a durable choice for those who might not have a ton of money to spend.
The advantage of going with carbon is that it is a little lighter and stiffer, and that means a faster, more comfortable ride overall.
Going with a downhill bike that is made of a full carbon frame means that they can get down to close to 30 pounds. A heavier, cheaper option might be 1.5 to 2 times as much in weight.
Frame geometry is all about looking for longer and slacker options. It is important to have a stable ride when going at fast speeds, but there needs to be a little bit of a trade-off so that there is still a good amount of maneuverability at all times.
If possible, try out a downhill frame to better understand the difference. There are different setups for different types of downhill riders, but it is a unique feeling compared to a standard mountain bike.
Suspension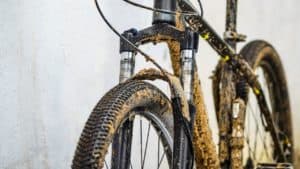 A true downhill bike is going to have front and rear suspension. Having 200mm of travel is an industry-standard, but some are a little bit better with cushioning than others.
Bikes are including having adjustment options for suspension as well, which can be great for those who are riding on different terrains all the time.
The fork on a downhill bike plays a big role in suspension. A downhill bike is going to take some pretty big impact from different rides, and a fork needs to be strong, durable, and as durable as can be.
A great fork plays a role in riders feeling very comfortable that they are controlling the bike, instead of the bike actually controlling them.
Shocks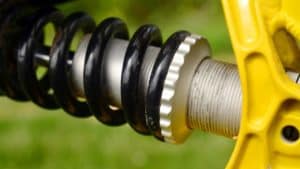 Coil springs are almost always used for downhill bike options, but some are moving to air shock technology. Both have their positives and negatives, so it is really not that big of a deal for people who are shopping around.
Air shock technology costs a little bit more money, so keep that in mind. The good news is that with that extra money, it is a little bit lighter and performs at a slightly higher level.
Wheels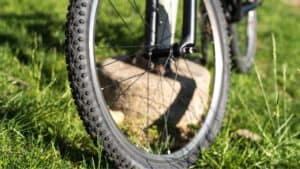 Wheel size for downhill bikes 27.5˝ (also know as 650b) or 29˝ (called 29ers). A lot of professional downhill riders will go with nothing less than carbon wheels.
However, since they do cost quite a bit of money, aluminum options might be better for those starting out. They are still going to be very durable, and there is a certain level of consistency that comes with either solution.
The stock wheels on most downhill bikes will be perfect for beginners.
The tires that go on the wheels will always have a great amount of grip, but people should be shopping specifically for where they are riding. Some people may need more grip than others.
Some people also need to make sure that they have a thicker tire to smooth out the ride as much as they want.
Tubeless tires are pretty much the standard these days for downhill bikes, but it is not absolutely necessary. For the most part, as long as the person is comfortable with the tires they purchase, they should last a long time.
Can a Beginner Downhill Bike be Used for Other Rides?
One of the reasons why people stay away from downhill bikes is the fact that they are pretty worthless in just about any other scenario.
While they can definitely be used in a pinch to ride around here and there for fun, they are not going to be enjoyable for longer rides.
Not only are downhill bikes heavy, but they have too relaxed of a position for most trying to pick up speed. The geometry is just off a little too much when on flat surfaces.
This is a major reason why people try to stay under budget when they are shopping for a beginner downhill bike. If it can't be used for other options, you might not know exactly how much they are into this type of riding, it could be a huge waste of money.
By shopping for an inexpensive, beginner downhill bike, riders can figure exactly what ends up being the best bet for them.
Expectations for a Beginner Downhill Bike
Ultimately, every single person who invests in a beginner downhill bike should have some reasonable expectations of what they will get.
It is going to be a bit of a challenge to get used to downhill biking, but the good news is that a time goes on, people can really start to see all the benefits.
For starters, most people are not going to buy the best of the best when it comes to downhill bikes in the very beginning. That means that a beginner downhill bike is going to be a little bit heavier, not built with the most robust components, and might be a little harder to handle in general.
This should not be too much of a concern, as it mostly comes down to a speed issue instead of a safety issue. Downhill biking is a very challenging sport, so all companies, even with their beginner bikes, ensure that they offer the best in safety and protection.
Beginners also must make sure that they are investing in enough protective gear so that they do not feel like they are going to be too vulnerable when out on a ride.
There is nothing worse than buying a downhill bike and feeling like there is a little bit of a loss of control. As time goes on, it can become very frustrating for riders who are beginning and trying to protect themselves as much as possible. If they have a crash without protective gear, it can be scarring for life.
At the very least, buying a bike helmet (Best Downhill Bike Full Face Helmet) will be a great way to add a level of protection. Most people wear eyewear, pads for the elbows and knees, and gloves to give themselves more protection.
Downhill Biking For You?
The important part is to start out slowly and not try to tackle the most challenging part of a ride at the beginning (even with protective gear on). Try to find a more laid-back downhill ride first before jumping to something crazier.
Ultimately, people who buy a beginner downhill bike will want to upgrade at some point. The important part is to ensure that the riding is actually enjoyable before making a bigger investment.
As innovation takes off in downhill biking, it is only going to get better and better. On an even better note, it is also going to get a little less expensive. Everyone is hoping to see the prices go down so more can get into the sport.