To fully enjoy riding a fat bike during the winter, there needs to be a way to keep the entire body warm. Certain parts of the body get colder faster than others, and the hands and fingers are at the top of the list.
The good news is that there are some great bike pogies for people to invest in so that they do not have to deal with too much discomfort while riding. These can help people stay warm, and protect against any type of injuries on the fat bike as well.
Here is a look at some of the best of the best. Also, there are some general tips on how to make the proper purchase, and why they are so important in the first place.
1. Bar Mitts Cold-Weather Neoprene Handlebar Mittens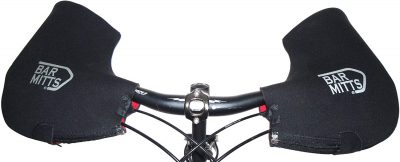 A lot of people love the overall consistency when using this product put out by Bar Mitts. The company uses premium material for the hands to feel warm without any restrictions. Not only can they be used for a fat bike, but any flat bar bicycle benefits from them as well.
Known as one of the true leaders in the industry for bike pogies, the mittens can easily be installed when the temperature gets to a certain level. Most people do not want to ride with these installed at all times, so it makes sense to wait until the colder months to utilize them.
There is enough flexibility inside these mittens to use them with standard cycling gloves as well. This adds yet another layer of thickness that people can benefit from, which is always a positive most people get behind.
To get the right size, most people are going to look for the standard glove size they wear for everything else. It is always essential to get the correct sizing with something like this, because it will make riding a lot more comfortable. It comes in three different sizes to get fit, and the mitts can be adjusted as well.
All in all, this is considered the standard for people who want to stay warm during those cold months. It takes virtually no adjustment period whatsoever to start using them as intended. Fat bike riders should consider this an essential part of riding equipment.
Pros
Multiple size choices
Provide warmth without adding much bulk
Easy to take on and remove
Cons
Some would like more warmth when used by themselves
Branding is a bit big
Click here to see why fat bikers love these pogies and also the current price from Amazon.
2. CXWXC Flat Handlebar Mitts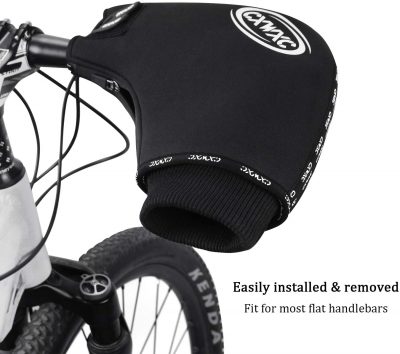 One of the best values to keep hands warm comes from CXWXC. It is sometimes difficult to find cheap options that work, but this is one people have been using for quite a long time.
It might not have all the benefits of the more expensive options out there, but it is a great way to stay on budget for those who do some colder riding.
To start with, the material is three layers thick, which means it does a great job of protecting hands in general.
There is a thick neoprene, a fleece liner, and another layer of insulation for people to benefit from. With so many different layers, hands can be virtually isolated from the wind and water.
Taking them on and off is as simple as utilizing two different Velcro straps that come with the mints. They even quickly go over shifters and brake levers with a zipper that works well for any flat-bar bike.
Are they as durable as some of the more expensive options out there? Probably not, but they can get away with a little bit more considering the price.
For people who might only ride in freezing weather occasionally, this is a great option to help save some money. For the price, there is not a competitor out there that does a better job.
Pros
Great value
Three layers of protection from the elements
Comes on and off in a matter of seconds
Cons
Material feels a little cheaper than more expensive options
Zippers for the shifters and brake levers do not match up perfectly for all bikes
Click here to see why these pogies have so many 5 star ratings on Amazon!
3. Rock Bros Bike Handlebar Mitts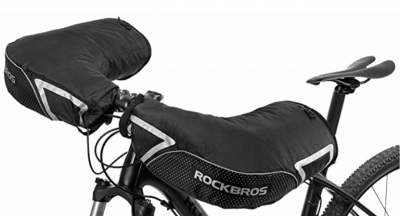 Rock Bros is a trusted company that makes a lot of different accessories for fat bike riders. Their top mitten option provides some outstanding protection for all types of riders when in adverse weather conditions.
Riders are capable of staying warm even in -30° weather if they want to enjoy all the benefits of riding in the snow. When the hands are inside these mittens, it does not affect a person at all.
The first thing people notice with Rock Bros is that their mittens seem a bit more streamlined for very close coverage. Two layers help protect the hands from all the elements.
The thermal fleece lining, coupled with the thick and silk cotton makes things very comfortable inside. People do not have to worry about having to take their hands in and out at times because it does not feel very good.
That extra bit of added closure makes these ones of the best at blocking anything from getting inside. Some of the more open patterns can let small leaks of snow or rain get inside. Everything is sealed off just a little bit better, which is great for people who do not want to stop for any reason.
The mitts also come with a storage pouch, so people do not need to add an extra bag to the bike. The company understands that this already adds some bulk to the bike, so there is no reason to also travel with a standard bag attached somewhere else.
There is enough room to put some of the essentials like a phone, CO2 pump, wallet, or other riding supplies.
Finally, the reflection with these mittens helps out when visibility is a bit low. It never hurts to have a little bit more visibility on the bike. Instead of having to add other reflectors, this is just another way to be seen by others traveling around.
Pros
Trusted company
Sealed off mittens avoid moisture issues
Built-in storage pouch
Cons
Warmer options available
Sometimes do not attach that well to handlebars
Click here for the current price and more info from Amazon!
4. GIYO Acekit bike mitts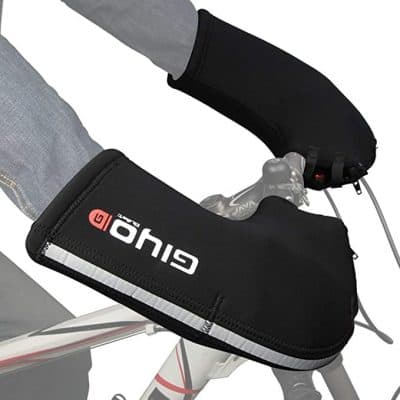 As the cheapest option of them all in this article, some people will benefit from these bike mitts to use for any type of bike out there.
They are a little thinner than some of the other options, and the materials are not quite as warm. However, some people like the fact that they are pretty thin and easy to use, and the price is impossible to be.
Every different location needs something slightly different when riding a bike. For some people, they can get by with a little lighter coverage, because it does not get quite as cold. This still provides a very close-fitting design so that the hands are closed off from anything outside.
The material is not quite as strong or expensive as some of the other options out there, but it certainly seems like a solid choice for people on a budget. There is a double lining, and the material is comfortable for even longer rides.
If only used occasionally each year, these have the capability of lasting for a while. If people are continually riding outdoors, they might want to invest in something a bit more heavy-duty and with better materials.
It is an excellent entry-level option, but the ones above are all better the more a person rides outdoors.
Pros
Very inexpensive
Lightweight and easy to maneuver
Easy installation
Cons
Not the same level of warm as more expensive options
Materials feel a little cheap to some
Click Here to find out just how cheap these popular pogies are from Amazon!
Why Are Bike Mittens Called Bike Pogies?
The term comes from a trash fish, and these mittens were initially developed to use while kayaking. Pogies is just another way of saying gloves that are attached to something else. In this case, fat bike handlebars are what they connect to.
In order for them to work properly, they encapsulate the brake levers, shifters, and the rider's hands. Some people opt to wear them with a glove as well, but they also work without additional gloves.
Insulation is the key, but so is having the ability to isolate from the outdoors. A mitten can be as warm as possible, but if there are ways for wind to get inside, it is not going to do that much good.
When is the Best Time to Use Bike Pogies?
Most riders will put bike pogies on whenever they feel like it is below a certain temperature threshold. Every person is different, depending on where they grow up, how long they have been riding, and more.
The good news is that most of the options can come on and off in a matter of seconds. It is not one of those things that need to be installed and kept on for the rest of the season.
Most people will make sure always to use them if there is snow on the ground, because not only is the temperature low, but the moisture can cause problems as well.
Click here for some awesome tips when riding your fatty in the winter!
Do Bike Pogies Cause Any Reason for Concern?
There are some people a little bit worried about using bike pogies and having to deal with a potential crash. The hands can feel a bit locked in at times, which leaves people vulnerable if something goes wrong.
To learn how to use pogies while riding, it takes some practice of taking the hands in and out. If something bad happens, there is also the opportunity just simply to rip them off.
Final Thoughts
No one should ever not invest in a set of bike pogies if they are considering riding a fat bike during cold weather.
It just does not make a lot of sense to go around without any type of protection whatsoever. Even in milder weather, they can come in handy so that the hands and fingers do not get colder than they should.
With some very inexpensive options, people can try out everything and see what benefits them the most. There are definitely a lot of options, and there is no reason to spend any kind of money on essential gear.