Mountain bikes continue to be extremely popular worldwide as people get out and explore their surroundings. The versatility of a mountain bike makes it a perfect choice for all types of riders, and many are hoping to buy one in 2022.
Whether it is a first mountain bike ever or an upgrade over the current setup, knowing the most trusted brands in the industry is important.
What are the best mountain bike brands 2022 and beyond? With many already eyeing the new year, buying from any of these brands will guarantee value.
Santa Cruz
Santa Cruz is a company that has mainly focused on high-end mountain bikes since launching. It started in 1994 in the same city the brand is named after, and they have had quite a bit of success ever since.
They don't offer any truly budget-friendly options out there, but they have a ton of full suspension and hardtail solutions for riders wanting the best of the best.
They also offer a few e-bikes in the mountain biking industry, which have turned into very popular options for people wanting a little bit of everything.
Starting out, Santa Cruz bikes aren't going to be any cheaper than $2000. They don't produce mass amounts of bikes, and they only use high-quality parts on even their entry-level models.
There are some ways to save with different types of frame material and other upgrades, but for the most part, people are going to have to spend a good amount of money to get a bike from them.
Out of all their models, the Nomad, Bronson, and Highball are all great places to start out. The first two are full suspension mountain bikes, while the last is a hardtail.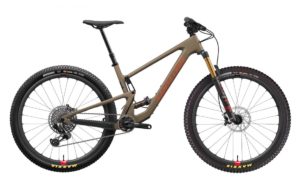 Their bike options can be used for casual riding, as well as competition. The Highball, in particular, is very interesting, as it is known as one of the most exciting hardtail options on the market.
It is their most popular XC race hardtail bike, coming by default with 29″ wheels. Its lightweight feel allows miles to be logged on the bike very easily, even if a rider is just starting to push their limit.
Santa Cruz makes models for men and women, but it is important for women riders also to take a look at Juliana. This is a company owned by Santa Cruz (more on them later in the article).
It is a bit of a spinoff, specifically focused on helping women get the perfect geometry for them on the trails, so nothing feels too stretched out or uncomfortable.
Ibis
Ibis as a brand has had quite a bit of success in the 40 years since it came into existence. They have early connections to Santa Cruz bicycles, but they have formed into a pretty affordable option itself.
Their most popular mountain bike is the Moho, but the Ripmo and Ripley mountain bikes are ones to look out for in 2022 and beyond as well.
Shoppers need to understand that the company tries to keep things as basic as possible to make everything easy for people to learn.
They still love innovation, but a lot of the naming techniques for bikes have made it confusing for the average rider. They know that most people want simplicity, and that is exactly what they get.
Most of their focus has been on The Moho, since shoppers have loved this option for quite a few years. It's an all-around play bike that comes in many different styles, and the 2022 version figures to be at its best.
Shoppers have the opportunity to build their own Moho if they want, giving them the most amount of customization possible.
Ibis is never going to be a huge mountain bike company, but they are grabbing the attention of those who love their quality.
They are a United States brand that a lot of shoppers on the West Coast have fallen in love with.
Yeti
Yeti Bikes has always been about innovation since launching a couple of decades ago. They are a relatively small company that isn't particularly well-known by casual riders. A lot of people who have really gotten into mountain biking have gravitated towards their bikes over others.
They have a small lineup, so it's pretty easy to pick out which solution is best. It can get a little bit pricey because of all of the high-end components that they feature.
Yeti's focus on racing has really helped them grow, but it probably has not allowed them to become too mainstream because of the price.
For example, the SB150 is one of the most popular race options, and it figures to be a very popular solution for riders in 2022.
It is a 29-inch trail bike with 150 mm of travel in the shock. It also has 170 mm in the fork, which gives it a perfect build for fast speeds.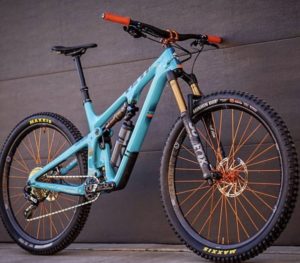 Starting at around $5600, this is certainly an expensive option for any rider. It's not recommended for beginners, as it's just too much bike to handle. This is a step up in a big way for seasoned veterans to have very long and challenging rides.
Unfortunately, they really don't have a beginner mountain bike per se, but the ARC might come closest. It's the only hardtail bike that the company currently makes, and is their oldest model that first launched in 1981.
They brought it back to really showcase its versatility, and the starting price is around $3600.
What keeps the price up on all these bikes is that they only use carbon frames. Couple that with being a smaller company, and shoppers love this unique, boutique-like shopping experience.
Yeti takes a lot of pride in every bike they put out to the general public.
Revel
Revel Bikes is one of the newer companies out there for mountain bike riders, but they have established themselves as a major player in the industry.
First launching in 2016, they have a pretty small list of bikes available. However, 2022 figures to be a big year for them and their growth overall, as most will be taking a look at what the Ranger, Rail, and Rasco lines have in store.
All the bikes come in 29-inch sizes except for the Rail, which is the smaller 27.5-inch wheel. The goal is to offer a lot of different solutions for different types of riders and allow them to customize the ride the way they see fit.
Since it's a new company, the option of trying to buy one used is pretty tough. The pricing is slightly high just because they are made in such small quantities, but the quality is second to none.
Rocky Mountain
Rocky Mountain's rise to the top in the mountain biking industry has happened relatively quickly. Even though they were founded in 1981, not everyone was on board to spend extra amounts of money for high-quality performance mountain bikes at the time.
Since then, they have done a great job of developing a niche for them to truly excel. They have mountain bikes for XC, trail, Enduro, adventure, and even a very successful fat bike. They've also dabbled in the electric field as that industry starts to really grow.
Their most popular models include the Solo, Slayer, Altitude, and Blizzard. The Canadian company has done a lot of testing over the years to make sure that they have one of the most versatile and comfortable rides available for a type of cyclist out there going off the road.
They are not afraid to take a few chances on unique designs and cutting-edge technology to make their options stand out.
Since it's a relatively small company that focuses on high-end options, the entry-level price for Rocky Mountain bikes is pretty steep.
Expect to spend at least $3500, with some mountain bikes going over $10,000 once all the upgrades are added. Many believe that they are worth the investment to see a difference.
Cannondale
Cannondale continues to be one of the most reliable bike companies in the world. They first started in the 1980s, delivering touring models for riders all over the world.
They decided to get into the mountain bike industry and really embrace it shortly after, and they have some outstanding options for riders going off-road.
One of the beauties of Cannondale is that they are willing to offer options for all different types of riders. They understand that not everyone is looking to invest in a mountain bike that is capable of racing against anyone.
Their mountain bike lineup in 2022 figures to be pretty good once again, as they are building off of what they have already released across the board.
One of the most solid options is the Cannondale Cujo, which is a very budget-friendly hardtail. They put plus-size tires on this bike by default, and it allows beginners to get out there and ride something that feels a lot like a more expensive bike.
The F-Si is another popular mountain bike they have that is a Hardtail, but is XC race-oriented. This means that it will fly once set up correctly, and riders love that it's very lightweight and easy to move around.
It doesn't do the best on really bumpy trails, but lighter and easier rides can allow people to pick up speed.
Finally, full-suspension lovers should check out the Cannondale Scalpel. They have made a few updates recently, and the 2022 version looks the best yet.
They have poured a lot of technology into the bike, and although it's still not amazing on really tough terrain, it's what racers want.
Diamondback
Going all the way back to the 1970s, Diamondback is one of the most recognizable names in the mountain bike industry.
They have a history of being a little bit on the low end as far as quality is concerned, but some high-end options will surprise many shoppers out there.
They still sell some of the cheaper options at big box stores, but in their defense, those happen to be some of the best in those stores at a time.
The first series to look at from Diamondback in 2022 is the Overdrive series. These versatile bikes start out at around $600, but the high-end options will cost a couple of thousand dollars.
They are mostly intended for riders who don't have a ton of experience or want to ride off-road and use a commuter from time to time. The versatility of the Overdrive series makes it perfect for many people out there.
In 2022, more improvements to the Mason line of Diamondback mountain bikes are expected as well. These are a little bit more for experienced riders, as they come with some huge tires designed mostly for off-road riding.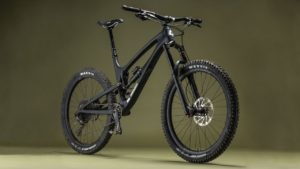 These can be used on flat surfaces, but riders will find that they lack a little bit of speed in that case.
Other options from Diamondback include the Hook Line and Sync'r series, Mission, Release, and Cat line. These are just a variety of solutions, as Diamondback has several other bikes out there for people who want to try as many as possible.
The good news is that none of them are going to be crazy expensive, and they are one of the most affordable solutions when shopping in stores or online.
The most important thing is not being overwhelmed by all the different options and getting the correct size. Diamondback offers so many different sizes for a reason, as it will enhance the riding experience when taking a little bit of extra time.
Buy Diamondback Bikes From Amazon!
Giant
Giant has been around for what seems like forever. Founded in 1972, it's a brand that just about everyone is aware of at some point in time.
They make all different types of bikes, but mountain bikes are something that they are particularly known for. They offer some of the cheapest mountain bikes for beginners, but some more advanced options hold up well against any other company out there.
Since they are so big, narrowing down choices with Giant bikes can be difficult. That's why we take a look at a couple of lines that make really good sense in 2022.
The first look will be at the budget options that are great for those starting now. A Giant ATX or Talon is one of the best bikes anyone could ask for when starting out.
They are versatile enough to ride just about anywhere, and most are going to be pretty comfortable with how they hold up in any type of setting. A lot of riders have a bike like this around for whenever it is most convenient to ride.
Giant also has more advanced bikes, such as the Reign and Trance series. Reign models are meant more for enduro riders and can get up there in price with the highest quality components.
Trance models are more for people who just want well-rounded riding on a typical trail.
Ghost
Ghost has a really big following in Europe, but it is starting to build up around the rest of the world as well. The German company started in 1993, and they offer a wide range of hardtail and full-suspension mountain bikes for all types of riders.
They continue to be a strong option going into 2022, and their focus is primarily on growing their reach overall.
Since some people are still learning about Ghost as a company, they might not know exactly where to start when they are shopping around.
The Kato FS series is great for beginners looking to keep prices relatively low. Ghost have some great components so that people can learn to ride and really grow with the bike overall, but it's not going to break the bank initially.
They are mostly lightweight aluminum frames, with components that will keep the bike pretty easy to maneuver as well.
They do a great job of offering plenty of customization so that riders will get exactly what they are looking for when going out on different trails. Some might want mismatching tires for a more comfortable ride, which is much easier to pull off.
Jumping up to the carbon cross country race options, the Lector series is perfect for shopping for a mountain bike in 2022.
They have three different bikes in that family, and all are going to be pretty expensive. However, for a carbon model, they are actually pretty affordable compared to other companies.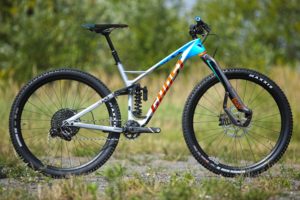 They come with some solid components and a good amount of customization so that no rider feels like they are forced to settle.
The aggressive geometry is something that Ghost has a reputation for, and that helps out those looking to lower their times overall. It might not be the best setup for comfortable, casual rides, but everyone else will benefit.
Ghost is definitely a company that's on the rise, and they are even starting to put out more electric mountain bikes to start to capture that sector as well.
In a few years, they might be even more well-known than they are right now. They deserve mention of any top list for mountain bikes right now and really seem to be doing things the right way.
Even though they are growing as a company, they stay true to their roots as a German company where they do most of the work in the same hometown they started.
Salsa
The Salsa brand has sold a lot of riders on the fact that they can go on nearly any adventure with the right setup. They offer quite a few different bikes, and their rise to the top means that they are pushing boundaries even more.
What started as a mothers lineup is growing by the year, and 2022 figures to be a pretty big one overall.
In the mountain bike range, two models stand out in particular. The Horse Thief is a 29-inch full suspension trail bike that allows people to ride longer and challenge themselves more than ever before.
It is available in many different iterations, starting at around $2300. On the high end, it can be over $7000, but those are mostly for riders who participate in competitions worldwide.
The wheels are pretty special with the Horse Thief. The company knows that having a proper wheel and tire setup can make or break any mountain bike out there.
They are meant to be sturdy and durable, yet comfortable enough for riders to never feel like they are too exhausted.
The best thing is that if 29-inch wheels are too much, the Horse Thief can go with 27.5-inch wheels as well. This versatility makes it a great solution for riders who want to see what all is out there.
For a cheaper solution, the Rangefinder series might be a great pick. These are mostly for riders who love trails, and they are starting to get into it more and more. It's a hardtail solution that works for both men and women and comes in 27.5-inch and 29-inch wheels.
Performance is still very solid with the Rangefinder series, which is good news for riders looking to make the investment.
It does use an aluminum frame with internal cables, but it doesn't really feel too much different from carbon. They do a great job of re-distributing the weight so that the bike feels a little bit lighter when in use.
Riders also love the massive tires that come with the Rangefinder series. This makes the bikes very easy to handle so many different types of training, and they are comfortable as well.
Having the ability to ride something that is so responsive is perfect for the vast majority of shoppers out there.
Juliana
The sister company of Santa Cruz is Juliana, as they are one of the few manufacturers that put together premium mountain bikes made specifically for women.
At first glance, they might not look entirely different from bikes made for me, but some subtle differences make the riding experience that much better overall for women and their proportions.
Of course, getting the bike fine-tuned specifically for each individual will make even more of a change overall.
Julian's focus has always been on doing much more than shrinking the size of a mountain bike and offering girl colors for females.
They have constantly tweaked the geometry of other mountain bikes, reducing weight as much as possible to make them easier to maneuver.
Their lineup continues to be strong heading into 2022, with mountain bike solutions for any type of rider out there. They do tend to be on the higher end, as most of them consist of quite a bit of carbon. With that said, they perform near the top compared to any other company on this list.
The Wilder and Joplin are two of the favorites right now, going into 2022. The Juliana Wilder is a very lightweight cross country mountain bike made up of carbon.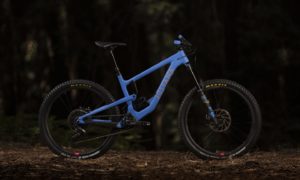 Professional racers love this bike so much that it is seen in races all the time. Those who take the sport seriously will also love the versatility that it brings.
Women have no trouble handling the 29-inch wheels that are 2.4 inches in width, as the geometry makes it so much easier to control compared to a men's option.
Components on this bike are second to none, and this makes it pretty expensive, to say the least. On the low end, most are looking at a bill of at least $5000. On the high end, it can almost double in price.
The Joplin is a little bit more affordable, starting at around $3000. It's a cross country race as well, but built for a little bit more versatility.
The geometry is perfect for women, and those who want to save a little bit of money can go with the aluminum solution instead of carbon.
Even with an aluminum frame, it's still a very lightweight, comfortable ride that the majority of people will be perfectly fine with.
Specialized
There might not be a more recognizable company in the game right now than Specialized. Over recent years, the company has been on absolute fire, making a name for itself in so many different disciplines.
Some will always associate it as a mountain bike company first and foremost, and their RockHopper has been a hot seller for a very long time.
What makes the RockHopper so solid is that people like its versatility overall. It's a mountain bike that doesn't try too hard, and that's good news for shoppers who feel like they might be spending too much and getting too much of a bike when they first make a purchase.
The Turbo Levo and Stumpjumper have plenty of fans as well. They both do a great job of offering variety so that riders can feel like they are truly getting what they need.
The Stumpjumper is a full suspension bike that is perfect for the trail. People love that they can get out there and ride on a variety of surfaces while performing some basic jumps and maneuvers.
For the Turbo Levo line, users are likely going to spend a little bit of extra money to get a high-quality option. The top one right now retails for over $10,000, but people who ride a lot or compete in races will find it to be very beneficial.
Specialized has won many awards for this line of mountain bikes, and the branding makes it an instant hit anywhere it goes.
It's going to be a very long time before Specialized is not featured on any list like this. They belong near the top because they have done a great job of providing mountain bikes for a long time.
They have some of the most expensive mountain bikes out there for those who are really looking for something special, but then they have something a bit more affordable for casual riders.
Trek
Trek is another company that has always been near the top when talking about mountain bikes anywhere in the world. They are a pretty good bike company for all types of riders, and fitting into just about any budget is a huge selling point.
However, the focus right now is going to be on what they offer for mountain biking enthusiasts, and how they compare to other companies out there.
The Marlins series is pretty much where everyone starts when they look at mountain bikes from Trek. It is a very popular line, and beginners love the price point. There are a few models to choose from, and they all come in under $1000.
Once a rider gets a little bit more skilled, they might jump up to the Supercaliber series. In 2022, there are quite a few in the industry who believe that these will be the best of the best for cross country riding.
Getting one decked out in a full carbon frame, full suspension, and all the bells and whistles can make it get up there around $10,000 in price, but it's worth it for those who take it seriously.
Trek has made some changes to the rear shock in recent years, and it's very comfortable out there on all different types of terrain.
Finally, although not technically a true mountain bike, the Farley series from Trek is really getting a lot of people excited about fat bikes.
They have really big tires and stocky frames, but they might be an improvement for those who don't seem to get what they want out of a mountain bike.
They all border on the line between the different mountain bikes out there, but it's worth giving a try when searching.
On top of everything else, Trek has a relationship with a lot of local bike shops in the United States and other parts of the world as well.
This means that repair shops are very familiar with all the different types of bikes, and it's much easier to make repairs in general. When buying from the company, that makes everything as far as fixes are concerned so much easier.
Co-op
Co-op Cycles is the sister brand of REI. They produce both bicycles and cycling gear, as well as equipment. It is known mostly for offering budget-friendly options, but there are some high-quality solutions for riders to consider as well.
Mountain bike riders can pick from hardtail or full suspension options, but they have to do so online. Going to a local REI will not help out.
The DRT series is notorious for being a perfect solution for people who want a high-quality bike without spending a lot of money.
It's mostly for entry-level riders, but even those looking for a mid-range option will still be pretty pleased with what it brings to the table. There are plenty of solutions that are under $1000, but they can jump up to around $3000 on the high end.
Maybe the best of the best in 2022 as far as value is concerned is the DRT 1.0. It's mostly designed for shorter rides, and those who are just starting out off-road, but it's hard to get the price point that is just over $500.
It's a safe bike that is well-built and sturdy, and can be used for anything from off-road riding to being a full-fledged commuter option.
Most of the components available on the bike are entry-level, but the hydraulic disc brakes help out with safety. Jumping up to the 1.1 or 1.2 is still a great solution, and they are both under $1000 as well.
Riders who are a bit more experienced will like the DRT 2.1, 3.1, and 4.1. There are different variations for riders to choose from so they can get exactly what they are hoping for.
Extreme riders are still in love with what Co-op Cycles brings to the table, as they don't necessarily have to leave the brand to get a high-end solution.
All in all, Co-op Cycles will continue to make lists like this for 2022 and beyond because of their price point.
They are never going to be the flashiest bike option out there, but it does the trick for those who are afraid that not spending a lot of money will get them anything worthwhile.
This investment is well worth it, and if taken care of, most will get their money right back when they sell it off to upgrade to something else.
What Makes a Mountain Bike Brand Stand Out?
Now that some of the top brands have been covered, there might still be some shoppers wanting to know why these options have a great reputation.
A lot of it comes down to past reviews and their track record, as they are leaders in the mountain bike industry.
Some companies have been around for decades, while others are pretty new to the scene. While having history helps to a certain degree, they have instances where companies have come in and provided great options from the very beginning.
One of the biggest changes in the last few years comes down to the rise in direct sales by companies. They are able to cut the price down by offering a direct sales line to customers.
It disrupted the industry a bit, and allowed companies to still survive despite only selling relatively small amounts of bikes.
There's no reason for shoppers to strictly stay inside this group of mountain bike manufacturers. There are plenty of other options out there, including some very solid ones.
However, this is a great starting point for shoppers who don't really know where to go at first. The list is not trying to necessarily sell a person on a particular bike right away, but to inspire all researchers to find what they need in 2022.